HOLDEN STEADY: For anyone who was paying attention between 2001 and 2007, it comes as no surprise that Santa Barbara's own Tommy Cantillon has resurfaced. It seems that since the disbanding of his most famous outfit to date, Holden-and the creation and completion of its musical predecessor, Tommy Gunn & the Bullets-Cantillon has been keeping mighty busy. Currently, the youngster (really; the kid's only 22) is out to prove that the third time is in fact the charm with his newest pop-rock quartet, Tommy and the High Pilots (myspace.com/thehighpilots). For this go-round, Cantillon has gathered quite a team of consummate musicians: little bro Mike Cantillon mans the keys, Aaron Ray plays drums and helps with songwriting duties, and former Fly By Night (myspace.com/flybynight) bassist Steve Libby brings the six-string funk.
Releasing their debut full-length, Everynight, last Wednesday night at Center Stage Theater (751 Paseo Nuevo) in an impressive-if a bit oddly placed-showing, the foursome ripped through the entire disk from start to finish in front of a crowd of family, friends, and eager onlookers. The songs themselves, which somehow manage to find a sweet balance between the sounds of Weezer, Ted Leo & the Pharmacists, and that band Tom Hanks managed in the film That Thing You Do!, hit all the necessary marks; they would have smashed it home had the audience not been forced to sit and watch the whole thing play out in front of them like a production of Fiddler on the Roof. Still, the overflowing crowd (which grew beyond seating capacity before the guys even finished the first track) and awkward-yet-appropriate chair dancing seemed to indicate that the people were happy either way.
Up next for Tommy and the High Pilots is a whirlwind tour that has the fellas traveling throughout the western United States-and hitting literally every state and county fair from the Orange County Fair in Costa Mesa, California, to the Nevada State Fair in Reno, to the Columbia County Fair in St. Helens, Oregon. And even though the Pilots will be on the road through Thanksgiving, rumor has it that the guys have a big homecoming gig in the works for the end of the year. Here's hoping they make it through the trek and don't get sidetracked by the glitz and glamour of carnival folk livin'. For those of you who can't wait for the guys' return, Everynight is available online at iTunes, Rhapsody, CD Baby, AOL, and Nimbit. For highlights, check out "Come Alive" and "Round 'n' Round."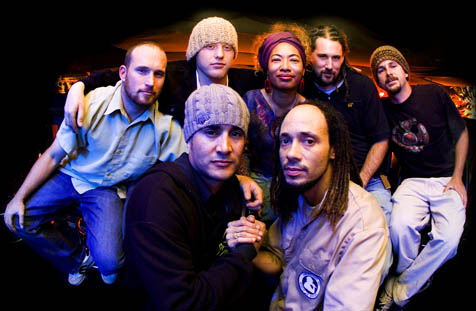 AFTER THE BOTTLE: Confused as to what to do post-Lightning in a Bottle, other than hope for warmer weather come next year? Here are a couple of tips for keeping the party going in the days to follow.
For a jam band that sounds more like blues rock meets jazz fusion and less like a bad Phish rip-off, head on up to The Merc (5871 Hollister Ave., Goleta) next Thursday, June 5, for Wrong Again's (myspace.com/wrongagainsb) turn on the Thursday Night Live stage. For those interested in staying downtown, SOhO (1221 State St.) will play host to the Beleza Pura Band and Cornerstone (myspace.com/cornerstoneroots) this Friday, May 30, at 9 p.m. for what promises to be a night of reggae, samba, rock, and roots that will undoubtedly keep the place moving well past last call. Then on Thursday, June 5, SOhO will be the party place of choice when S.B. innovators converge on the place for a night of music and art, featuring Goleta's Boombox Orchestra (myspace.com/boomboxorchestra), oso (myspace.com/thebandoso), DJ Weston Richards, and art from noted graffiti artist Downer as well as a slew of local contemporary art makers. Santa Barbara retailers Art Essentials (32 E. Victoria St.), Blackbird (29 Parker Wy.), and Fusion are cosponsoring the event, and tickets are available at all locations, as well as online at sohosb.com.