Arts & Entertainment
Recycled Materials, New Ideas
Santa Barbara Arts Commission Announces Artists for "State of the Art" Exhibit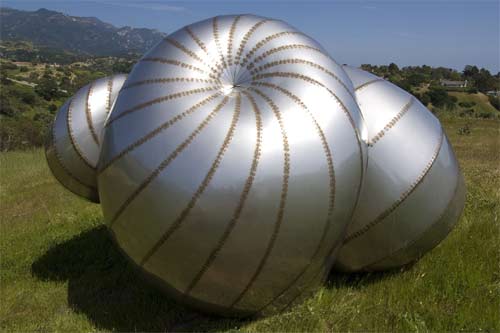 The Santa Barbara County Arts Commission has announced the artists for this year's State of the Art Gallery Exhibition. The commission chose the works of Richard Aber, Jeff Elings, Edward Inks, Bill Malis, Rafael Perea de la Cabada and Matthew Woodford, Jeff Sanders, Helle Scharling-Todd and Jeff Kaiser, and Nathan Snyder to be displayed when the exhibition opens on August 9.
Now celebrating it's fifth year, the downtown public art exhibition has drawn controversy in the past; many will remember Colin Gray's piece "W" which drew support from the public while enraging local business owners. Gray inverted the iconic McDonald's Golden Arches and attached several large arrows that appeared to be piercing the inflammatory sculpture. The artist's ambiguous aims coupled with a confused representation in regional newspapers fueled a mixture of condemnation and misled but enthusiastic praise. Organizers have said they hope to avoid controversy and do not expect any of the pieces for this year's exhibition will be problematic.
Made possible by funding from City of Santa Barbara Redevelopment Agency and Santa Barbara Beautiful in collaboration with city and county government, the exhibition will feature a series of outdoor sculptures on State Street. The individual artists and teams have been asked to consider using recycled materials such as recycled plastics and lumber to inspire dialogue about waste and resource management.
Opening ceremonies will include a dedication by Mayor Marty Blum and a walk-through with the curator of the exhibition, Dean Anes. The event will coincide with Off Axis, an event that celebrates contemporary art in Santa Barbara throughout the month of October.