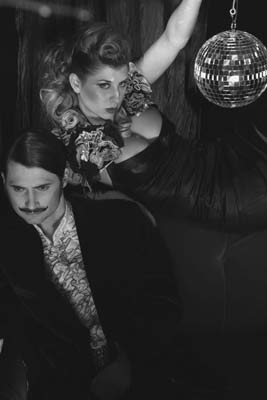 Experiencing a new generation of psychedelia put a bit of the "blundering down the rabbit hole"-feel into what would have been another quiet Santa Barbara Sunday. But such is the effect when Joshua Tree's wascally fashion pop musicians Gram Rabbit come to town.
Gram Rabbit's sexed-up Aryan synth sound-electro peers of The Lovemakers and Ladytron-have garnered the band an occult following, the be-rabbit-eared revelers who call themselves "the Royal Order of Rabbits." Though the ears were missing during Sunday's SOhO performance, the sea of oddities in their place-a mixture of classic John Hughes characters and Johnny Depps, circa Benny & Joon-enhanced the strange world of retro that Gram and opener United by Sound seem to enjoy.
United by Sound, Los Angeles-based up-and-comers, almost outweighed the main act. With a polished cabaret style and new spin on crunk step, the band are destined for greater things should they find a label. Highlights of their set included tunes "Benjamin" and "Guns." Their vocals, think Leslie-Uggams-meets-old-Nelly-Furtado, were joyously received from frontwoman Jeni Ivey. Ivey's talent completes the band's sonorous masterpiece with a feeling of restrained energy-one that promises annihilation of nuclear proportions if ever unhinged.
Gram Rabbit's vocalist Jesika von Rabbit, on the flip of it, left something to be desired. While her voice-early Madonna meets Gwen Stefani-is part and parcel to the band's overall bunny-flected theatricality, on Sunday it waned meticulous and tired. So at times when the grandeur of the band's ambience and harmonic layering faltered, the performance felt a little less like Brian Eno and a little too much like defected Soviets gone American.
Performance staples done well, though, included "White Rabbit" and "Dirty Horse," with the best song of the night-and consequently the most ear-friendly track on their newest release, RadioAngel and the RobotBeat-"Something Fuzzy." The band ended the evening with encore "Aloha," the most offensive, countrified affront to Hawaiian culture since John Wayne's Big Jim McLain. But it was indicative of an ominous and cynically gothic retrograde I hope the band explore as they hop their way down the briar patch.