Arts & Entertainment
Jack Johnson's Gaucho Homecoming
UCSB Grad/Pop Superstar Brings Sustainable World Tour to Harder Stadium in August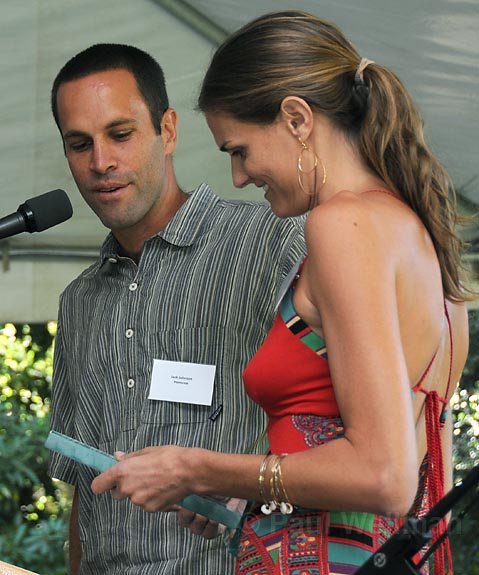 PICTURED ABOVE: Jack and Kim Johnson are honored as "environmental heroes" on Sunday, June 8, by the Environmental Defense Center.
Though there won't be a parade, a football game, or even the crowning of a queen, the most anticipated homecoming in modern Santa Barbara history will be going down on August 27. That's the anointed date for Hawaiian surfing singer Jack Johnson's return to his alma mater, UCSB, where he studied film and honed his chops as a guitarist in the Del Playa party band Soil before becoming one of the most successful – and certainly the most eco-friendly – pop stars in the world.
On this very special Wednesday night performance, Jack will play to a crowd of 15,000, which is more than three times his usual South Coast audience, as his tour almost always hits the 4,000-seat Santa Barbara Bowl. And just to sweeten the deal, UCSB Arts & Lectures will be offering special ticket prices for students ($30 compared to $40 general admission, with student sales starting on Wednesday, June 11) and free parking on campus.
"It will be great," said part-time Montecito resident Jack, explaining that he's excited to see some of his former professors and classmates. "We've done the Bowl a lot. It's a nice place to play. But I know a lot of the time there's more people who want to see the show than are able to. So we're going with a slightly bigger venue." Plus, since this year's world tour is sponsoring mini-eco-festivals at each stop, the sprawling grounds of Harder Stadium will accommodate more booths than could ever fit at the Bowl.
The show was officially announced on Monday, but word got out on Sunday at the Environmental Defense Center's 15th annual benefit auction and Environmental Hero awards. For their sustainably minded touring and constant promotion of renewable energy, recycling programs, and all things environmentally sound, Jack and wife Kim were celebrated by the EDC. (Also feted were Lieutenant Governor John Garamendi, for his role in stopping liquefied natural gas terminal off Oxnard, and sisters Anna and Sarah Schwab of Orcutt, who founded the tree-planting organization Tree Amigos.)
After being introduced by good friend and EDC staffer Eric C¡rdenas, Jack expressed thanks that Kim was honored, because he feels like a "nincompoop" when getting such accolades alone, citing Kim as the mastermind behind their environmental bent. A former teacher at Dos Pueblos High, Kim looked into the crowd, saw some of her former students, and remarked, "That's why we're doing what we're doing. It's for them." In thanking their supporters, Jack said, "I should thank music because music is the thing that gave us the spotlight to shine on things more important than ourselves."
And that spotlight will most certainly shine bright at the S.B. show. It's not the first time Jack's played UCSB – he hit up the Hub as his star started shining in 2001 and later played to the masses at Extravaganza – but it's certainly the first time Jack's been back since he evolved into a music industry powerhouse, both as his own artist and as the leader of his Brushfire Records label, home to such stars as Mason Jennings, Rogue Wave, Matt Costa, G. Love, and fellow UCSB grads Animal Liberation Orchestra. His fifth studio album, Sleep Through the Static (which was recorded on 100 percent solar power and printed on 100 percent recycled paper), has sold nearly 1.2 million copies since its February 2008 release, making it the best-selling album of the year thus far, and his current tour has already played to sold-out crowds throughout Australia, New Zealand, and Japan. Next, Jack heads to the East Coast, then cruises through Europe before returning stateside for California dates with the Culver City Dub Collective and Rogue Wave.
Ever conscious of his environmental footprint, Jack has often considered eschewing touring altogether due to the energy he guzzles – even in biodiesel buses. But he knows he's setting an example for the rest of the music industry, thanks especially to his "eco rider." A rider is the contract that each band has with a venue, requesting such things as particular snacks and drinks, but Jack's rider is heavily green-minded. It's being copied by other bands, and Jack said that even entire venues have changed their practices to be more green. "For us to go out and make change in the music industry has more of a positive effect than just staying home and doing nothing," Jack explained.
And lucky for us, Jack's signed on to do something truly big this summer at Harder Stadium.
4•1•1
Jack Johnson plays UCSB's Harder Stadium on Wednesday, August 27, at 7 p.m. Student tickets go an sale at UCSB on June 11, so call 893-3535, stop by the Arts & Lectures ticket booth on campus, or see their website. Tickets for the general public go on sale Saturday, June 21, at 10 a.m., at jackjohnsonmusic.com and ticketmaster.com.