Opinion
Citizen McCaw Filmmakers Defy News-Press Owner
Doc About Santa Barbara Daily Newspaper's Meltdown Will Show Despite Threats from Wendy McCaw's Lawyers; Plus, How's the Smart Car?
In spite of two "cease and desist" letters from Santa Barbara News-Press owner Wendy McCaw, producers of the Citizen McCaw documentary say they plan more screenings.
"We are now actively moving forward with plans to show Citizen McCaw again, several times in local theaters in October, after which we will release the film to television," co-producer Sam Tyler said today, June 16.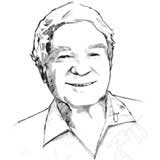 Apparently the letters sent by News-Press attorney Barry Cappello regarding future showings didn't scare off Tyler and the other producers, nor those providing the screenings. That apparently includes Metropolitan Theatres, owner of all Santa Barbara movie theaters.
The Santa Barbara producers premiered the documentary (Cappello calls it a "docu-drama") at the Arlington on March 7, and then screened it twice more at the Marjorie Luke in April. Tyler said their attorneys – crackerjack San Francisco lawyer John Keker and attorney David Greene of The First Amendment Project in Oakland, sent a reply to Cappello.
But so far no one has released the text of the cease and desist letter, or the reply from Keker and Greene.
GETTING SMART: "Congrats on your new Smart," Frank Frost e-mails from his part-time home in Provence. (Talking about our new 2008 Smart car.) "We see them here all over. Just came back from Athens, where they are the perfect car to park on the sidewalk. I got a Honda Fit last year and gave my old Toyota Echo to my granddaughter. I've always had low-end, high-mileage cars, but for driving around Santa Barbara, I have a Honda Metropolitan motor scooter: 90 miles per gallon and park anywhere. Over here, we drive a Peugeot 207 diesel, with 45 mpg. Why can't we get a car like that in the U.S.? Diesel, by the way, is now the equivalent of $8.75 a gallon, and it's cheaper than unleaded regular. We are now rethinking the amount of time we spend here, what with $18 chickens in the supermarket. In Greece we had a fish in a humble little taverna by the sea. $81, with wine extra. At least it was caught on a line and not out of a goopy fish farm." Frank is a retired UCSB history professor and former 1st District county supervisor. Also plays piano at the Biltmore when he's in town.
WE GOT SMART: Everywhere we go in Santa Barbara, our bright yellow little Smart draws a curious crowd. As I wrote in The Independent last week, it seats two and according to the Mercedes-Benz makers, most drivers should expect to get 36 mpg in town and 46 on the highway. We've only used about half a tank so we don't know how our little honey "Bumblebee" will pencil out. It's Sue's car. We also own a 2008 Honda Fit, bright red, four doors, four cylinders, and rated at around 30 in town and over 40 on the highway. We call it "Milano." Purred like a kitten on our trip to Big Sur last week.
Barney Brantingham can be reached at barney@independent.com or (805) 965-5205. He writes online columns and a print column on Thursdays.