Business
Blue and Gold Bikes
Gaucho-Themed Cycles Promote School Pride, Alternative Transportation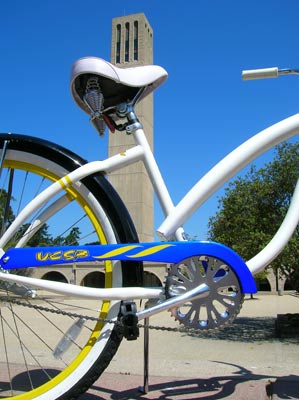 The Collegiate Bicycle Company (CBC) released its first line of school licensed bicycles to UCSB six weeks ago. The beach cruisers are blue and gold, and feature the Gaucho logo.
Erik Camp, vice president of CBC, explained that the goal of this new line is to get more people in the community on bikes, not just students. "With rising gas prices, not a lot of parking available, and environmental problems, our company hopes to promote awareness for alternative means of transportation," he said. By incorporating the school's colors and logo, the hope is that people who never owned a bike before will be more inclined to buy one.
"We decided to go with Santa Barbara as our first school because of its reputation as a bicycle friendly community and a community that supports and is supported by the university," stated CBC Director of Business Development Jonathan Sobin.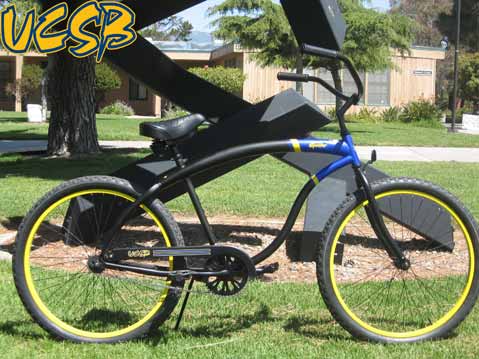 Camp said that the new line has been doing well since it came out, and many people seem to love the idea of owning a bicycle with which they can represent their school. Recently picked up by Performance, Inc. , a leading bicycle mail order and retail company, these bicycles are meant to show school pride in a fun and unique way.
Financially, the bikes tie UCSB and the community closer together. UCSB receives $30 for each bike sold at retail price, and $20 for each bike sold by a dealer. Currently, these bikes can be found at local businesses such as Velo Pro Cyclery (State Street and Goleta locations), Varsity Bike Shop, and Isla Vista Bike Boutique.
CBC has begun production on bicycles for many more universities around the country. They have also started making bicycles with greek logos for sororities and fraternities.
The bikes are sold for $299, and men's and women's models are both available. Included in the price is a free subscription to Bicycling Magazine and warranties for the bicycle.