Columns
A New Eye for Isla Vista
Nicki's Views on the Place With the Island Views
Brace yourselves: I'm not the same Isla Vista columnist you've grown accustomed to over the past couple years. Mollie has graduated from UCSB, which means she has thus been thrust into the "real world." Isla Vista is not the real world.
Wait, before I get into what I.V. is and isn't, it'd probably be nice for you to know me so you can decide if you even care to listen to my point of view. I'm Nicki, I'm 21 and I hail from a typically suburban town in the East Bay Area. I'm a political science major, but far from a budding politician. I've worked at UCSB's student paper, the Daily Nexus for my entire college career, so it has become a huge chunk of my life. My friends make up another big piece of my life because they are some of the most stupendous people I've ever met. I spent fall 2007 studying abroad in Paris, so you'll have to excuse me if I occasionally sneak a French phrase or two into the column. It's easier for me to make a joke than to delve into my emotions Dr. Phil style. Nothing makes me happier than a good VH1 marathon in the summer, and I have to wear SPF 45 or else I'll turn as red as one of those salmonella-infested tomatoes.
Though you're surely dying to know more about me, what I'm assuming you really came here to read about is Isla Vista. My little nook just north of Santa Barbara gets far less attention than it deserves and, for some of you, my column might be your only glimpse of the most unique square mile of the county. That's a shame. I.V. is, without a doubt, one of the most phenomenal places to live.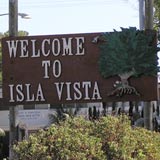 Oh, you million-dollar-home owners doubt me. How can living in an over-priced, under-cared for apartment ever be better than your nine-bedroom beauty? The beautiful people, my friend! This year I'll be living in a Sabado Tarde duplex with my three best friends and within ten minutes biking distance of 90 percent of my other closest friends. My "cozy" apartment probably has a few more leaks than those mansions on the hills, but I wouldn't trade homes for anything. I rather like not having to worry about designating a driver on a Friday night out and being able to stop by my friends' apartments after class for no real reason at all. And those friends are the kind of people who make the world spin. (Or maybe it's gravity. I'm not a science major).
We students who reside in Isla Vista get called a lot of things-lazy, irresponsible, piggish, and sloppy, just to name a few. Too many people forget that some of the most brilliant minds in the world go to UCSB and live on Del Playa Drive. Turns out this town doesn't corrupt all of our minds after all.
I.V. isn't just made up of a whole bunch of splendid folks. It's a food co-op, a beer drinker's heaven, a fine offering of the best of collegiate cuisine, thirteen grassy parks, and a big stretch of California coast.
Okay, I'll admit, I.V. is not without its flaws. The shoddy state of the filled-past-the-brim apartments is atrocious, but I'm not sure if it's residents or landlords to blame. I'm waiting for the day when a lawyer comes to I.V., inspects the apartments and finds a thousand things landlords could be sued for. I've got more than a few bones to pick with past landlords and their outrageous rent rates coupled with half-assed upkeeping, and I doubt I'm alone in this.
Yes, we Isla Vistans know how to have a good time – that being the politically correct term for "drink until we lose our brain cells" – which has afforded us a less-than-favorable reputation. I'm not going to try to deny it or blame in on visitors; we like partying and we shouldn't be ashamed of it. But if you can excuse our love of a wild Friday night, I'll think you'll find that we're a fascinating bunch of people and our town is an equally fascinating place to learn about.
Spend some time getting to know I.V. and you'll realize something. Wandering in and out of parties on a Saturday night on DP teaches you how to be not socially awkward; rushing in late to class after falling asleep on the beach teaches you how to act gracefully even when you smell like sweat and sunscreen; studying until all hours of the night for your 8 a.m. final teaches you the importance of a full night's sleep; cruising on your bike from Embarcadero del Norte to Camino Corto teaches you how to maintain your balance while holding ten pounds of books and your caffeinated drink of choice. Most of all, living in I.V. teaches you how to be a productive citizen and have a fabulous time doing it.
For the next year or so, I'll be your expert on all that is Isla Vista. I want to introduce you to some of our most unique individuals as well as the social trends we've fallen slave to. (Case in point: Weren't those dumb Ray Bans supposed to go out of style months ago?) I'll keep you up-to-speed on any breaking news as well as quirky events. (Joint-rolling contest, anyone?) And, of course, if there's anything you want to hear about, I'd be more than happy to report on it. Leave me a comment here or email me by clicking my byline at the top of this story.
Hold on tight and get ready for the next year, kids. It's shaping up to be a doozy.