Travel
The Big South
On the Beat
Exploring Big Sur: It's one of the great American drives. You set off on the two-lane ribbon of Highway 1 along the California coast, with mountains on one side and pounding surf far below on the other.
It's hard to say where Big Sur begins, that storied "Big South" long feared by San Franciscans for its wild forests, rocky shores, and savage beasts. Not until 1937 was a road pushed through.
To some, it starts north of Cambria in San Luis Obispo County or somewhere south of Carmel. But for most, the heart of Big Sur is just a few miles long: small motels and campgrounds here and there, a couple of state parks, a post office, a handful of restaurants, hard-to-reach beaches, and two luxury resorts hidden from the road.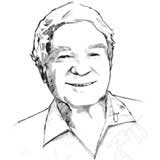 And, of course, the Henry Miller Memorial library, honoring Big Sur's most famous writer, although he moved away in 1962.
Even now the spirit of Big Sur remains untamed, its vistas jealously guarded by locals, its mystical aura as calm and steady as the river that runs through it. Condors circle above the valley, hawks scream, fog filters through the redwood groves, and deer prowl among cabins at the Big Sur Lodge.
The lodge, part of Pfeiffer Big Sur State Park, offers cottages, a modest restaurant and general store, pool, and hiking trails. On a recent two-night getaway, my wife Sue and I found it a tranquil place, not cheap but somewhere in the middle between the roadside motels and the two high-end resorts, the Ventana Inn and the Post Ranch Inn.
From Santa Barbara, what I'll call Big Sur proper is about a 4 ½ to 5-hour drive, depending on how many stops you make. Since our burger favorite, the Old Sebastian Store, located on a peninsula near the entrance to Hearst Castle, was closed ("open soon," the sign said) we lunched farther up the road at the Ragged Point Inn. (Big fat bleu cheese burger, cobb salad, and inspiring ocean views).
A good place to fill up too, because not only are stations few and far between up this way, but petrol gets more costly the farther you go. Up the road, little Gorda became famous overnight on cable news with the highest price of gas in the nation, $5.99 for premium, the day we drove in.
Just beyond Limekiln State Park on Hwy 1, a road off to the right takes you to New Camaldoli Hermitage, a community of Catholic Benedictine monks who operate a retreat and bookstore. There we bought Bonny Doon Farm honey, the monks' own brandy-dipped fruit cake, and Preservation Coffee, whose sales help preserve the condors. But, alas, no coffee to drink.
Bumper stickers for sale: "Who Would Jesus Bomb?" and "Peace Begins When the Hungry Are Fed."
You could say Big Sur starts at the famous Esalen Institute, long a place for relaxation, massage, self-revelation, and soaking in hot tubs on a bluff above the sea. Beyond that is everyone's favorite spot for a bite, Nepenthe, dining on the deck overlooking the turquoise water, or in the restaurant.
Then comes good old Helmuth Deetjen's place, the funky cottages much improved from decades ago when I first visited. Now with comfortable beds, it's a wonderful place for a candlelight dinner on no-nonsense, painted tables. Reservations recommended. We ate well there the first night: microgreens salad and paella. Pricey to be sure, but memorable. Deetjen's Big Sur Inn is on the National Register of Historic Places and is quintessential Big Sur, with room doors that don't lock and no phones or TVs.
We bunked at the state park's Big Sur Inn, $289 a night for a two-bedroom cabin, fireplace with wood provided, and a back porch for deer-watching and wine-sipping. The next morning we followed the uphill but easy Pfeiffer Falls Trail through the redwoods, over wooden bridges and up steps to the small waterfall, a 1.4-mile roundtrip excursion.
We ran into a young Austrian couple searching vainly for a trail that was not there, in Pfeiffer Big Sur State Park, but miles south in Julia Pfeiffer Burns State Park. That afternoon we took advantage of the daily 2 p.m. public tour offered at Post Ranch Inn, a world-class resort high on a ridge overlooking the sea, on property the Post family has owned for many generations. It's worth the visit, even if you're camping out. (Think of the 39-room inn as a splurge occasion at an environmentally conscious place that sits lightly on the land.)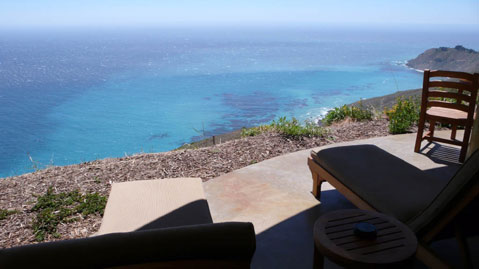 Sue and I returned to the resort that evening for wine on the deck and appetizers from chef Craig von Foerster's menu. The pri fix menu was $105 per person. Condors, we're told, swoop by as you loll in the bluff-top infinity-edge pool. You can park your car and borrow a convertible from the resort, which opened in 1992. The Post family is still involved in the person of Bill Post, and the developer was Myles Williams of the New Christy Minstrels singing group fame.
The Ventana Inn, 60 rooms on 243 acres once owned by the Post family, just finished an $18 million upgrade. You can see the old home the family built at the entrance. Writer Lawrence Spector built the resort in 1975 with money he earned from the film Easy Rider. Its Cielo restaurant is open to the public for lunch and dinner. But our timing was off so we didn't have a chance to test the menu. Maybe next time. The rooms are built with weathered cedar and scattered among redwood, oak and bay laurel trees. The clothing-optional bathhouses (this IS Big Sur, after all) feature Japanese hot baths, showers, relaxation decks, dry sauna, and a fitness facility.
Meanwhile, families were splashing around in the pool at the roadside family-owned Big Sur River Inn & Restaurant. Rates: $95-175 for a room with one queen bed, $110-195 for two queens and from $195 for a two-room suite overlooking the Big Sur River.
Before starting home on a very warm day we walked down to the river behind the motel and saw people sitting in patio chairs in the water, happily splashing their feet. Maybe next time.