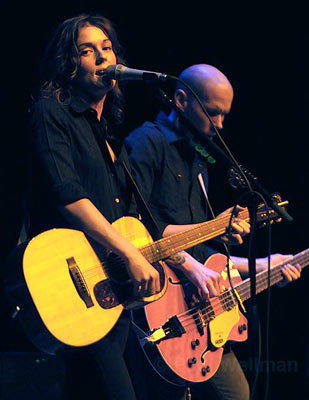 "I'm gonna do a cutesy song," giggled Sunday-night opener Priscilla Ahn. "It's called 'Living in a Tree.'" This enchanting number about being free and alive in one's own skin was the last in Ahn's quintessentially folk-rock-filled set, setting a precedent of storytelling that lasted through the rest of the evening.
After setting the bar high for the act to follow, Ahn received an impressive standing ovation, cutely plugged her 2008 release, A Good Day, and disappeared offstage.
Following the break, headliner Brandi Carlile and her band (which includes her twin brothers Phil and Tim on guitar and bass) took to the stage dressed in black. Although wildly esteemed by their audience, their overly rehearsed set started off phony and distant, and it wasn't immediately clear whether musically Carlile would live up to the sincerity of her predecessor.
But then, sounding much more polished and a whole lot less bored, Carlile introduced a new song that she explained she was planning to record next month. To make it even better, Carlile recognized the Lobero's great acoustics and abandoned her mike to perform "How the Days Grow Long" completely unplugged. Her vocal range was impressive-especially sans mike-as she powered through a '60s-style narrative about finding one's way home to a missed and special someone, complete with tambourine.
The multitalented songstress jumped almost immediately behind a piano to deliver more new material, namely an easily relatable song about insecurity and being in love but having the blues.
Before the end of the night, Carlile had the audience broken into thirds and harmonizing along, and every participant really deserved a round of applause for their impromptu participation, which shockingly didn't sound half bad.
At the end of it all, it seemed the stories of love-unrequited, lost, gained, and longing-would have been an apt title for Sunday night's performance. And Carlile's easily accessible lyrics made it almost a bit overwhelming to sit through the emotional process. This is, however, a credit to Carlile and her effective storytelling technique. Perhaps next time she passes through town, she'll have a wider variety of life experiences to sing and tell.