Opinion
Eulah Laucks 19092008
Activist and Philanthropist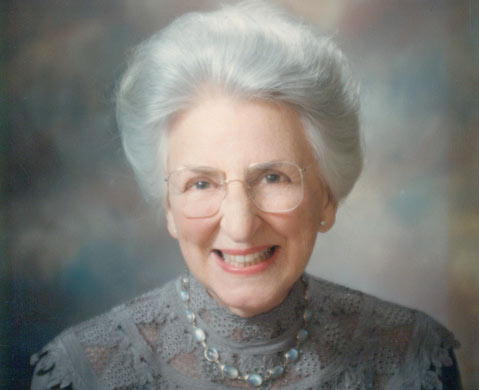 I first met Eulah Laucks in Salina, Kansas, at a dinner organized by biologist and MacArthur fellow Wes Jackson. While we both had been living in the Santa Barbara area for many years, we had never met, and when introduced it was like two lost friends rediscovering each other. That friendship continued through my years developing and managing Fairview Gardens and beyond, as each of us moved away from the area, coincidentally to the same island in British Columbia.
Well past her seventies, into her eighties, and even into her early nineties, Eulah was a living testimony to the idea that age is only a number. It wasn't that her body did not register the years, it's just that she never carried herself as if she was "old." There was never any sense of resignation or decline, only an energy and bounce that lifted everyone she connected with. She came to see me often at the Saturday Santa Barbara Farmers Market. In the midst of the flurry of transactions, I would see this beautiful woman approaching our stand, the difference in our respective ages gone as she displayed a spark and inner beauty which always caught my eye and belied her years.
In 1996, after 15 years of developing and managing Fairview Gardens, I convinced the owner of the land to give me the chance to raise the funds to buy the farm and place it under what became one of the first agricultural conservation easements in the country, permanently protecting the farm and formalizing its role as an international model of small-scale urban sustainable agriculture. As a farmer, the only thing I had ever raised were fruits and vegetables, so raising the funds for the purchase seemed like an awesome task. The first person I called for help was my friend Eulah Laucks. She spared me the humiliation of even having to ask by immediately offering what became our first substantial donation, and she gave me the confidence to move our effort forward. Eulah also gave me some advice about nonprofits and nonprofit boards at that time that became eerily prophetic.
Eulah Laucks knew the nonprofit world well. She and her husband started the Laucks Foundation-which is still managed by her daughter and son-in-law-that not only provided funding to social and ecological efforts, but also published a newsletter that featured the ideas and writing of some of the greatest thinkers and visionaries of the time. She worked with a number of organizations both as a board member and as an advisor and supporter: UCSB, SBCC, the Land Institute, the Community Environmental Council, the Channel City Women's Forum, and the Center for the Study of Democratic Institutions. Eulah's lifetime commitment to peace, social justice, and the environment, through her publications and through her personal philanthropy, was unyielding. She did this work quietly, drawing attention only to the cause, never to herself.
Eulah came from humble beginnings, raised in mining country in Nevada, a story that she tells in her 1996 memoir, Saucer Eyes. She eventually met and married Irving Laucks, who developed a waterproof soybean glue that made the production of water-resistant plywood possible. She received a PhD from UCSB at the age of 69 with a dissertation titled "The Meaning of Children in Contemporary America," and later worked with Walter Capps to fund several courses, including one on the Vietnam war which became so popular it was replicated by a number of universities across the country.
I have been fortunate to have had a stellar group of mentors in my life, many of whom have now passed on. I have seen that in our worship of youth our society no longer honors the wisdom and experience of our elders, no longer seeks them out or allows the torch to be respectfully and honorably passed down. As a young man, I considered myself somewhat immortal; now I realize the only immortality is in the ideas, inspiration, and good work we share and leave behind. In that sense, Eulah Laucks lives on, in the individuals and projects she so humbly and gracefully helped along.