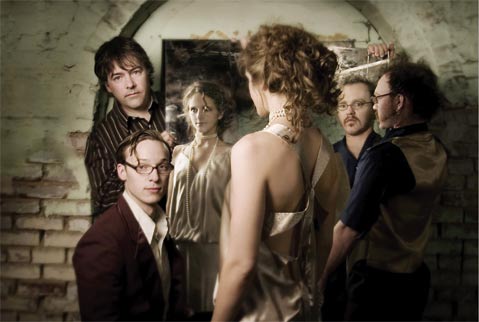 SHOW OF THE WEEK: Certainly one of the sneak-attack highlights of last year's musical calendar in Santa Barbara was the early summer's night at SOhO when Abigail Washburn and the Sparrow Quartet showed up and demonstrated for us one possible future for progressive bluegrass music. In the nimble hands of singer and banjo wizard Washburn (abetted by older and more established banjo wizard Bela Fleck, cellist Ben Sollee, and fiddler Casey Driessen), this amazing band cooked up a fun and compelling mixture of true-blue bluegrass, modernist neo-prog-grass, and : Chinese music. Yes, Chinese music-sometimes sung in Chinese by the glorious-voiced Washburn, who has studied Chinese culture and spent much time there. The Sino-Appalachian connection isn't such a far stretch, of course, given the pentatonic foundation of both musical cultures, and the timbral sympathies of "angular banjos" (to paraphrase the Steely Dan lyric) and the Chinese pipa.
With the return of the Sparrow Quartet to SOhO on Saturday, the band has its eponymous debut album out on Nettwerk. Officially, this band has gone from being a great concept to a proud new member of the late-breaking generation of bluegrass re-thinkers. That group certainly includes Chris Thille's stunning band The Punch Brothers, who played at SOhO this spring, and the Infamous Stringdusters, who recently set the Lobero on fire, figuratively speaking.
As it happens, this is a good week for left-of-country music in town, enhanced by the arrival of young Johnson City, Tennesseebased band the everybodyfields, at SOhO on Wednesday. Based around the rapport-enriched work of multi-instrumentalist/vocalists Sam Quinn and Jill Andrews, the band's sound falls somewhere between gruff and twangy alt-country, back porch proto-rock, roll-billy, and other fancy-pants ways of describing music that just plain tastes good.
BOWL NOTES FROM ALL OVER: Following a recent note in this column expressing nagging concern over the conspicuous lack of more "serious" and non-pop music-classical, jazz, world music, etc.-programmed at the Santa Barbara Bowl, the Bowl's intrepid general manager, Sam Scranton, weighed in, reminding us of certain prohibitive realities and lateral programs behind the scenes at the Bowl. The Outreach Committee of the Bowl Foundation commendably devotes much money and resources to grant more than $140,000 to the cause of bringing art and music to the schools.
Scranton mentions that "this much money would certainly underwrite three or four events at the Bowl which would lose money due to lack of attendance (interest) in again what you call 'real music.' Instead the Outreach Committee will grant these monies to the aforementioned programs. These programs benefit the kids, the teachers, local artists, and the parents who all bemoan the lack of funds and are very grateful for our concern and interest. This is what we do today and will continue each year with more dollars to more of the same types of programs." To which we can only say "touche." Any program that the Bowl undertakes geared toward bringing worthy music to the culture-starved is much appreciated.
Scranton also rightly took exception to my flippant use of the term "real music" in referring to genres more sophisticated than pop music's inherently simplistic dynamics. I misspoke. All music is "real music," and music is such a wide, wonderful, and varied realm, it seems wrong when the commercially empowered pop fare so lords over "art music" idioms richly deserving our attention and advocacy. Still, there is a growing faction of disgruntled citizens who feel there has to be some way to expand the musical menu at our beloved Bowl, through underwriting, cultured patrons, collaborations with other arts organizations around town (UCSB, for instance?), slush funds, scurrilous compromising positions, whatever. End of rant.
STAGE SPEAK OF THE WEEK: David Crosby, at last week's CSN show at the Bowl, during the Bush-bash portion of the evening: "Don't you think the people who have control of nuclear weapons should be required to be able to pronounce 'nuclear'?"