Outdoors
Getting a Good Night's Sleep
Choosing the Right Sleeping Bag Makes All of the Difference.
Author's Note: See details below for huge savings on sleeping bags.
Glen Van Peski of Gossamer Gear has a very unique way of saving weight in his sleep system – he uses the lightest bag possible, wears all of his clothes inside it, and then figures if he still is shivering that the rapid contraction and expansion of those cold, cold muscles will help warm him up.
Fat chance I'll ever use that method to keep me warm.
There are a few things that are really, really important to me when I go camping, what I would call the absolute essentials, and one of them is that I'm toasty at night. I can handle the discomfort of a minimalist pad beneath me but not a nasty night of tossing, turning and chilling when the cold night air begins to attack from above and makes its way through the precious ounces of down that are the only thing between me and the bitter cold.
The good news is that there is no need to use the GVP method when you go packing, unless of course you are a) a masochist, b) an absolute gram weenie who would rather shiver than carry an extra 6 ounces of down in his (or her) pack, c) really like the feeling of rapid muscle contraction and chattering teeth or d) all of the above. If the answer is "d" then read no further as your skull is obviously way too thick to absorb any of what follows.
Making the right choices. Your choice of sleeping bag, pad, ground cover and tent (or tarptent) will determine a lot about how well you sleep but actually these are only a part of what makes for the perfect sleep solution.
As important as what bag or pad you buy is where you sleep. UL guru Rik says never sleep in low places, never sleep in the open, especially out in meadows in the hollows where the cold air will collect and the dew is well :. dewy and never, never sleep in places where there is a draft.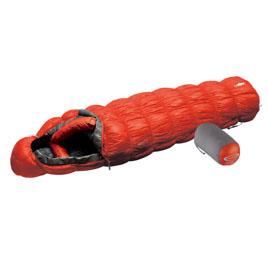 Finding a sensible location to place your sleep gear not only can make a 10-degree difference in temperature but more-than-likely will keep your bag dry at night. That is a huge consideration given that when we begin to talk about sleeping bags there is only one choice – 850+ goose down – and one rule: keep it dry at all costs.
Adding a tent to the mix will add even more comfort because it will keep you out of the wind, help trap body heat and keep out moisture when the temperature falls below the dew point.
Of course I like to sleep outside, I hate being under the trees because I want to see the stars and most of the places I'd choose to locate my ground cloth, pad and sleeping bag violate just about all the rules guru Rik has passed on to me over the years. But that's life and one of the reasons I'll never be a true blue gram weenie.
My solution is a simple one: take along a sleeping bag that's rated a shade lower. While a 30-degree Marmot regular weighs in at 1 lb 9 ounces, its 15 degree counterpart, the Hydrogen, only tips the scale at 1 lb 15 ounces, just 6 ounces more for the extra 15 degrees of comfort. That's not a lot to me as compared to a good night's sleep.
I also have to say that my 6-year-old Feathered Friends bag weighs a hefty 3 pounds 4 ounces and takes up twice the space either of the Marmot bags do so you can see what spending a bit more can do in terms of weight savings. Given current technology, materials and use of 850+ down, there is no reason you can't keep your bag weight below 2 pounds for what is close to a four-season bag and a pound and a half for the three-season version.
That is the good news. The bad is you'll need to shell out big bucks for the bag. Aside from your choice of tent, this will be the most expensive purchase you'll make in the move to UL backpacking.
The Right Bag. Right off, I'll tell you I like Marmot sleeping bags. While they are expensive, they are well made, use light materials and the best down, compress to a small volume and have enough room that I can keep my claustrophobic impulses at bay.
The key thing to remember is that you want to get a bag with the best down available. Right now, that's 850+ fill. What this means exactly isn't worth describing: just know that down with a higher fill rating with provide more warmth for the same amount of weight. Translated roughly, a bag with 850+ down will provide 15% more warmth than one with a 750 rating for the same weight. That's a lot!
So bite the bullet and get the best. Don't buy a bag that has a rating less than 850+.
So should you go Marmot? They are my bags of choice but I have lots of friends who swear by those from Western Mountaineering and Montbell.
Montbell has a series called the Super Stretch Down Huggers that uses elastic stitching in the baffles to provide more freedom of movement while drawing the insulation closer to your body. Theoretically this helps minimize dead space your body will need to heat up. More practically, as my other guru, Paul, says, "No more sleeping with that closed in feeling. The stretch really works when you toss and turn." Rik, however cautions: "I've found the Montbell ratings a bit suspect.'
Western Mountaineering is another good choice for your sleeping bags. They are really well constructed and lighter than most but they'll set you back about $30 more than the others. The company also has provided two choices for its 20 degree rated bags – one cut a bit narrower and the other with a more generous amount of space. Choosing the narrow cut will not only save an additional two ounces but is a bit cheaper. Still, you'll pay close to $400 by the time you've added sales tax either for this or Marmot's 15 degree bag, the Hydrogen.
Did I mention this would be the most expensive of your UL purchases? With proper care, however, it will last you way longer than a synthetic bag, keep an additional pound and a half of weight off your back and you'll be warm and toasty while out on those long, cold winter nights.
Ray's Recommendations: get the Marmot Helium ($359, 1 lb 15 ounces, 15 degree rating) for the winter months in our backcountry and the Hydrogen ($309, 1 lb 9 ounces, 30 degree rating) for the spring and fall months. Both now come with full length zippers which means when you get a bit too toasty you can zip them all the way down, open them up and use them blanket style, which is a plus.
Proper Care. I have a SnowLine down sleeping bag that I bought in 1974 and I still use it. That's an extreme example of how long your sleeping bag can last if you take good care of it but if you are careful, down lasts a long time. It is expensive up front but not over the long run.
If, of course, you care for it well. The basics are simple. Use a sleeping bag liner or wear ultra light clothing and socks to bed. Your first line of defense is to keep the interior clean. Liners work well for this purpose, especially where it is difficult to clean up at night, or a set of silk under garments also will work, plus either will provide an extra bit of warmth.
After the trip, store the bag in a large breathable sack that is large enough so that it isn't compressed much if at all. Rik likes to hang his from the drawstring with no compaction at all.
Even on the trail, compressing the bag into the stuff sack the manufacturer provides really isn't a good idea because they all force you to cram them in to fit. Better to have a stuff sack at least twice the size (mine is 16″x22″) that can also serve as your pillow case at night.
Adding a bivvie bag to go over the outside is also not a bad idea if you like to sleep out like I do. They not only minimize the impacts of any wind but help keep the outside of the bag clean. Mine comes from Equinox, weighs 6 ounces and I take it whenever I leave the tent behind. You'll find this along with lots of other lightweight gear at BackcountryGear.
Last, whether on the trail or afterwards at home, make every effort to keep your bag dry and before breaking camp, make sure you've dried it thoroughly in the morning sun.
For the best deals on a whole range of UL gear, including all of the sleeping bags mentioned above, another site you might check out is Campmor.
You'll find both the Marmot Helium and Hydrogen described above on sale at a drastic savings on both of these sites.
————-
Next Up: The rest of the sleep gear: pad, ground cover and tent.