The thrill of the opening Academy Festival Orchestra concert comes from a sense that everything is on the line for these young musicians, and that everything is possible. Imagine the pressure. Within 48 hours of arriving in Santa Barbara, they must form an orchestra with 90 or so perfect strangers, under the baton of a new conductor. The first rehearsal is on Monday, and the first concert is on Saturday-just five days from unpacking and introductions to full exposure as a group. And the material is never entirely standard or predictable. Saturday's program combined the gloriously familiar yet still demanding romanticism of Brahms Symphony No. 2 in D Major, Op. 73, with the fiendishly difficult, intricate modernism of the Symphonic Metamorphoses of Themes by Carl Maria von Weber by Paul Hindemith. The musicians were led by Maestro Larry Rachleff, who must have unusual powers of relaxing and calming orchestras judging by the cool confidence his ensemble exuded.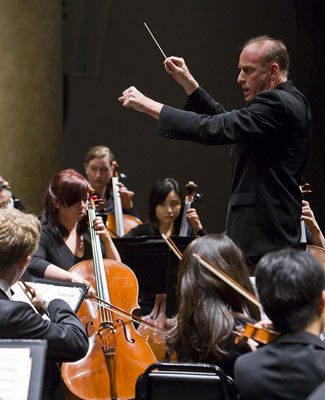 The Hindemith piece, which was originally conceived as the score for a ballet, demonstrates all of the composer's many characteristic devices, from raucous, bittersweet marches to the quicksilver transpositions of the melody from instrument to instrument, the "metamorphoses" of the title. The particularly exposed flute solo at the end of the third movement was executed flawlessly, and Maestro Rachleff duly recognized the soloist at the earliest opportunity during his first half curtain calls.
Brahms's Second Symphony contains some of the most perfect orchestral writing in the classical repertoire. Three distinct moments stood out in a remarkably smooth and natural-sounding performance. The solos in the second movement for horn and clarinet were both beautifully played, with unusual clarity and grace. And the trumpet fanfare in the finale was exhilarating, and provided a perfect culmination to an evening more than amply supported by brilliant percussion during both portions of the program.
Larry Rachleff moves so well on the podium that he can be easy for the audience to overlook, but that is clearly not the case on the musicians' side of the proscenium, where smiles, warm glances, and the gentle thunder of pounding heels met his every effort. And with that, the season has begun