Outdoors
Gap Fire Nearly Gone
Front Country Scare All But Gone with 90 Percent Containment by Sunday Night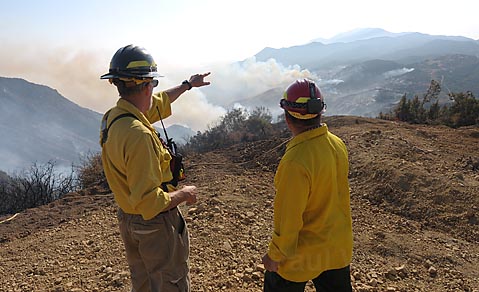 The once ferocious Gap Fire was almost entirely contained and extinguished by Sunday night, when firefighting authorities announced that the blaze was 90 percent contained. Authorities expect full containment by Wednesday, July 16.
In the days to come, there may be smoke puffing from within the already burnt zone of the 9,443-acre wildfire, especially in the northwestern zone on the eastern edge of the Gaviota Coast. But with only a half-mile of fire line to complete – and with evacuation warnings and orders lifted for everywhere except those few folks who live along West Camino Cielo west of Windermere Ranch – the Gap Fire seems to be gone.
As of July 13, when a little more than 600 firefighters were still assigned to protect the region, the fire has cost nearly $20 million to suppress but only led to 12 injuries, all reportedly minor. Only four structures were destroyed, though another 85 residences and 60 outbuildings were still considered "threatened" on Sunday evening.
For those hoping to explore the new burned area, it's still off-limits, and will be for quite some time. Currently, all Los Padres National Forest lands south of Highway 154 and East Camino Cielo between Gibraltar and Refugio roads remain closed.