It's Santa Barbara's most iconic structure, a cool Mediterranean dream of a public building that houses, among other things, "America's most beautiful jail." And now the Courthouse even has an event to call its own-the two-year-old, once-a-month summer party known as Courthouse Jazz. The brainchild of the team at Premiere Events-Josh Murray, Mary Lynn Harms, and Ryan Grau-and inspired by Elements Restaurant partner Andy Winchester, Courthouse Jazz is a free event that takes over the Sunken Gardens on the last Friday of every summer month to celebrate music, support regional nonprofits, and bring people together. This Friday, July 25, the musical guest for Courthouse Jazz will be Headless Household, the legendary avant-gutbucket ensemble led by Santa Barbara scribe and world-traveling jazz expert Joe Woodard. In the incomparably beautiful setting of the Courthouse's gardens, guests will have the opportunity to soak up some of the most thought-provoking, good-time music being played anywhere, all for the price of : nothing! That's right, for those on the lawn outside the VIP area, these shows are absolutely free. Special musical support for the event is provided by the Santa Barbara Jazz Society.
I spoke with Josh Murray recently about the genesis of these concerts, and about his experiences in promoting large public gatherings in our sometimes clannish, but always dressed-to-impress town.
How did you get started with the Courthouse Jazz project? Mary Lynn, Ryan, and I all worked for the Santa Barbara International Film Festival for a number of years. I was general manager, Mary Lynn was events coordinator, and we learned a lot there about not just doing events, but connecting those events to lifestyle, because that's what the party side of SBIFF is about. Coming off that experience and thinking about what kind of company we wanted to build together, we began to see that, although there are lots of wonderful catering companies and venues in town, there are not that many operations with our depth of experience in the finesse side of these large public gatherings. Then Andy [Winchester] at Elements mentioned to me that he thought there should be a regular event in the Sunken Gardens, something that would show off the Courthouse and that would be free to the public. I immediately sensed that there was potential there, and began brainstorming the music that would please everyone who might turn out.
Did you know right away that the series would take this shape? No. It took six or seven months of discussion to synthesize all the different parts of it. For instance, the concept that it would be free was there from the start, but how do you make that work financially? That's what drove the decision to create a second area for VIPs and mingling-something with comfortable furniture and a lounge feeling to it that wouldn't put anyone off, but that could be used by companies and nonprofits for entertaining and networking.
Has it been a challenge getting the word out and filling the space? Santa Barbara has what I call a "green event climate." All I mean by that is that once people are out of the college and lower State Street bar scene, they need an event to have organic appeal for them. It's not enough to just be out on the town-there has to be a reason behind it. That's how the nonprofit element came into play.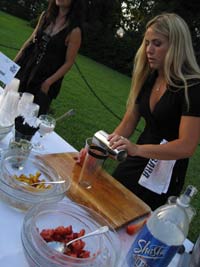 Tell me about that. Well, at SBIFF we were operating a nonprofit, and what we learned from that experience was that the hardest thing for any nonprofit to do is to reach a new audience-to get the attention of people who had not heard about them or didn't think they were interested. The partnerships we strike up each month with local nonprofits are designed to make this easy and almost automatic for them. All they have to do is show up with their volunteers and their literature and meet the people we are bringing out. For smaller organizations that don't have huge marketing budgets, it is a real blessing to have an opportunity like this.
So where is Courthouse Jazz headed? We are trying to create something that has the potential to grow and mature over time, and we are putting it together out of our feeling for the community and our desire to please a savvy, sophisticated events crowd. Very few people leave an event saying, "Wow, did you notice all that great lighting?" Yet when something gets a great lighting treatment, people do notice because it makes the night seem special. That's the kind of thing that we are attending to, and that's what we hope will become the trademark of Courthouse Jazz; great music in a beautiful setting with all the best details. The object is an event that has so much style that people can really identify with it-not just someplace to go, but something worth looking forward to and anticipating from one time to the next.
4•1•1
Courthouse Jazz occurs on the last Friday of the month from 5-8 p.m. in the Sunken Gardens at the Santa Barbara Courthouse (1100 Anacapa St.). Admission is free. For information about VIP access and hospitality, visit courthousejazz.com.