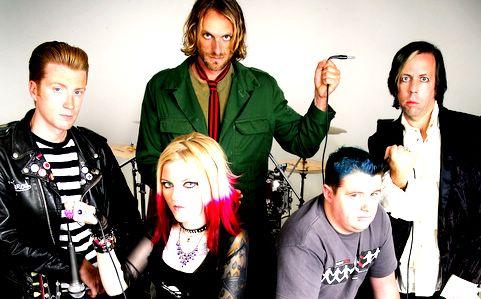 HERE, KITTY KITTY: Last year's winners of The Indy's inaugural "Local's Only Music Issue" are back and ready to party. This Saturday, July 26, the five-piece punk rock collective known as Silent Meow (myspace.com/silentmeow) will be unveiling the fruits of their labors with a very special CD release party at Velvet Jones (423 State St.).
The album itself is a 16-track self-titled collection of new and old favorites, all re-mastered and re-worked to do proper justice to the band's raw, energy-filled live sound. Engineered right here at the renowned Orange Whip Recording, Silent Meow also marks another milestone for the group-their first record deal. German indie label Trash 2001 Records has taken the band on and intends to release the disk throughout Europe and Asia. So come by and hang out before Santa Barbara's favorite young punks take off to tour the globe. The first 50 people through the door will even score a free copy of the album. Silent Meow, with openers PC101: A Tribute to the Golden Age of Punk and Defeating the Purpose, will play Velvet at 9 p.m. Visit numbskullshows.com for details.
LESS IS MORE: Following a short stop in Los Angeles, Seattle-based rapper Tulsi (tulsimusic.com) will head to Velvet Jones on Thursday, July 24, as part of his ongoing Less is More West Coast tour, with DJ Able and Specs One. The Washington rhyme-maker has two full-length albums already under his belt (2006's Fresh Points on Life and 2007's Waterflow), and something tells me he's got a long career ahead of him. With a powerfully smooth voice and a penchant for beats that are as piano and guitar driven as they are poetic, I guarantee this is one show you don't want to pass up. Visit myspace.com/tulsi for show dates.
FAIR GAME: Enough triple-fried Hostess goods and near-death experiences on portable Ferris wheels taught me early on that fairs, carnivals, and I could never be the best of friends. But as an adult who has learned how to say "no" to her cotton candy and Tilt-a-Whirl loving buddies, I'm beginning to think that 2008 might just be the year I make my comeback. Starting this week, the Central Coast is quite literally buzzing with the amount of talent (and less talented famous faces) that will be stopping through. Come Wednesday, the Ventura County Fair will take over Seaside Park (10 W. Harbor Blvd.) for 10 days and nights of food, livestock, and yes-live music. In between demolition derby nights and the event-closing rodeo, patrons can enjoy a collection of musical acts that range from the classic (The Beach Boys, Doobie Brothers) to the up-and-comers (Plain White T's, Sara Evans) to the just plain bizarre (Suzanne Somers's Tuesday, August 5, matinee performance comes to mind). For more fair news, ticket info, and schedules, visit venturacountyfair.org.
And if you're interested in heading a little farther in the opposite direction, this year's Mid State Fair in Paso Robles is offering up a collection of top-quality concert performers. For instance, yesterday's opening night performance saw John Mayer and Colbie Caillat team up to rock the Main Grandstand at the fair's Paso Robles Event Center (2198 Riverside Ave.) home. The show goes on through Sunday, August 3, and includes performances by Fergie (Thursday, July 31), Stone Temple Pilots and Black Rebel Motorcycle Club (Saturday, July 26), and Boz Scaggs (Friday, August 1), among others. Visit midstatefair.com for details.