Events
The Faith of Fiesta
Remembering Father Virgil at Fiesta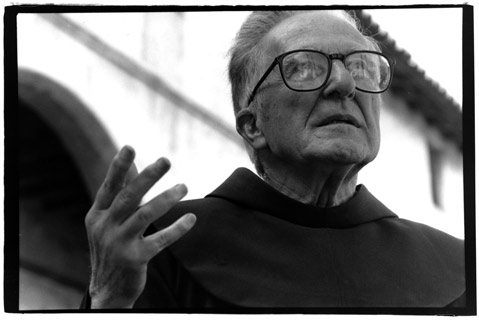 Each year, Father Virgil Cordano would kick off Fiesta festivities on the steps of the Old Mission. Formally known as La Fiesta Peque±a, the event went on as usual, but this year, Father Virgil was not in attendance due to his passing in May. In memory of Father Virgil and in homage to his role in Fiesta, we have reprinted this 2004 interview with the beloved man.
Ihad the good fortune to sit down with Father Virgil recently and talk with him about all things Fiesta. After all, being ordained at the Mission in 1945 and on Fiesta's Board of Directors since 1962, the man is certainly an expert on the subject. I found Father Virgil in front of the Mission talking casually with a few of the camera-waving tourists. He seemed completely at ease, chatting in the sunlight, brown robe blowing gently in the breeze; a patriarch of Santa Barbara. Noticing me from a distance, he bid his farewells and invited me over. Shaking hands, we retreated inside the cool comforts of the Mission. The following is part of the knowledge and spiritual wisdom Father Virgil shared with me that afternoon.
What is Fiesta? There is a Spanish tradition of fiesta. In 1924, a few local businessmen got together and decided to celebrate our local Spanish heritage, the local architecture, and so forth. They called this celebration the Old Spanish Days or Fiesta. There was an earthquake in '25 so Fiesta didn't happen that year, but a year or two after that Fiesta resumed. And, except for a few years during the war, it has continued on to this year.
What is the Mission's role in Fiesta? Besides being a Catholic church, the Mission is a tourist attraction and a historical monument. So we have always wanted to be involved in civic affairs and it is only natural that we be involved in Old Spanish Days. They come here for the blessing of Fiesta, of which I am the emcee. I say something of a spiritual nature and there is singing and dancing; it is called La Fiesta Peque±a.
How long have you been a part of Fiesta? I've been on the Board of Directors for Fiesta since 1962. I could have been presidente a few times, but I never wanted to. I've seen it really grow, becoming a bigger and bigger event.
Why is Fiesta important to you? Well, I have a faith or spirituality that one of the most important issues in life is to deal with differences. To bring together people of different languages, different cultures, different religions, different walks of life. So I favor anything that brings about community. : I focus my attention on how to celebrate what unites us while respecting our differences. I think there is more that unites us than not. Right now, we have people who, because of religion or culture, just cannot get along. : I find that everyone likes a party or a celebration, and Fiesta works to bring us closer together as a community. And that is my main interest.
Given your many years of participation, how, in your opinion, has Fiesta changed? Well, at first it was relatively small. Santa Barbara was a small town and Fiesta was a small event. But both have really gotten bigger. It has lost some of its simplicity but it has expanded its programs, its entertainment, and its parties. : I've seen the changes, and it is hard to adjust to them, but Santa Barbara still retains something distinctive and unique based upon its tradition. And Fiesta is one of the reasons why. It has a wonderful spirit about it. Essentially, this is the same spirit as in times past, but now, because of expanding costs, we are very much dependent upon sponsors. And though it is still a celebration of our Spanish heritage, it has become a more inclusive party. There is something for everybody.
Speaking of parties, how do you view the downtown aspect of Fiesta with the tequila shots and thousands of empty Tecates? In my faith, God created the universe and life and so it is wrong to separate religion from life. Religion is an interpretation of life. It gives a person perspective. Put it this way, God is at every ball game, every Super Bowl. He is at everything human. : I am a better Catholic and a better Franciscan for being open to things beyond Catholicism because God is present to every person. : Some people complain about Fiesta, but I think anything that brings us together, even if it is only for recreational purposes, is very helpful. I know the streets get crowded and loud and some people might have too much to drink. But all human experience is spiritual. Fiesta is a reminder for us to be grateful for our past, to live the present fully, and to build a better future. By a better future I mean a better community. I think Fiesta is really just a great community builder.
What is your favorite part of Fiesta? Well, besides this community building : it is a festive way, a celebratory way for me of living what I believe and what I think the world needs now. But the big events for me are the opening ceremonies here on Wednesday and the parade on Friday.
You mentioned earlier that you had been offered the honor of presidente a few times but had no interest in the position. Why is that? (Smiling.) Ahhhhh! You know I've got enough to do. It's a full-time job, and I'm just glad to be on the board and to do my part. I wouldn't want to be in charge of the whole thing. The Fiesta presidente goes to all these parties : I think I work best giving the invocation and serving as witness to the spiritual aspects of Fiesta. : The basic restlessness of the human heart is searching for something that transcends us and unites us all. That is why we have religions or philosophies or psychologies.
Or Fiesta, for that matter? Exactly.