News
3rd District Race Money Trickles In
Doreen Farr Is Out-Raising Steve Pappas in Santa Barbara County Supervisor Race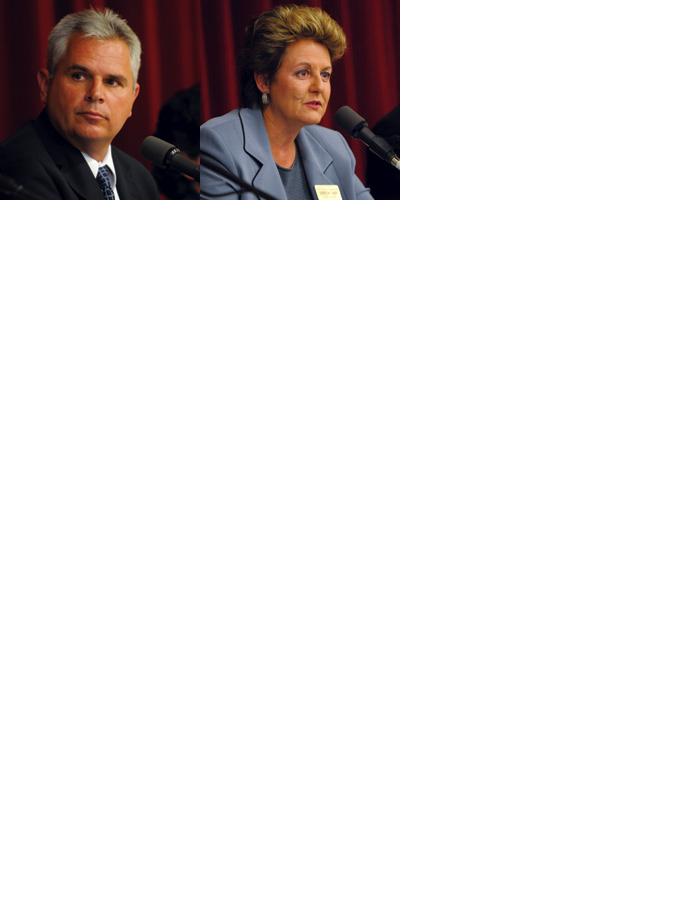 The first post-primary campaign contribution statements for the 3rd District race are out, and both candidates are running low on cash flow following a summer lull after the June 3 primary.
Doreen Farr remains far ahead of Steve Pappas in total cash brought in and in terms of cash on hand. For the period of May 18 to June 30, Farr received $91,894 in monetary and non-monetary contributions. Pappas received $75,150 in the same period, $3,200 of which came after the election. For Farr, who's raised approximately $373,810 since announcing her candidacy, only $700 has come since the June 3 race. She has $18,105 on hand. Pappas spent $116,448 in the last cycle, much of it on television advertising leading up to the primary, leaving him with $680.61 in the bank.
Farr reeled in 35.8 percent of the vote on June 3, with Pappas garnering 25.6 percent, edging out Dave Smyser, who had 20.9 percent. The two sides are beginning to gear up again. Fundraising plans are underway, and fundraising letters are just now starting to hit the mail.
The SEIU (Service Employees International Union) chapters have poured the most significant amounts of cash into Farr's coffers. Local 721 gave $16,000, bringing its total contributions to Farr's campaign to $31,000. An SEIU state council gave $13,000 for a total of $33,000, while SEIU Voters for Better Government have given $26,000 this time around. Farr also received $25,000 from the Government Committee of Santa Barbara County, which is based in Goleta.
Meanwhile, it was more of the same for Pappas, who has raised $275,496 total. He received $7,500 more from Anne V. Crawford-Hall Enterprises, a group owned by newspaper publisher Nancy Crawford-Hall, bringing her total contributions to $27,500. Doug Herthel, a veterinarian at Alamo Pintado Equine Medical Center, paid $5,400 for a poll and $5,000 to a media company, for a total of $17,600 in non-monetary contributions, which is combined with $17,500 in cash he's given to his friend Pappas. A total of $20,000 has been given under the clinic's name. Pappas has also given himself another $3,000 in loans, which means he's loaned a total of $52,500 to himself.
The election saw some of the lowest turnouts in 3rd District history, most likely because the day was scrunched in between the presidential primary of February 5 and the upcoming general election on November 3. With the popularity of those two contests sky high, the June election didn't see big numbers.
Farr, a Democrat, looks to be in good position for the race this fall, and might be able to ride the coattails of Democratic savior and presidential nominee Barack Obama all the way to the office now held by retiring Brooks Firestone, who supported Smyser in the primary. He has made it crystal clear he won't be supporting Pappas, but it's unclear how or if he will weigh in on the race.