Arts & Entertainment
New Instruments for a New Quartet at Westmont
Santa Barbara's James Wimmer Puts Music in the Hands of The Hubert Schwyzer Quartet
The late Hubert Schwyzer, former UCSB professor of philosophy, beloved community member, and passionate musician, was given an incredible legacy when Westmont commissioned a string quartet in his honor in the spring of 2007. "My father was not a musician by profession," explains his son Hugo Schwyzer, "but it was his passion."
When Westmont began toying with the idea of commissioning some instruments, Nona Pyron, Westmont cello professor and Hubert's teacher, suggested that a quartet be created in honor of Schwyzer. While there was no direct connection between the UCSB professor and Westmont's music program other than the loose link that Pyron provided, Hugo explained, "My father and Westmont both have a commitment of bringing music to Santa Barbara."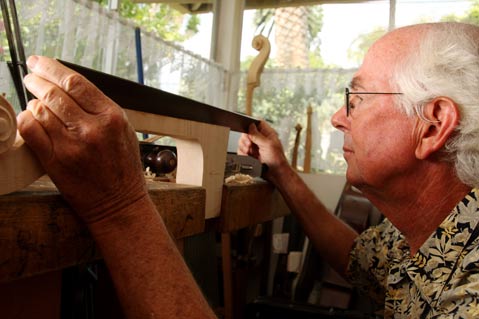 The two violins, viola, and cello to be played by The Hubert Schwyzer Quartet are being made by Santa Barbara luthier James Wimmer.
Westmont's professor of music and worship Michael Shasberger was instrumental in organizing the commission. "When we proposed it to James [the luthier], he felt like he'd won an Oscar," said Shasberger, referring to how rare commissions for entire quartets are. Not only can Wimmer be assured that the four instruments he's making will be kept together and played as a quartet as intended, but these instruments are going to remain in Santa Barbara where he can hear them in the hands of Westmont music students during the year and Music Academy students in the summer.
Having worked since spring of 2007, Wimmer expects to be finished with the quartet by the end of the year, pointing out that he has completed the hard, labor-intensive parts of the construction. "When work is commissioned, no matter who it's named after, it's calling on you to do your finest work," said Wimmer who flew all the way to Europe just to purchase the wood for the instruments. All four instruments of the quartet are going to be made from adjacent cuts from the same Bosnian maple and German spruce trees and will be patterned after Stradivarius quote work. When asked about what effect using the same wood will have, Wimmer explained, "The philosophy is that they'll be more specifically matched in tone, but basically it's a nice gesture for the instrument maker to select the same wood." Once the quartet is finished, Westmont and Music Academy of the West quartets will be provided with the rare and wonderful opportunity of playing on a set of instruments not only from the same maker, but painstakingly matched as a family of instruments meant to be played together.
"If you want a legacy for someone," said Schwyzer's son Hugo, "having a quartet named in their honor is more enduring than even a building. There's nothing else mechanical or artistic that can still be usable, let alone in its prime, in three or four hundred years." Hubert Schwyzer – also the father of The Independent's associate arts editor Elizabeth Schwyzer – loved music because it allows "people to communicate pleasure and love," explained Hugo. This quartet will allow Schwyzer's legacy of passion for music to continue bringing pleasure and love to musicians and audiences in Santa Barbara for years to come.