Little besides his hairline has changed about James Taylor over his 40-year career. Not his casual, faded clothing, nor his unpretentious demeanor. Not the range of his soothing, mellifluous voice, or his catalog of timeless folk ballads. Yet every note still sounds heartfelt and fresh, invigorated by the enthusiasm and sincerity with which he infuses them.
Backed by his all-pro touring outfit, the beloved troubadour blended his signature crowd-pleasers with soul, R&B, country, and Broadway covers on Friday night. In fact, more than half the numbers in his nearly three-hour performance were penned by others. Taylor's joking reference to his upcoming album of covers ("another term for stealing other people's songs") reminded the sold-out crowd that many of the icon's greatest hits are reinterpretations of other musicians' songs, indelibly rendered by Taylor's distinctive voice.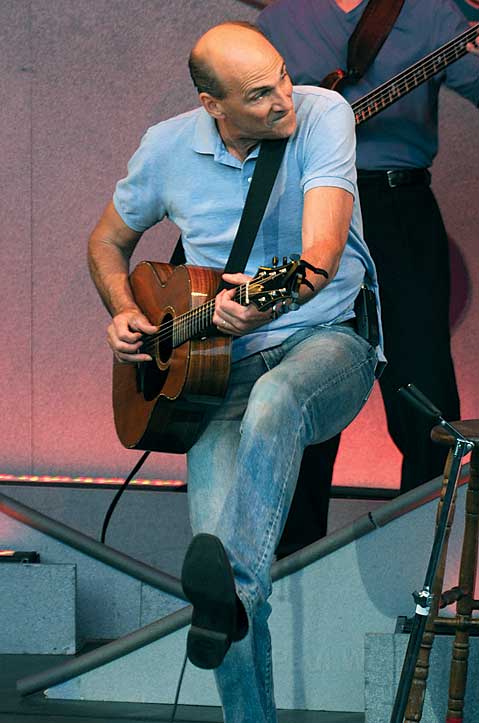 The iconic crooner kicked off the set with an energetic version of The Temptations' "It's Growing" and a slow-meter take on The Silhouettes' doo-wop classic "Get a Job." From his own canon, renditions of "Country Road," "(I've Got to) Stop Thinkin' 'Bout That," and "Mexico" benefited from his sumptuous arrangements. Taylor then offered a gorgeous, down-tempo performance of "Oh, What a Beautiful Morning" from Rodgers and Hammerstein's Oklahoma! and his own inspiring "Shed a Little Light."
Among Taylor's charming between-song tales was the story of learning to play Carole King's "You've Got a Friend," not realizing at the time that "I'd be playing it every night for the rest of my life." Tailoring his commentary to the locale, he gave props to local guitar pickup manufacturer Seymour Duncan and admired the upgraded Bowl stage. His Big Band-style, velvet-curtain-framed bandstand featured the names of each backing musician, including percussionists Luis Conte and Steve Gadd, keyboardist Larry Goldings, fiddler Andrea Zonn, and saxophonist "Blue Lou" Marini. Taylor generously stepped back during each number, allowing his talented supporting players an opportunity to shine.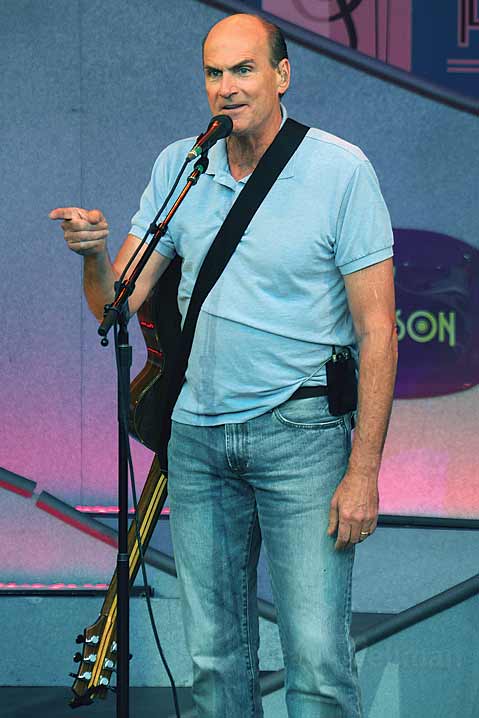 After graciously signing autographs from stage prior to his second set, Taylor launched into another series of covers-including Leiber and Stoller's "Hound Dog," a dreamy rendition of The Drifters' "On Broadway," and Junior Walker's rambunctious "Roadrunner"-before returning to his own inventory. Mugging comically, Taylor showcased his goofy side during a fierce version of "Steamroller Blues," building to a chaotic finish. His subtle chord changes and masterful finger-picking on "Carolina in My Mind," "Your Smiling Face," and a gospel-tinged "Shower the People" seemed almost effortless. Taylor once again dipped into the songs of others with an energetic encore of Wilson Pickett's "Midnight Hour," Eddie Floyd's "Knock on Wood," and a hearty finale of "How Sweet It Is (To Be Loved By You)," replete with an enormous, gospel-flavored finish.
Very sweet, indeed.