Arts & Entertainment
John Mellencamp and Lucinda Williams
At the Santa Barbara Bowl, Wednesday, July 30.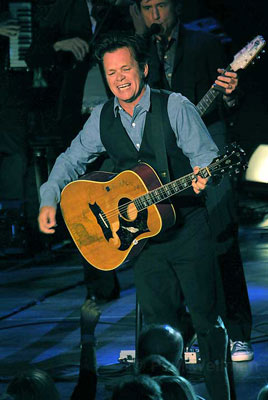 Recent Rock and Roll Hall of Fame inductee John Mellencamp brought his socially conscious Americana to the Bowl last Wednesday night to promote his newest album, Life, Death, Love and Freedom. The aging heartland rocker filled the evening with thematic anthems promised by the album's title, interspersed with classics from his 30-plus-year-long career.
Alt-country darling Lucinda Williams opened the show, showcasing an eclectic array of songs from her forthcoming release, Little Honey, along with selections from the sweetly gritty pathos of her canon. Her rasping drawl and soul-baring performance of slow-burners like Bettye LaVette's "Joy," stormy cautionary tales like "Little Rock Star," and rock outs like "Honey Bee" brought both faithful fans and new converts to their feet in appreciation of Williams' raw intensity.
Sharing his nostalgia for their halcyon days with the decidedly middle-aged crowd, Mellencamp launched into signature staple "Pink Houses," faithful to the studio version, save for an ad-libbed lyric about the price of gasoline. Despite a sound blowout during "Paper In Fire" and "I'm Not Running Anymore" that resulted in a number of awkward restarts, Mellencamp quickly regained momentum with his rollicking new single "My Sweet Love."
Appealing directly to his generation with affable comments about his age and longevity, Mellencamp dismissed his band to play a few impassioned solo numbers, beginning with Scarecrow's poignant "Minutes to Memories." "Longest Days," a spare and soulful new folk song, was followed by the moody, bluegrass-laced "Young Without Lovers," which Mellencamp interrupted to expatiate about time's passage. Following a stripped-down version of "Small Town," replete with iconic footage of S.B., Mellencamp turned to politically charged fare with the gospel-tinged peace anthem "Troubled Land," and "Jena," penned in response to Louisiana's recent race-fueled travesty.
Energizing the audience with rockers "Human Wheels," "Crumblin' Down," and the beloved classic "Jack & Diane," Mellencamp suggested that they share the experience with their loved ones via cell phone, plucking one fan's phone from her hand and bantering with her husband. Bringing political introspection and nostalgia full circle, Mellencamp dipped back into his catalog for the iconoclastic, rebellious "Authority Song," closing the show with truly timeless, populist protest rock 'n' roll.