MENTAL CONFETTI CLEANUP: Summer Solstice is touted and marketed as Santa Barbara's ode to wild abandon, a haven for pagan sun worshippers, temporary hippies, free expressionists, and gonzo suburban fun-lovers of all ages. But the argument could be made that the supposedly more staid Fiesta Parade has more than its fair share of surreal elements. We've grown so accustomed to the parade's face by now-those of us who stick around and bask in Fiesta rather than hightailing it outta' town-that we may gloss over the innate weirdness of all these white folks on horseback and in florid carriages, flashing grins and slow-mo waves and eliciting involuntary outbursts of "Viva la Fiesta!" from the admiring public.
Old Spanish Days keeps on coming, every summer, with the comforting regularity of traditions and implied controversies. It's best to leave your cultural knowledge at home and watch the parade as a Martian or amnesiac might-abstractly. With all due respect to Cheryl Ladd, this year's Grand Marshal, her link to the Spanish Diaspora or Alta California is tenuous at best. Why do we celebrate things Spanish, suggesting this is a pro-Imperialist shindig, when the best things about Fiesta-the food, the mariachis on the street and in the world class Mariachi Festival at the Bowl-are not Spanish but Mexican? While we're at it, there remains the burning question of why Santa Barbara pays no official respects to its original, pre-military, pre-religious-coup inhabitants: in other words, where is our "Old Chumash Days"?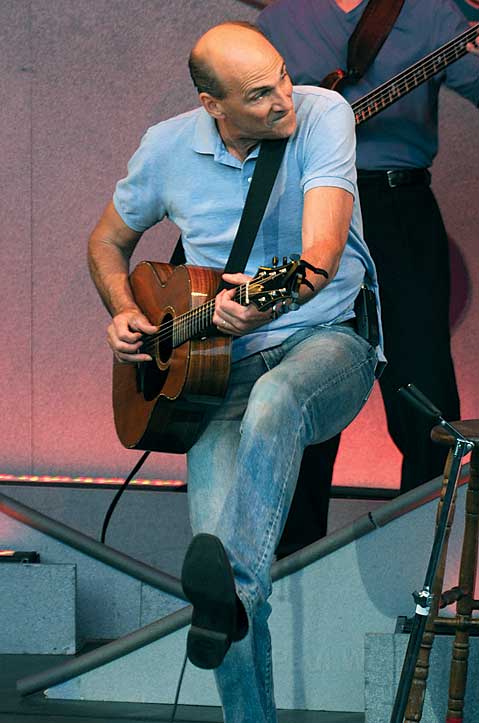 All those questions of political, historical, and cultural correctness aside, once you give in to the "viva la" zeitgeist, the whole town seems to quiver with a special spirit for a few days. Munching on pollo pozole from Primo Boxing at the downtown El Mercado, while the band Conjunto Desafio played on Thursday night-the night hosted by "Radio Bronco"-the "viva la" spirit was bubbling over, especially when a mariachi group played amidst the crowd, creating one of those great Ives-ian moments of sensory overload. What's Fiesta without some Charles Ives moments? When James Taylor played the Bowl on Friday night, his tune "Mexico" felt custom-fit to our town's spirit, although it wasn't clear that Taylor had any inkling it was Fiesta time.
Fiesta also brings different factions of the public into contact. A fancifully costumed family was walking to the parade's launch point on Friday morning and a homeless man in a psychedelic hat had to stop and admire the Spanish sartorial splendor. "Boy, those are pretty dresses," he commented to me as he passed. The young girl asked her mother, "Is that a hobo?" One cultural niche brushed by another.
Over at the generally more family-friendly El Mercado del Norte, in MacKenzie Park, one could descend into the "beer garden"-actually more like a fencedin "beer jail"-and sip a cold Tecate while savoring the country-punkabilly strains of "Mama Tried," "Ball and Chain" and Wilco's "California Stars." Tasty enchiladas from the Apostolic Faith Tabernacle capped off the visit nicely. Sunday afternoon, a kind of cool-down, post-game period when the De la Guerra Plaza and MacKenzie Park compounds are transformed back to business-as-usual, is a fine time to visit the Mercado at Our Lady of Guadalupe. In this broad courtyard, bustling with fine food, games, and Mexican music, we get a feeling of permanence and community entrenchment. Old Spanish Days may come and go, but Our Lady of Guadalupe is forever.
TO-DOINGS: This is the weekend opera comes to town, courtesy of the Music Academy of the West's annual staged opera production, and it's not just any opera. William Bolcom's A Wedding, based on the Robert Altman film of the same name, gets its official West Coast premiere at the Lobero on Friday night and Sunday afternoon, and local operaphiles and the opera-curious are encouraged to make haste and check it out.