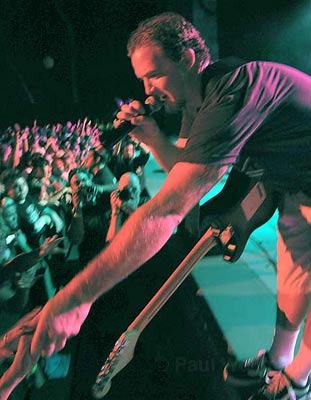 Reggae has most definitely evolved since Bob Marley. As bands began to experiment and broaden the sound, the category has come to include ska, rock, rasta, and dub. Fortunately for Santa Barbara, reggae has dubbed our American Riviera one of its permanent homes, and Pepper and Slightly Stoopid stopped by to pay their respects this past Sunday.
At around 5 p.m., Sly & Robbie opened the evening with some good reggae beats before an energized Pepper stole the show away. By the time Pepper took to the Bowl stage, the pit was a haze of swaying tanned bodies and raised hands. Bassist Bret Bollinger and guitarist Kaleo Wassman led their three-man band with crowd-pleasers like "Dirty Hot Sex" and "Ashes." Taking the time to introduce their newest album, Pink Crustaceans and Good Vibrations, Pepper eased the crowd into an adrenaline-fueled mosh by way of new songs "Blackout" and "Freeze." Before freeing the stage, the guys gave shout-outs to all of Santa Barbara's gorgeous ladies, letting their charisma and playfulness make way for Slightly Stoopid's more instrumentally oriented jams.
During the between-set break, pit dwellers were granted some much needed breathing room, but the space quickly dissipated when Slightly Stoopid opened their set with "Collie Man." It seemed like the band knew Pepper had tamed their audience, and in order to play up to that mellow ambience they seemed to take their show in a more musically focused direction.
Songs such as "Ocean" and "Closer to the Sun" were extended past their normal lengths with rumbling guitar riffs and particularly loud bass beats. In an effort to keep the general flow of music going, the band did its best to link one song to another, and the Bowl seemed the perfect venue for this endless wave of jams.
Eventually, the guys broke away from the cruising flow characteristic of smooth reggae, launching into an outburst of psychedelic rock that embodied the Stoopid sound. And above the stage, all of Santa Barbara's youth appeared to be standing, head-banging, swaying, rocking, or dancing along as the band finally released all the energy they'd been reserving for the set's finale.