Angry Poodle
Clawing, Chawing, Gnawing, and Pawing
Angry Poodle Barbecue
DON'T THROW GLASS AT STONE HOUSES: I was disappointed to hear how quickly and completely Rielle Hunter–John Edward's now infamous dangerous liaison-flew the Santa Barbara coop. After chilling in Ennisbrook, Hunter (real name: Lisa Druck) hightailed it for points more obscure after the likely father of her Santa Barbara-born love child fessed up to his sinful transgressions, in classic overblown Southern Gothic style, on national TV.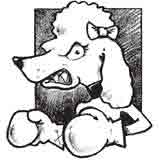 I think as a matter of public policy, the powers that be need to make the South Coast a roosting spot for all the fallen ladies, hotties, harlots, and jezebels of our time. Not only would it make things a lot more interesting-and, let's face it, things do get a little slow about this time of year-but bottom line, it's good business. Gas prices be damned, the tourists would come and finally they'd have something to gawk at, aside from all this natural beauty that passes as scenery. Santa Barbarans are notoriously polite and discreet when dealing with the rich and famous, and could be counted on to maintain a nonintrusive distance. Our moneyed set is equally notorious for not judging those with tarnished reputations, especially if they have an open checkbook and are willing to work the charity circuit. If Hunter decided to resettle here, I'm betting she'd be on the Film Festival board within six months. Besides, Hunter's Santa Barbara bona fides are already impeccable. For two years, she rented digs from investigative reporter Ann Louise Bardach and her actor husband Bobby Lesser (Carpinteria residents) in Los Angeles, and they insist Hunter is not the Venus flytrap as portrayed on TV. They describe Hunter as smart, funny, and underneath that extravagantly New Age exterior, tough as nails and hard as rock. Bardach and Lesser, who enjoy first-name relations with everyone living on both coasts, demonstrate that in Santa Barbara circles there's only one degree of separation, not the proverbial six. Not only do they know Hunter, but they are also on very good terms with Arianna Huffington, posh populist blogmeister and former Montecito carpetbagger, and another influential blogger, Mickey Kaus, who actually got the ball rolling to expose Edwards's secret love life long before the National Enquirer got onto the story.
The question, of course, is why would they want to and why would we care. Yes, I suppose it proves that Edwards is a sweet-talking hypocrite, presenting himself as a loving family man heroically dedicated to his cancer-stricken wife while in fact, he's happily succumbing to the charms of Little Miss Tryst. That's news? The extent to which this could possibly be relevant demonstrates only the utter imbecility of political discourse in this country. Was I really supposed to vote for Edwards because his wife is dying and one of his children was killed in a car crash? Am I really supposed to vote for John McCain because he was held prisoner by the North Vietnamese? These are nice personal details but hardly reason to bestow upon anyone the power to blow up the world. Some people will raise the so-called character issue. Please! Edwards was simply trying to act presidential, following the well-worn footsteps of tomcatting chief executives from Bill Clinton all the way back to Thomas Jefferson. Certainly, who can forget how Warren-"If this broom closet's rockin', don't bother knockin'"-G. Harding turned the White House into his own personal love shack? I know some Hillary supporters are complaining that Clinton could have won had Edwards been exposed as a sham and fraud sooner. Spare me. I never even considered voting for Edwards just because of his wife's cancer. I figured a guy who loved his dying wife as much as he did seemed like he might not be stable enough to receive one of those now infamous 3 a.m. phone calls. Had I known he was just another loose zipper on the prowl, I might have taken Edwards's candidacy more seriously.
It's also true that Edwards was asking for it by presenting himself as the Family Values Poster Boy. Certainly Arianna would know from first-hand experience how risky that can be. Back in the days when she was still a raging Republican and her husband, Michael Huffington, was trying to buy up every available office he could find, she would gush about what "soul mates" these two were. In fact, they were much more like ships passing in the night or strangers on a train. Michael, as everyone suspected, turned out to be gay, and pretty much a ghost in his own house. Let's face it; the so-called family unit is in serious trouble and politicians are hardly immune from this reality. We should not expect them to be otherwise; and they, in turn, should have the good sense, if not the good taste, to keep private matters private.
However ruthless and tawdry the National Enquirer may be, it's clearly emerged as the only national paper that matters anymore. Just as the mainstream media is chasing the Enquirer's tail, I'd like to see the Enquirer return the favor. Maybe the Enquirer could take up whether the White House ordered the CIA to forge documents in 2003 to give the false impression that 9/11 suicide bomber Mohammed Atta and Saddam Hussein were playing footsies with their socks off immediately before 9/11, as reported recently by Ron Suskind in his new book, The Way of the World. Although Suskind, a former Wall Street Journal reporter, has won Pulitzer Prizes for his previous work, he's not getting much attention right now. No doubt things would be different if he included some big-eyed babes on the cover. As it is, he only has the CIA paying off the former head of Iraqi intelligence under Saddam Hussein-to the tune of $5 million-in exchange for deliberately falsified "evidence" that there were weapons of mass destruction. In any other universe, these would be explosive charges. On Planet America-where more than 4,000 have died and our financial security has been squandered in the war justified by this doctored evidence-they mysteriously have no traction. If the Enquirer were on the case, however, we could sex it up with references to J. Lo, Britney, the Olsen twins, Bat Boy, the Loch Ness Monster, and of course Bush's binge drinking and his failing marriage to Laura, who will leave him the second his term expires. That just might do it. Failing that, we always have Lisa Druck.