Arts & Entertainment
Gustav Mahler's Symphony No. 3, presented by the Academy Festival Orchestra.
At the Granada Theatre, Saturday, August 16.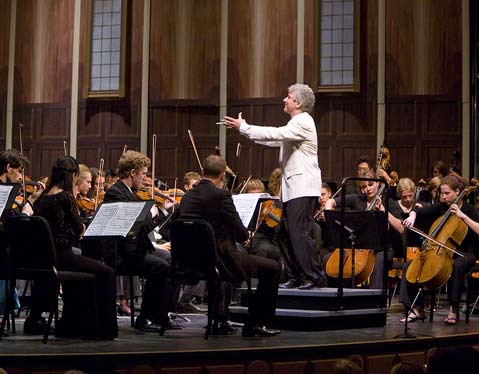 "All joy seeks eternity! Seeks deep, deep eternity!" sang mezzo-soprano Jennifer Feinstein, and no one could contradict her. The final performance of the Music Academy of the West's Summer Festival, with the Academy Festival Orchestra brilliantly led by Maestro Peter Oundjian, left no doubt that joy itself seeks the sublime truth of eternity-through Gustav Mahler's rich, powerful Third Symphony. This majestic work, the longest in the standard orchestral repertoire, requires the utmost in artistry and musicianship, which it received from Oundjian, 96 orchestra musicians, and 69 singers. This enormous group sent its joyful sound into the heavens and brought a glorious season to a magnificent end.
Although the sheer size of the work might be daunting, the narrative behind the music (thoughtfully explained by Oundjian before the concert began) made the experience surprisingly intimate. The opening movement, a 35-minute phantasmagoria called "Pan Awakes, Summer Marches In," actually does march through a number of variations on military rhythms, but with a light, clever step. Rhythmic echoes of the funeral march from Beethoven's Third Symphony and the rat-tat-tat of a distant snare alternate with powerful horn themes and folk melodies. The trombone solo, played with clarity and confidence by Douglas Rosenthal, shook the foundations of the hall. Mahler's description of the movement's tempo, "powerful-decisive," applies especially well to this performance.
After the intermission (which Mahler himself thought necessary), the remaining five movements took the audience through the entire hierarchy of the universe. A bright menuetto revealed "What the Flowers Tell Me," leading right into a scherzo based on Mahler's songs, complete with an offstage post-horn solo, skillfully rendered by Kyra Sovronsky. The fourth movement shattered this busy country scene with Feinstein's remarkable, expressive voice reaching through pain toward transcendence in a setting of Nietzsche's "Midnight Song," a strange, dark mixture of agony and hope. The combined efforts of the Women of the Music Academy of the West, the Santa Barbara Choral Society, and the Santa Barbara Children's Chorus restored optimism in the next movement with a simple tale of forgiveness and redemption. Still, the final movement gave the orchestra the last word, with chord after chord issuing in rich harmonies, the sound of awesome strength governed by wisdom. The concert, like the entire season, was an extraordinary achievement in musical art. Congratulations to Maestro Oundjian, the Festival Orchestra, all the choirs, the Music Academy, and everyone else involved.