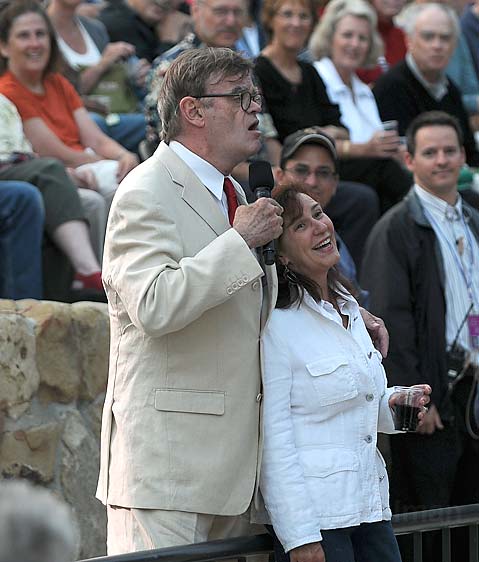 Admittedly, I've been a fan of Garrison Keillor's radio variety show A Prairie Home Companion for years, even convincing my family to attend a Christmas Day live broadcast from the Town Hall in New York. When Keillor and company announced a Bowl show, I knew I'd be there. The Bowl was their only California appearance on their Rhubarb Tour, featuring special guest-and delightfully honey-voiced Nashville star-Suzy Bogguss. She appeared along with the Guys' All-Star Shoe Band, accompanied by guitarist Joe Savage, Fred Newman, and, of course, Keillor, who performed a mix of duets, songs, hits from the radio show, storytelling, Guy Noir, private eye, and commentary on life in Lake Wobegon.
Keillor walked the aisles to open the show, serenading people as they took their seats and expressing surprise that there are any shy women in California as one tried to escape his attention. "California is a foreign country," Keillor began his first monologue, lamenting that lonely Californians can't make late-night phone calls to East Coast friends, evoking "cliches that last for centuries" of Midwesterners who move to the Coast and change their names. He spoke of tall tanned women who can surf, toss fabulous salads, and calculate logarithms. Even so, he reminded the crowd, "Most people in California are not so different from people in Omaha, truth be told." While he's been to Santa Barbara before, he frequently paused, looked out over the ocean, and made comment that this may the most beautiful venue he's ever played.
It may have been the ocean, the full moon, or some other factor, but Keillor was both goofy and melancholy throughout the night. His signature monologue, "The News from Lake Wobegon," explored subjects darker and more lurid than those heard on-air. The stories he uncovered from what he described as a taciturn bunch of hometown neighbors are the truth, he insisted: "I crave the truth : I am the storyteller."
He is a masterful one, with an easy banter and a charm, some of which comes from not knowing if he is reciting a rehearsed script or spinning an improvised yarn. There were moments when his band and sound-effects guru Newman seemed unsure of where Keillor's next turn would lead. In a lengthy storytelling segment, Newman seemed to miss a cue, laugh, and then carry the story forward after Keillor commented, "In radio, timing is everything." And watching Newman produce sound effects onstage that ranged from an espresso machine to dolphin-speak were some of the evening's highlights. While the storytelling, singing, and laughter seemed like it could have continued all night, in radio, timing is everything, and Keillor and company proved their facility with the art form, ending right at the Bowl's appointed curfew time of 10 p.m.