Visual Arts
Visualizing a New Los Angeles: Architectural Renderings of Carlos Diniz, 1962-1992.
At Edward Cella Art + Architecture. Shows through September 28.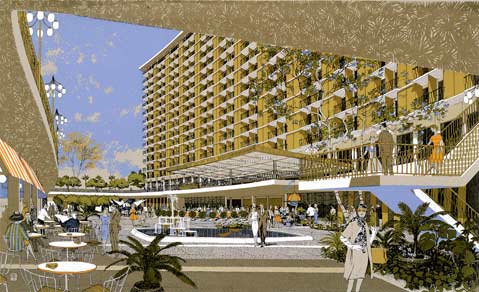 Architectural drawing possesses a mathematical, utilitarian beauty, a high abstraction that nevertheless directly refers to the real world. Carlos Diniz's pen and ink drawings are something else: Composed with the utmost precision, but also subtly in motion, they are more like canvasses painted from life. With Visualizing a New Los Angeles, Edward Cella Art + Architecture displays three decades' worth of work by the last great architectural renderer who did it all by hand.
Nowhere have competing visions of what a modern American city should be clashed more forcefully or often than in Los Angeles. Many of the architects and developers who would reshape California's expansive metropolis commissioned Diniz to make their competing visions a reality, at least in two dimensions. Diniz's job was not just to show people what a proposed building might one day look like; his job was to bring to life an active, inhabited urban environment, to sell stakeholders and gatekeepers on a new vision of whichever scrap of this brave new L.A. he was hired to depict.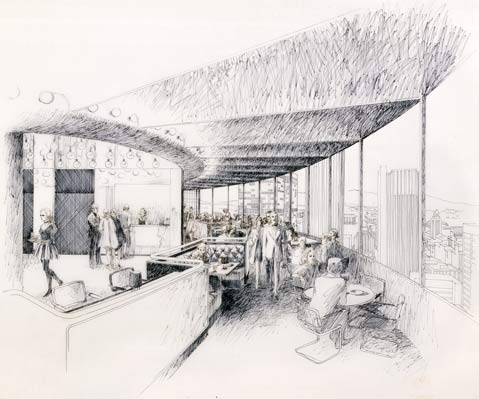 The walls of Edward Cella are thus lined with both intricately detailed, almost photographic images of landmarks with which we're now familiar, and grand, never-realized concepts that today ring Utopian. The show begins in Century City, a former 20th Century Fox back lot but now the home of Minoru Yamasaki's Century Plaza Hotel. In Diniz's rendering, the massive curved grid is cleanly modern and slightly intimidating. Among the other bold architectural chimeras to which Diniz gave shape and solidity were Pasadena's Art Center College of Design, the only school contained within a covered bridge, and, of course, Frank Gehry's Disney Concert Hall-no introduction needed.
Even more intriguing are striking monuments like Welton Becket's audacious Century City Theme Building. This building and many others like it never saw a foundation poured, but Diniz makes them such solid structures on paper, one feels it must be possible to visit them. Diniz's skill as a draftsman is most revealed by the flamboyant, now badly dated ventures of the '60s and '70s: revolving restaurants and jagged, sunken plazas that in Diniz's vision are not tacky, not the butt of jokes about mustaches and leisure suits; they're real places, vibrant, exciting, and alive