Arts & Entertainment
Gatsby Jazz Festival
Brings the Funk
The First Gatsby Jazz Fest at the S.B. Polo Club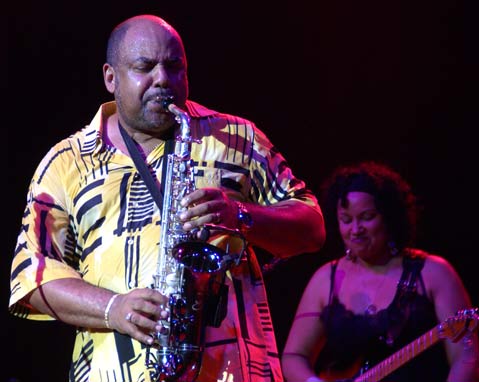 "Can't repeat the past? : Why of course you can!" -F. Scott Fitzgerald's The Great Gatsby
Headlined by jazz artist Brian Culbertson, the first annual Gatsby Jazz Festival comes to the Santa Barbara Polo and Racquet Club on Saturday, August 30, in what promises to be a unique combination of substance and spectacle drawing from the best of several bygone eras.
Inspired by the famed F. Scott Fitzgerald novel, Barbecue Club Entertainment founder Mike Patterson has been known to exclaim, "We're bringing a whole 'nother element from anyone else," and he's not just referring to the distinctive musical lineup of Brian Culbertson, Gerald Albright, the L.A Mambo Combo Latin Jazz Ensemble, Marcus Johnson, and Himalaya.
He's also referring to the Creole-Cajun cuisine, the gaming tables coming from the Chumash Casino, the cigars hand-crafted by Payne-Mason, the fine wines, and more. The audience itself also will become an important part of the visual presentation, as Gatsby-era outfits are encouraged so as to add to the event's unique ambiance. The event's dress code recommends white linen attire.
Fashion aside, the artists are excited to hear each other play. Promoters highlight the words of Martin Beijer, band leader and conga player for the L.A. Mambo Combo Jazz Ensemble, who humbly but enthusiastically states that "the L.A. Mambo Combo is jazzed to be selected for the first annual Gatsby Jazz Festival, plus we are honored to again share the stage with the ever-exciting Brian Culbertson and the always smooth Gerald Albright."
I spoke with headliner Brian Culbertson recently, and he expressed deep admiration for his fellow festival musicians. Mellow and friendly with a jazzy speaking style that matches his playing, Culbertson conveyed sincere gratitude for his musical relationship with Albright, commenting that "Gerald has been on three of my records. When I was 21 years old, he took me under his wing : in such a nice, cool, supportive way. As always, I'm thrilled to be playing with him at the same show."
Culbertson offered that he's looking forward to the white linen attire (though he clearly did not promise to wear it himself!). Indicating that he will enjoy performing on his Roland Digital Grand, which he promotes in videos that can be seen on YouTube, he also confidently predicted a good time for all. His most recent album, Bringing Back the Funk, contains classic funk originals and covers, and recalls some of the greatest musical moments of the 1970s. Culbertson got excited discussing the album, saying that it contains the type of "music I grew up listening to when I really young. : The photo on the cover is me as a kid listening to Earth, Wind & Fire, and I thought it was time to pay a little tribute to what I grew up with and what my audience grew up with as well."
Before starting this album, Culbertson got in touch with Maurice White from Earth, Wind & Fire and told him the concept, hoping that his childhood idol might even come by the studio for a day. Instead, White did far more, working as Executive Producer for three months, which Culbertson referred to as a "dream come true." Together, White and Culbertson created a wish list of guest musicians, and this process led to some great collaborations, including songs featuring Bootsy Collins and Maceo Parker. On the album's version of Kool and the Gang's "Hollywood Swinging," Gerald Albright appears as well, adding a level of excitement to the fact that both Albright and Culbertson will be performing at the Gatsby Jazz Festival.
When the highly impressive group of guest stars heard about Bringing Back the Funk, Culbertson found that their only question was "When and where do I show up for this?" Through recording live in the studio, Funk attains a fresh feeling and sound that Culbertson believes was also attractive to his all-star cast of musicians, as they loved the "live" concept, and responded by saying, "Let's just start jamming."
Culbertson loves more than just the jams; he also loves California. After moving here in 1998, Culbertson immediately fell in love with the lifestyle: "Weather and things to do. You can't beat it. It's the Italy of the U.S."
And, thanks to the Gatsby Jazz Festival, there will be another very exciting thing to do on Labor Day weekend in Santa Barbara. With its unusual combination of Roaring '20s opulence and stone cold '70s funk, the festival is bound to be unlike any other, and has the potential to be enormous time-traveling fun. When I asked Culbertson what F. Scott Fitzgerald would do if he could take a funky time machine to the future and land in Santa Barbara for the show, he barely paused before replying, "He'd enjoy the whole show. Fitzgerald would just get up and just start dancing, jamming to the music."
4•1•1
The Gatsby Jazz Festival is at the Santa Barbara Polo and Racquet Club on Saturday, August 30. Gates open at 3 p.m. For information and tickets, visit gatsbyjazzfestival.com or call (877) 805-2582.