FESTIVAL REPORTAGE: This Saturday at the Polo Grounds, the inaugural Great Gatsby Jazz Festival launches, picking up where the Santa Barbara Smooth Jazz Festival left off. That festival brought its silken sounds to the idyllic lawn-with-a-view at the Santa Barbara Zoo, a wondrous spot for a festival or other excuses to hang. Despite the new venture's name, the line-up doesn't feature fare that Gatsby would have heard, instead featuring the largely smooth likes of Brian Culbertson and Gerald Albright. Also on the day-long roster are pianist Marcus Johnson, Himalaya, and the L.A. Mambo Combo Latin Jazz Ensemble.
Meanwhile, the biggest news on the regional jazz festival front grows gradually bigger. The second annual Solvang Jazz Festival, September 26-28, has added the veteran tenor saxist James Moody to the bill. Impish octogenarian Moody will guest with the ace Gordon Goodwin's Big Phat Band, on Friday night. Also descending on the faux Danish burg are Monty Alexander, Dr. Lonnie Smith, Jean-Michel Pilc, Frank Marocco, and Bobby Rodriquez and his Latin Jazz Orchestra. Mark those calendars.
FRINGE PRODUCT FIVE-PACK: For someone deprived of beneath-the-radar sources-internet buzz, college radio (locally, KCSB and KCBX are solid places to start), peer to peer file traffic-this must seem an extremely dull and backwards cultural moment in music. But no. It's just that the good stuff, in pop, Jazz, and beyond, has gone into hiding, otherwise side-stepping old channels of public interface.
To that end, here are five fine recent releases from the jazz world:
• Lionele Lueke's Karibu (Blue Note): One of the most exciting new voices in jazz guitar, Lueke is a Benin-born player working wonders with his nylon-string ax (with subtle FX attached) who has gained public exposure through work with Terrence Blanchard and currently Herbie Hancock (with whom he appeared at Campbell Hall last fall). Mixing deep lyricism with harmonic sophistication and a natural integration with his supple singing, Lueke shows what he's made of as an artist in his own right on his Blue Note debut. It's a new brand of accessible-but-venturesome Afro-Jazz.
• Bill Stewart's, Incandescence (Pirouet): The great and witty drummer Stewart has lent his talents to many a top jazz artist, including an ongoing relationship with guitarist John Scofield. On his own, Stewart has been developing his writing and leading skills, and he brings a fresh creative spin to this offbeat but logical trio-with pianist Kevin Hays and the ever-expert Larry Goldings (we heard him with James Taylor at the Bowl) on organ and accordion. Shades of Monk, artful introspection, and oblique swing blend beautifully and in original ways.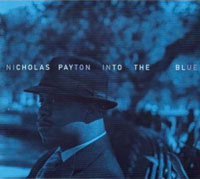 • Nicholas Payton's Into the Blue (Nonesuch): Pianist Hays returns, on piano and Fender Rhodes, as a core member of trumpeter Nicholas Payton's band, on this beautiful, moody, and altogether savory session. Payton, a New Orleans native like other trumpet kings of the day, is one of the finest and most musical trumpeters around. Unlike another New Orleans native, Payton hasn't denied his interest in funk and soul-jazz, while preserving dignity and exploratory spirit.
• Donny McCaslin's Recommended Tools (Greenleaf): Tenor saxist McCaslin, a Santa Cruz native turned New Yorker, has been a recommended player deserving wider recognition for years and has lately been getting more attention thanks to his role in Dave Douglas's quintet. On this cool and compelling trio set for Douglas's Greenleaf label-tenor, bass, and drums-McCaslin amply demonstrates the fire and sensitivity which makes him a voice worth hearing, mostly on originals but nodding to classic balladry with Billy Strayhorn's "Isfahan."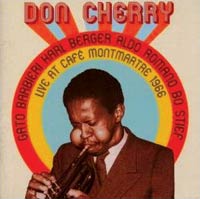 • Don Cherry's Live at Cafe Montmarte 1966, Vol. Two (ESP): Cherry, establishing his own direction in the mid '60s after his seminal role in Ornette Coleman's revolutionary quartet, performs in an American/Argentine/European group, with a young, fiery Gato Barbieri and vibist Karl Berger in this evocative reissue from this Copenhagen club. An inside-outside affair, the recording is just one of being re-released on the important left-leaning American label ESP