Living
Gregory Doan Charged in Las Positas Road Fatality
Allegedly Intoxicated Driver Charged with Second Degree Murder of Jogger Carolyn Samuels
Gregory Doan has been charged with four felonies – including second degree murder – and one driving infraction in connection with the death of Carolyn Samuels, a 66-year-old woman who was jogging with a large group when she was struck and killed by Doan's white van on Las Positas Road this past Saturday, August 30.
Making his first appearance in court, Doan, 56, looked somber and dismayed in his blue jail jumpsuit. He faces a murder charge, two charges of DUI causing injury with priors, and gross vehicular manslaughter while intoxicated, all felonies. He also faces an infraction for failing to drive within the vehicle lane. Public defender Jeff Chambliss asked Superior Court Judge Clifford Anderson to continue the arraignment until Friday so that his office could have an attorney assigned to the case; that request that was granted. If convicted, Doan faces 15 years to life behind bars.
According to the charging papers filed in court Wednesday, Doan has at least two prior DUI-related convictions. The first was on December 14, 1992, in Lassen County, where according to the vehicle code, another person was injured because of his drunk driving. He was convicted the next year. In April 1999, he was convicted of another DUI.
There were other tidbits that emerged from the hearing Wednesday. According to prosecutor Joyce Dudley, the defendant had opiates in his system at the time of his arrest. He also admitted after the collision to being a heroin user, she told the court. Bail has been set at $1 million.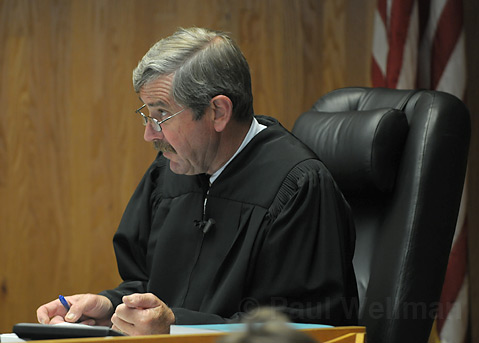 Samuels was running with a group of about 35 people northbound in the southbound bike lane on Las Positas. About 100 yards south of the Veronica Springs intersection, a van driven southbound by Doan struck Samuels, who was taken to Santa Barbara Cottage Hospital, where she died later from her injuries.