Living
StylePhile
Bella Notte Due, Solemates, Low Tide Rising, Bleecker Street Vintage
Au Courant:
Bag it: By now you know "paper or plastic" is a trick question, but woe be the bag ladies (you know who you are) for whom what they wear on their arms is as much a part of their look as what they're wear on their arses. I mean, no matter how evocative of a Hawaiian vacay that hibiscus-printed Trader Joe's bag may be, it never reaches further than something south of chic. Local sustainability pro Joslyn Gray sympathizes, and her uber-functional, thoughtfully designed JP Monkey (jpmonkey.com) bags are carefully constructed using remnant upholstery fabrics, which makes them extra strong, totally durable, and, being that they're made of remnants, one-of-a-kind. You're groceries have never looked so fierce.
Can't Keep a Sexy Nurse Down: Well, the summer's winding down, and, for certain folks with a fetish for playing dress-up, that can mean only one thing: It's time to start thinking about Halloween costumes. Of course, with the departure of Scavenge from its longtime digs on State Street, it's understandable if the rapidly-approaching homage to make-believe has inspired a certain degree of panic. Never fear: The go-to shop for all things costume has resurfaced at a new location in the Funk Zone, at 52 Helena Street. Stop by for a trick or a treat. Or maybe an ever-clever sexy nurse costume.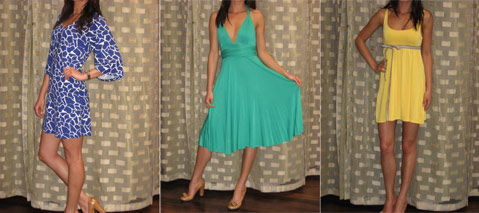 Dualing Divas: Lovely lasses Becca Bishop and Lana Petrovic of becca:christian (432 State St.) fame are trying their hand at designing, and the results are nothing shy of fabulous. After years of listening to their customers, the two shop owners know what we Santa Barbara ladies want, and they've delivered. Whether ultra-soft jersey or silk, the dresses they've designed are characterized by an understated sexiness and clean simplicity topped with subtly unique little touches. What's next for these fashion know-it-alls-modeling? Actually, Lana's done that, too. Never mind.
Spotlight on: Low Tide Rising
Branden Aroyan has Gemini syndrome. An energetic mix of yin and yang, he's tried everything, and is managing to succeed both as an artist and businessman-and centering both endeavors on respect for the earth. A photographer first and foremost, a medium he settled upon when he was still a kid (after trying "everything else first"), he's traveled the world shooting for the likes of Patagonia and Surfer magazine, and become known for his incredible surf photography, images that are at first stunning, and then leave you scratching your head, wondering how in the hell he managed to get the shot from that angle.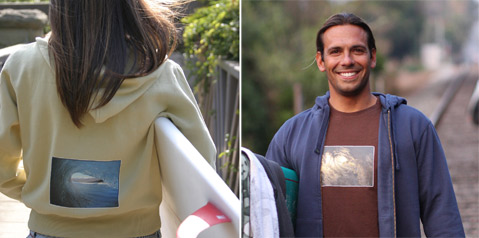 He describes his tactics-as he does most things-with a metaphor. "The surfer is the bull, and I'm the matador; I try to get out of the way." Rig safely within the confines of its water housing, Aroyan bodysurfs alongside whomever he's photographing, drops in in time to get his shot, and then gets out of there however he can mange it. His knowledge of surfing is as key as his knowledge of the workings of his camera. Fortunately, surfing is the sport he settled upon once he discovered it (after trying "everything else first"), so he knows what the wave is going to do before it happens, and acts-and shoots-accordingly.
Aroyan's photos are, of course, only half of this particular story.
A couple of years ago, he began doing homemade transfers of his shots to T-shirts with the help of his neighbor, who happened to be running a silkscreen business out of his house. Aroyan dubbed his line Low Tide Rising-which he explains as "the silence right before the tea kettle starts whistling," or when "you get to a restaurant and you're really hungry, and you're just taking a sip of your first beer and digging into the appetizer." Where anticipation meets its fruition.
In business, he prefers to keep things as simple as possible. "It's like that book, All I Really Need to Know I Learned in Kindergarten," he says, adding that he never actually read it but digs the concept. He also incorporates lessons learned from his proximity to Patagonia's founder, Yvon Chouinard: "He was such a solid dude, all about following your passion, being patient and disciplined;" and surfing itself: "going with the flow, respect, and awareness."
All of which have come in handy along the way, especially one day, when Aroyan was sitting on the couch, working out the numbers, minding his own business, and his old pal Chouinard appeared on TV. Chouinard was giving a lecture at UCSB, emphasizing the importance of going organic-especially in terms of cotton, the conventionally-grown version of which uses more pesticides than any other crop. Aroyan listened, then scrapped everything he'd been working on, all the research and planning he'd done until then, in favor of taking Chouinard's advice. In so doing, he watched his T-shirt business profit margin dwindle, but he doesn't mind; he has other priorities. His mission, he says, is to "create a high-quality product featuring the beauty of nature and ways to preserve it," and if that means a little less cash in his pocket, so be it.
Things are happening: Locally, his line, which is now 100 percent organic and has grown to include tanks, tees, and long-sleeve tees for men, women, and kids, is carried at Hempwise, Brophy Bros.' gift shop, Beach House, A-Frame Surf Shop, Surf Country, and Sundance; he's just launched his Web site (lowtiderising.com); and he recently teamed up with Surfrider's local chapter to design their shirts, which will feature an image of a local wave. It seems as though that proverbial low tide is rising right about now.
Spotlight on: Bella Notte Due
Some things are better the second time around. And Jean Mendillo Babbe is undoubtedly hoping that the encore performance of her clothing line, dubbed Bella Notte in its first, uber-successful '80s incarnation but known today as Bella Notte Due (that's two in Italian) will prove to be that best possible kind of sequel. She started her original line-heavy on the sweet underthings and ahead of her time in her use of natural fabrics-in 1982 and struck fashion gold when Stanley Marcus (that's the Marcus half of Neiman Marcus) spotted her work in a shop in Santa Fe and picked up the line. She rode that wave of silken success until 1990, when she opted to drop everything in order to care for her family. But she missed it. "It's just in my blood," she said of her passion for design. And a little over two years ago, she decided to go for it again, picking up where she left off-in the lingerie section. But she's branching out, too, creating adorable little tanks made from vintage scarves, utilizing crafty crochets, and creating the kind of robes (sexy on the outside; flannel underneath!) that make you want to lounge around all day long. Bella Notte Due is currently carried at Wendy Foster (on State Street and in the Montecito Village location), Intimo, and Lovebird Boutique, and her jewelry and headbands-a must for anyone with hair-can be found at Skin Deep Salon. As for Neiman Marcus? Stay tuned for act three :
Shop This: Solemates:
Inspired by a trip to Argentina in 2006 when Blake Mycoskie befriended village children who had no shoes on their feet, TOMS Shoes: Shoes for Tomorrow matches every pair of shoes sold with a pair given to a child in need. Since its inception, TOMS has delivered upwards of 68,000 pairs of shoes to children worldwide. For Tomorrow: The TOMS Shoes Story, a documentary on the subject, will be screened tonight, September 4, at 7 p.m. at dressed and ready (1253 Coast Village Rd., Stes. 202 and 204). And tomorrow, stop by between 11 a.m. and 5 p.m. for "Art and Sole": Buy a pair of TOMS Shoes (only $42!), then have them customized by guest artists including Hank Pitcher, Matti Berglund, Beverley Fead, Stephanie Dotson, Trevor Lloyd, Penelope Gottlieb, Jake Vantiger, and Nancy Martin. For every pair purchased, TOMS will give a pair of shoes to a needy child. As if personalized kicks combined with good deedery weren't fabulous enough, customized art piece shoes will be on silent auction, the proceeds of which will benefit the Teddy Bear Cancer Foundation. : And don't miss new kid on the block Lovebird Boutique's (7 E. De la Guerra St.) courtyard sale, which starts today. Stop by to score markdowns on summer items and first dibs on duds for fall.
Check Out: Bleecker Street Vintage
Everyone loves a cool vintage dress, but not everyone loves the hours and hours of digging often required to find said cool vintage dress, which is where locally owned and operated Bleecker Street Vintage (bleeckerstreetvintage.com) comes in. Here are three reasons you should check it out:
1. Proprietor Amber Tatum has spent years scouring the world's fashion cast-offs, collecting the pieces you'll find on the Web site. Her taste runs toward the '70s, '80s, and '90s, but with the recent acquisition of the inventory from defunct vintage outposts Bygones and the Wall Pocket, she's got the '40s, '50s, and '60s covered, too. And, for a dose of the '00s, transactions are handled on eBay, which means you get to name your price.
2. With all that inventory, Tatum has the means to offer a killer deal to photographers and Brookies, putting her experience as a stylist to good use while she's at it: She rents out complete looks at super-competitive prices (plus student discounts) that includes a consultation. So, if you're a stud as a shutterbug but not so comfortable in a closet, she's your girl.
3. Full disclosure: Once upon a time, Tatum worked as the listings editor here at The Indy. What can I say? I'm proud of her!