News
Homeward Bound
Dog Is Reunited with Family After Five Years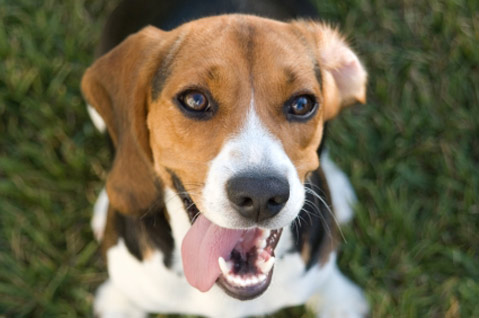 Five years ago, a young girl from Queens, N.Y., was hanging "lost dog" posters hoping to be reunited with her beagle that got away. Last week, little Natalie Villacis was miraculously reunited with her beloved dog Rocco after he resurfaced some 850 miles away in Georgia. The Villacis family was shocked when they got a call last week from a shelter in Hinesville, Georgia, informing them that their long-lost pet had been found after half a decade. Thanks to a microchip implanted in the dog, the shelter was able to locate the family and Natalie's greatest hopes were realized.
According to the American Humane Association, only about 17 percent of lost dogs and 2 percent of lost cats ever find their way back to their original owners. Almost 4 million pets are euthanized every year because their owners can't be found in time; if a shelter cannot determine a pet's owner, the pet may be euthanized in as few as three days. Would you know what to do if your dog or cat went missing? Where would you look? Who would you call? Here are some tips to make sure you and your pet are prepared.
What to Do If Your Dog or Cat Goes Missing
• Like Natalie's family, get your pet microchipped for permanent identification. The procedure involves an injection of a tiny chip about the size of a grain of rice just under your pet's skin between the shoulder blades. The number on the chip is then entered into a database. When a lost pet is found, any animal hospital, shelter, or humane society can use a special handheld microchip scanner to read the microchip's unique ID number. The veterinarian or shelter then contacts the database to the microchipping company. The database matches the number to a name and phone number, reuniting the lost pet with its owner. Most microchips last 20 years, so there is no need to remove or replace it in the duration of a pet's lifetime.
• Call Animal Control and then go to the shelter in person to look for yourself. Make sure you check back often. Program Animal Control phone numbers in your cell phone-Santa Barbara County Animal Shelter: 681-5285; Santa Barbara City Animal Control: 963-1513. If there is no shelter in your community, contact the local police department. Provide these agencies with an accurate description and a recent photograph of your pet. Notify the police if you believe your pet may have been stolen.
• Walk or drive through your neighborhood several times each day. Ask neighbors, letter carriers, and delivery people if they have seen your pet. Hand out a recent photograph of your pet and information on how you can be reached if your pet is found.
• Post signs around your neighborhood as soon as possible. Include a photo of your pet and offer a reward to spark interest. State where and when your pet was lost. You can also post notices at grocery stores, community centers, veterinary offices, traffic intersections, pet supply stores, and online at pets911.com and findtoto.com.
• Place an ad in the "lost and found" section of your local newspapers. Check "found" ads and call information that sounds close.
• Make sure your pet has a good collar and an ID tag that is worn at all times. This will greatly increase your chances of finding your pet.
• Holidays such as the 4th of July, Halloween, and New Year's Eve have increased activity and loud noises that can frighten your dog or cat. It is a good idea to keep all pets indoors on these occasions.
A Word About Cats
Most indoor cats who become lost will not go far. Start looking under porches and in garages or sheds. Leave fresh food and water outside in a sheltered area close to home. Set up a large box with a blanket that smells familiar to your cat. You can also place an item of clothing in the box that has your smell on it to encourage your cat to come home. Check the box and food regularly during quiet evening and early morning hours.
By following these tips you will greatly increase the chances of being reunited with your lost pet. Just like Natalie Villacis, you should never give up hope.