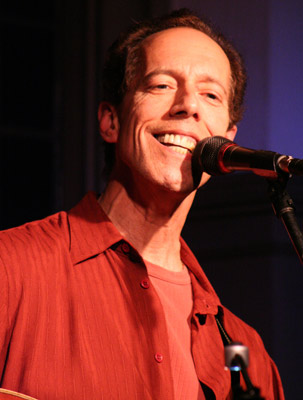 GRIMM'S FAIRY TALES: After an assuredly much-needed summer break, Santa Barbara songstress, promoter, and music fan Christina Grimm is back to her old tricks and haunts this upcoming Thursday, September 18, when she presents her 18th Santa Barbara Songwriter Showcase at Jensen Guitar's Mainstage. This will be the first of the monthly concert series since June's offering, and the lineup promises a smattering of Central Coast talents and surprises that speak to Grimm's tastes and talent for bringing together some of the best in the indie scene.
Starting at 7 p.m., the showcase will kick off with headliner Peter Gallway with Julia Baucke, Khasy Modisette, and three "special guests" who will be chosen to perform on-the-fly during the night's program. The epitome of a consummate songwriter, Gallway has recorded more than 10 albums with Warner-Reprise Records, as well as penned tunes for the likes of Kenny Rogers and the infallible Bette Midler. On Thursday, Gallway will take to the Jensen stage with a collection of new tracks off his soon-to-be-released Freedom Is album.
Supporting Gallway will be Baucke, an alt-folkster whose most latest album, Never Too Soon, features a mix of soulful tracks that call to mind both Aimee Mann and recent S.B. passer-thru, Patty Griffin. Likewise, Baucke's liner notes read like a who's-who of alternative country and adult contemporary music making. While she shares songwriting duties with Kenny Edwards on the album's "Like You Love Me Now," Baucke has also brought on the majority of Jackson Browne's backing band by way of guitarist Mark Goldenberg, keyboardist Jeff Young, and drummer Mauricio "Fritz" Lewak.
Last, but most certainly not least, Modisette will round out the threesome with a set that will undoubtedly draw a crowd. Since her much talked about May stint at SOhO, Modisette has been hard at work with her husband Nathan perfecting the duo's arsenal of songs and harmonies. As always, Grimm will play emcee to the night's events. Tickets are $10 general admission, $5 for those younger than 21, and children 12 years or younger get in free with an adult. Visit myspace.com/sbsongwritershowcase for details and music samples.
GREETINGS FROM ISTANBUL: With three months of heavy European travel down and one month to go, the lovely lads of oso took some time last week to check in, say hi, and promise me they hadn't disappeared forever. Specifically, frontman and resident S.B. unicycle pro Phil Taylor had a few nifty anecdotes and big plans to share with his fans and friends stateside, including the promise of more awesomely whacked-out art rock when the guys return in October. "We plan a week of team building exercises in mid October," Taylor shared. "Then we will play around town as much as deemed reasonable before Halloween. We [also] have a new album, Kuno Esama, that we finished in May just before we left that hardly no one has heard yet."
I have heard the disk (which was quietly deposited in my mailbox pre-departure) and can vouch for the fact that it is a sonic onslaught that does an amazing job of capturing what oso does best-put on a ruckus live show. So, what do the Eastern Euros think of the unicycle?
"In our procession of going to wherever we are going, me riding the unicycle while carrying my amp with the guitar on my back, and Tim [Beutler] hauling his drum set on a hilariously rickety cart with an accordion strapped to his back," Taylor described. "[It all] seems to generate something; a wave of smiles, disdain, but it's probably hard to ignore, which brings up the question of safety. It looks dangerous. It certainly is. I've dropped the amp three times on this trip, once destroying the speaker in Berlin, spraining my wrist in London. So the system is far from perfect, but [it's] the best we've come up with so far."