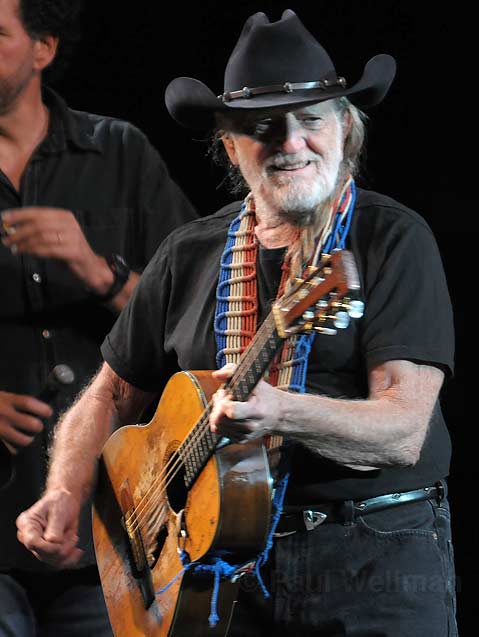 Perhaps the only discordant note unintentionally hit at the Willie Nelson concert last Saturday night was a conversation overheard while exiting into the post-show throng traveling down Milpas Street. "That was the same set he played at Universal Amphitheater eight years ago," said one woman. "Maybe so," said her male companion, "But hey, it's Willie and he's old."
It's true; Nelson is old-75 years old to be precise. And though I don't know if Saturday's was the same set he played eight years ago, it would be absurd to tarnish this American rave-up with any hint that his offering of 35 songs played in two rollicking hours showed a whisker of age. It turned the Stonehenge Arch of the Bowl into a rowdy roadhouse, and Nelson from septuagenarian into a beaming avatar of sex, dope, and Western contrarianism. After Bob's little boy Jakob Dylan warmed the crowd, Nelson began and ended (cue young women and middle-aged dudes jumping up and down) to the invocations of "Whiskey River," which was as amber and smooth as Nelson's tonsils. The evening settled rather quickly into related themes of cowboy raucousness, with great whiffs of pot smoke in the air, and the kind of singspiels that insist on fighting for our right to honky-tonk. Make no mistake, though, Citizen Nelson also stands for law and order camaraderie-witness the contrast between "Still Is Still Moving for Me," "Night Life," and the crowd-pleasing "Bring Whiskey for My Men and Beer for My Horses." But Willie's real sex appeal is his undaunted warble.
Of all living crooners, Nelson is the best heir of the crop that peaked in the 1940s and '50s. He never oversells anything: from "Blue Eyes Crying in the Rain" (on which he dueted with an apparently drunk Shelby Lynne) to "Crazy" (a song he wrote for Patsy Cline in the Eisenhower years). His voice glides nimbly, sometime almost too quickly over lyrics only to punctuate lines with big dulcet flourishes.
But Nelson also stretched out Saturday, and that was the part that belied claims that he was just repeating old material. He hoedowned "Bloody Mary Morning" and rocked "Move It on Over" with utter authenticity. Maybe he's old, but tell that to the 20-something women thrilled to catch the red bandanas he threw into the crowd. He even ended the show with a "protest song" that begged for peace and that the people-honky-tonkers and outdoor tokers-take back America. Even Shelby Lynne proclaimed, "Willie Nelson for President," as she wobbled off the stage. And God knows he's not too old for that.