News
Officials Survey Fire Damage, Plan for Risks
Forum Held to Identify Risks, Show Current Mitigation Efforts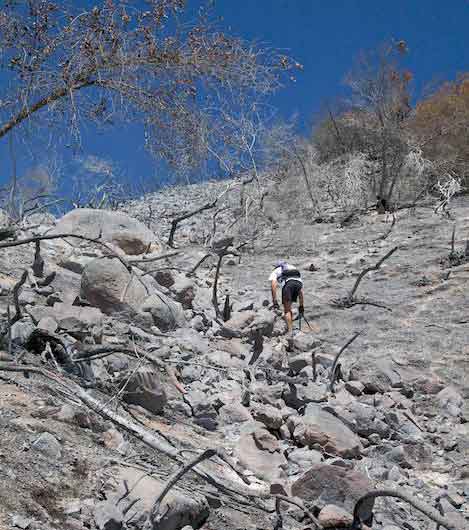 In the wake of the Gap Fire, county, state, and federal officials have been assessing damage and have attempted to discern what risks exist this winter when the rains finally do come. Heads of the various agencies involved in the cleanup effort – Santa Barbara County Fire, the Forest Service, the Federal Emergency Management Agency (FEMA), the National Weather Service (NWS), the City of Goleta, and others – held a forum Thursday night to present the information that has been gathered so far and to answer questions posed by members of the public. Of the 150 or so people who showed up, a show of hands revealed that roughly half had been affected by evacuations during the Gap Fire.
County Emergency Operations Chief Michael Harris said that the community has learned lessons from the Gap Fire – including how to better prepare for the next one and protecting property with flood insurance. "We're not here to scare you to death, we're here to paint an honest picture," he said, noting that the fire caused numerous watershed impacts which are currently being mitigated. Steve Wagner, Goleta's Director of Community Services, said that every watershed tributary in Goleta has some burned area in it, making an anticipatory response to flooding and mudslides necessary. "We're hoping for the best, but we're planning for the worst," he said.
Over the past few months, work has been underway to clear creeks and streams and prepare for the coming rains. Burned areas have been closed to keep road vehicles off of them, which officials said would disrupt the fragile layer of topsoil. Beginning September 24, aerial mulching – spraying a chemical soil binder to strengthen the top layer of soil – of about 1,500 acres will commence. Bob Hawkins of the U.S. Forest Service said that debris barriers – metal racks that collect material and can be cleaned out periodically – will also be utilized. Providing $3.8 million, the National Resource Conservation Service (NRCS) has been working with landowners in the burned areas implement these measures. Since NRCS -which has coordinated eight damage survey reports with the county and the Goleta Water District – is a nonregulatory agency, participation by landowners has been voluntary. Jeff Raifschneider of NRCS reported a 71 percent participation rate in their Emergency Watershed Protection program.
Since most people in Santa Barbara County are in preferred risk flood areas, many people do not have flood insurance. FEMA's Regional Flood Insurance Specialist, Jana Critchfield, encouraged homeowners to get flood insurance, urging them to start looking now, as it can take a while to get a response from insurance companies. She said assistance could be garnered from FEMA if there is flood damage to a home that doesn't have flood insurance, but that only $28,000 per address is available, with a presidential declaration of a national disaster necessary to activate the funds. Furthermore, she explained that once the funding is used, it is no longer available to that address, regardless of owner. Aside from noting potential risks, Critchfield lauded Santa Barbara as a community for the work that has been done so far to prevent disaster from happening. "You are so prepared, you could really be models for other communities in the United States. You're to be commended. You make out jobs easier."
Eric Boldt, the flash flood program coordinator for the National Weather Service (NWS), warned of the urgency of flash floods, the risk of which is very high in the lowlands beneath mountains so recently denuded by fire. "Flash flooding is one of the most dangerous things to deal with," he said. "When you hear the warning : you need to take shelter." NWS is coordinating with TV and radio stations to set up the following tiered warning system:
Advisory: Deals with nuisance level rains and minor flooding.
Outlook: A special weather statement indicating flood-causing weather is likely.
Watch: Weather that is likely to cause flash flooding is six to 12 hours away. Preparations should be made.
Warning: A flash flood is five to 45 minutes away. Take shelter immediately.
"Debris flows are tricky whether they're going to be two or ten feet deep, so we need to stay on the side of caution," said Boldt. "In California, we get pretty relaxed about the weather. This winter, I want you to think like a Midwesterner."
The mitigation work is now 50 percent done and will be completed before the first rain, said Tom Fayram of County Public Works Flood Control District. "We will get runoff from the first storm and every storm, so our challenge is to prepare for that." Sand bags will be available from the county at no cost at Fire Station 14, which is located at 320 Los Carneros Rd. The American Red Cross has disaster relief supplies and kits available as well. Other precautionary measures include Goleta's new alert system, which sends email and text messages to residents and businesses. To receive a Goleta City Alert, sign up at the city Web site, goleta.govoffice.com.