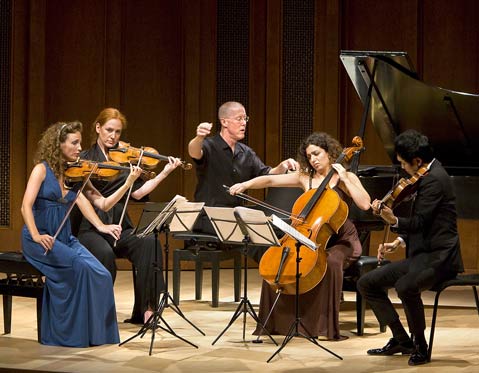 The music of J.S. Bach made a fitting opening selection for the first night of Camerata Pacifica's new season at Hahn Hall on the Music Academy campus. Adrian Spence gave a prefatory disquisition on the virtues and perils of playing period chamber music on contemporary instruments in which he somehow managed to compare himself on flute to Diana Ross, and the rest of the marvelous ensemble-Catherine Leonard on violin, Teresa Stanislav on violin, Richard O'Neill on viola, Ani Aznavoorian on cello, Geoff Osika on bass, and Patricia Mabee on harpsichord-to the Supremes. Motown aside, the Orchestral Suite No. 2 in B Minor, BWV 1067 was exquisite, especially a particularly sensual Sarabande. Patricia Mabee is a wonderful harpsichordist, and the group did indeed modify their approaches to their instruments successfully so that her playing could be heard.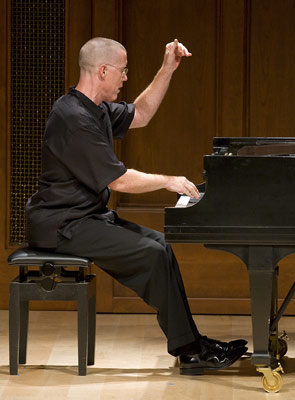 The planned intermission at this point was postponed until after Warren Jones played the Piano Sonata in E-flat Major, H XVI of Joseph Haydn. Jones remains perhaps the most influential classical musician consistently playing in Santa Barbara, a giant among pianists whose every nuance radiates intelligence and taste. The Haydn was no exception, providing an unusual glimpse into the composer's late style, a manner suggesting Beethoven in its rhythmic complexity and emotional emphasis.
The interval was followed by the Piano Quintet, Op. 81 of Anton-n Dvošk. Composed in 1887, this mighty piece exemplifies the kind of thing that Camerata Pacifica does better than anyone in town. It's a terrific quintet, fully the equal in lyricism and structure of anything by Schubert or Brahms, and the group attacked it with gusto. Leonard, Stanislav, O'Neill, and Aznavoorian returned, this time accompanied by Jones on piano, and the sound was triumphant, as befits an ensemble coming off a successful series of late spring concerts that included a highly acclaimed appearance at Wigmore Hall in London. Dvošk's Bohemian background never sounded with such poignancy as it does in the long second movement of this piece, which is called a "Dumka." Richard O'Neill's viola was prominent throughout, delivering these dark and sinuous lines with his signature blend of intelligence and ravishing sonic opulence.
In his spoken introduction to the Dvošk, Spence made no effort to conceal his glee at the sparkling new home his group has found in Hahn Hall. The combination of this extraordinary room and Camerata Pacifica's mature yet still growing genius as an ensemble is certain to make for an exciting year and for many more fabulous seasons of music to come.