RENDEZVOUS IN MONTEREY: With this weekend's edition of the Monterey Jazz Festival, the second half century officially begins. Last year's gala 50th anniversary festival brought even more international attention and huzzahs on the festival, which is not only the best on our coast, but one of the finest and oldest in the world (for those counting, it is reportedly the oldest "continuous" jazz festival in the world, given that Newport has had a hiatus along its path). Given the global status of America's greatest music-and its infamous greater appreciation beyond our own shores-the mere four-hour drive from Santa Barbara makes the Monterey Jazz Festival a virtual backyard experience.
But Monterey, especially under the inspired guidance of artistic director Tim Jackson, resists the temptation to coast or to water down its carefully balanced programming agenda. From Friday through Sunday night, the Monterey Fairgrounds becomes the hippest jazz property in the world each third weekend of September. It's no different this time around, with a program including the wondrous Maria Schneider Orchestra, Wayne Shorter, Herbie Hancock, Christian McBride, Joshua Redman, a duet with Bill Frisell and Matt Wilson, Anita Cohen, Brian Blade & the Fellowship Band, Kurt Elling, Cassandra Wilson, Jamie Cullum, Nancy Wilson, Terrence Blanchard : and the proverbial list goes proverbially on.
Incidentally, the amazing and deeply musical slide guitar master Derek Trucks brings his great band to Monterey on Saturday afternoon, before heading up to the Lobero Theatre on Sunday night-a must-see-and-hear show in Santa Barbara).
While the main arena tickets are perennially sold-out, there is plenty more music to savor on the numerous stages of the grounds (plus, the arena shows are simulcast). Monterey beckons, once again.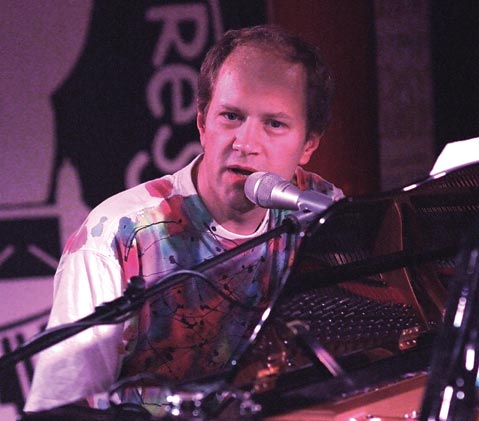 FRINGE PRODUCT: They still haven't found a suitable hyphenate descriptor for the British musical force of nature and culture called Django Bates. A keyboardist of no small gifts and a jazzer who has enlivened the world with witty post-fusion, lyrical musings, and progressive big band music, among other things, Bates has carved out a place and honed a voice of his own, in a way few jazz musician have.
A very good place to start in appreciating what Bates is about is his new album, Spring Is Here (Shall We Dance?), for his Lost Marbles label, and performed by his stunning big band stoRMChaser, featuring gifted young players from Copenhagen's Rhythm Music Conservatory, where Bates teaches. You've never quite heard big band music like this, full of dizzying twists and turns, brainy meter and attitude changes (i.e. "Fire Brigade" and "Something Less Soothing") as well as Bates's sly humor and soft spot for the well-turned balladic notion ("Evening Primrose").
Blessing the date, as well, is a beautiful vocal/choral element, including the captivating Danish singer Josefine Lindberg, who handily navigates Bates's tricky lines and mercurial moods, preserving sensuality and intellect as she goes. (For further Lindberg/Bates listening, check out the truly amazing Bates album Quiet Nights, on Tim Berne's Screwgun label-one of the most delirious and fine "deconstructed standards" projects ever made).
MUSIC FOR A CAUSE: Any opportunity to hear Ojai-based world citizen and guitar hero Robben Ford in the area should be coveted, but his two sets this Saturday-at Ojai's Matilija Junior High School Auditorium-are something extra special, as they will benefit popular Ojai resident Tara Jeffrey, who faces medical expenses due to breast cancer. Ford's band (including bassist Travis Carlton, who we heard with his father Larry at SOhO recently), will perform in the intimate setting at 4 and 7:30 p.m. (brownpapertickets.com, robbenford.com).
STAGE SPEAK OF THE WEEK: At the Santa Barbara Bowl, Shelby Lynne, after sneaking onstage and planting a big (presumably wet) kiss on Willie Nelson mid-verse, to his slight but apparently blissful alarm, and then adding a harmony to: "Willie Nelson for President!" Not a bad idea, that.