Dance
International Dance and Music Festival, presented by the Santa Barbara Dance Alliance
At the Marjorie Luke Theatre, Saturday, September 13.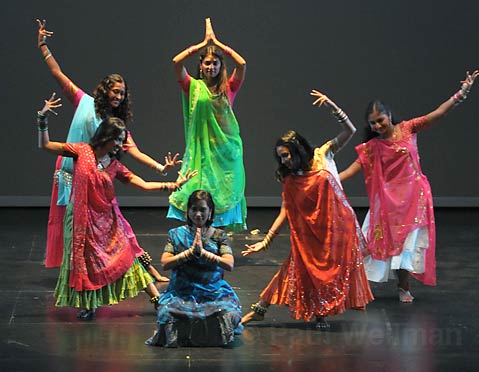 Saturday's 14th Annual International Dance and Music Festival managed an admirable feat: compressing what has always been a weekend-long festival into a half-day event. Starting at 2 p.m. outside the theater, short dance lessons in a variety of international styles, from hula to capoeira, were offered to the approximately 75 eager participants.
At 5 p.m., the crowd moved inside for the stage performance, with 12 different troupes adding their multicultural flavors to the mix. And a delicious blend it was, starting out with Hula Anyone? under the direction of Angelita Eller. Always a crowd-pleaser, the troupe performed a lovely, swaying hula and then a Tahitian number, with live drumming adding a dramatic flair.
Also notable was Daniela Zerme±o's flamenco solo, and her duet with 12-year-old Marlon Dorantes, recently featured as a "Child Prodigy" in Dance Magazine. A longtime Dance Alliance scholarship recipient, Dorantes left no doubt as to how he earned the title, and danced with a precision and passion that showed glimpses of the man he will become.
The Oak Park Village Dancers, led by Luis Goena, presented Balkan folk dances with great panache. Dressed in beautiful, authentic costumes from Bulgaria and Macedonia, they appeared to have just stepped out of a charming old-country village.
Middle Eastern dance was represented with two duets-an Egyptian cane dance and a fusion number done to an Egyptian pop song-by Cris! and Kalila, directed and choreographed by Alexandra King. Both women danced with grace and charisma befitting the style.
Just Baila, including directors Hector and Avital Sanchez, showed off some snazzy salsa styling. Two couples performed astounding lifts, drops, and twirls, and projected an exuberant charm.
Hip Brazil closed out the show with a suite of dances, including a high-energy, jazzy trio and a beautiful, flowing solo by troupe director Vanessa Isaac.
These groups embody the best aspect of ethnic dance traditions; they dance for the enjoyment of it rather than for an audience. That we delight in watching them is testament to their authenticity, and their infectious energy and joy.