Arts & Entertainment
Locals Only Music Issue, Version 2.0
The Indy's Annual Ode to All Things Music Takes on the Tri-Counties
A little over a year ago, we here at The Indy put a call out to any and all music-makers living within Santa Barbara County. The reason was to create an issue that offered thanks-and a much-needed vote of support-to the hundreds of diligent and talented musicians living among us. Some of those who responded were students slumming it in I.V. and penning thrash-core metal, others were waiters dabbling in acoustic guitar, and some were up-and-comers who have since gone on to record top-selling albums (Rebelution and Black Judah), tour the globe (oso and Silent Meow), and grace the illustrious MTV airwaves (Them Terribles). The issue was such a success that it seemed clear that The Independent's Locals Only Music Guide, as it was dubbed, was going to be around for a while.
For this year's go around, we beefed up things a notch, extending our reach to both San Luis Obispo and Ventura counties and tricking out our online S.B. bands database. We also hosted a Web-based band-versus-band battle at independent.com/bands and a series of live showcases that would ultimately determine (by fan vote, of course) who would win top prize-a performance slot at the West Beach Music Festival. After a strong showing by a diverse collection of stellar talents, Carpinteria's Dominic Balli came out on top and found himself sharing a stage with the likes of Jason Mraz, Ziggy Marley, and George Clinton at last weekend's beachside fest.
Face-offs and band battles aside, the following pages are meant to unite and pay tribute to the folks who make S.B. sing. Without them, your nights on the town, concerts in the park, and strolls down State St. would be without a soundtrack. So for those who swear that Santa Barbara's music scene is dead, feel free to read on and stand by your claims. Go ahead, we dare you.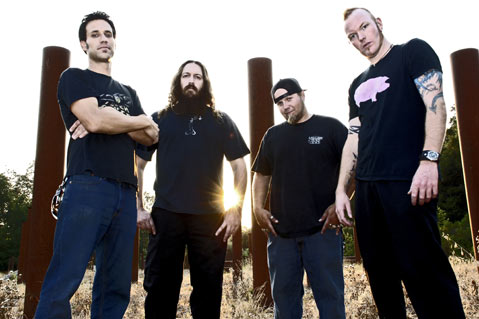 The Hard Rockers
Axia
It's rare to find a band that work as hard as they rock, but it's clear that the Axia have set the bar pretty high for themselves. This year alone they have shared the stage with the likes of Ted Nugent, Drowning Pool, Nonpoint, L.A. Guns, and the Bulletboys. Eager to spread their music to a rapidly expanding fan base, Axia released their EP in March and had their tunes picked up by New Rock 107.3 FM, which earned them a spot on the S.L.O. and Dysfunctional compilation CD, not to mention a number of subsequent tours. The Axia have also been featured on 93.3 KZOZ's Jeff & Jeremy in the Morning.
Based in San Luis Obispo, these four California natives sound like the Central Coast's answer to L.A.'s Autolux. Frontman Chad Land got his start playing instrumental acoustic concerts up and down the California coastline, looking to attract anyone who would listen. Based on the response he got, Land decided to broaden his horizons by building a full band, and subsequently added Craig Cowell and Dusty Rhoads to the lineup. In September 2005, Hollywood's Sage & Sound Recording Studios was their temporary home to create the four-song demo that quickly caught the interest of many of Hollywood's top mixers. After a year of shows and touring, and armed with a slew of new ideas, the Axia have recently wrapped up recording on their eponymous debut release. – Levi Michaels
The Class Clowns
Big Jugs
The sextet who make up the controversial, semi-offensive, but always humorous Santa Barbara band Big Jugs aren't afraid to say it: They love big jugs. The boys of Big Jugs love a number of other things, too, but due to strict codes of ethics, those things can't be listed here. Nevertheless, their special brand of knee-slappin', rockabilly-meets-psychobilly is all in the business of novelty (think Larry the Cable Guy's famous catchphrase "Git r done"). And it seems their shtick has caught on, as Big Jugs can be caught performing somewhere in the tri-county area almost every weekend between now and late October. In past months they did just as well, opening for The Devil Makes Three when they played Stateside earlier this year.
But was stardom the band's original goal? "Well, we wanted to play music that wouldn't be too hard to play if we were really drunk," banjo player Vegas Washington recalled. "Too many people take music-especially their music-way too seriously. We wanted to play really fun stuff that gave everyone listening a good time. We didn't know if everyone would get it, but it seems to be working."
So what should a casual fan expect when Big Jugs play live? Pretty much anything. Musically speaking, the sixpiece creates quite the scene, employing a mandolin, guitars, snare drums, saws, washboards, an upright bass, and, of course, a heavy helping of swear words. But it's all in good fun, the band promises. And fun they have-lots of it. For a taste, visit myspace.com/bigjugsmusic. – Lisa Engelbrektson
The Noisemakers
Boombox Orchestra
While Boombox Orchestra are not the only band born out of drunken Isla Vista nights and sunny (and sometimes drunken, too) days, they definitely take top prize for being the funkiest. Fans cannot help but start a little head bob at the beginning of songs like "One of These Days" from their 2007 album-and end up full-out dancing by its end.
The group has seen many members come and go, as this is the third version of the band, but saxophonist and keyboard player George Boulos has stuck around through it all. He and two friends began creating Boombox's funky tunes a few years ago during their time at UCSB, and they haven't stopped since. Although all the original members, save Boulos, may not be part of the band anymore, the four instrumentalists, lead singer, and five emcees who currently comprise Boombox more than make up for it.
Boombox were unsurprisingly one of the finalists in this year's Road to West Beach band contest, and while they did not win the title, they were still happy they got the chance to show areas other than Isla Vista what their band is about. "We are stoked we made it this far, and always made sure to represent I.V., the crazy town that spawned us," said Boulos. "We took it seriously. We knew if we were going to enter, we were going to kick some serious ass." And that they did.
For more of Boombox's funky ways, visit myspace.com/boomboxorchestra. – Adriana Zyskowski
The Troubadour
Dave Gleason
You'd be hard-pressed to find a harder working musician than Dave Gleason in the State of California. Between playing dusty old bars in the middle of the Mojave Desert and a saloon the size of a postage stamp in Culver City, Gleason manages to squeeze about as much country twang into his week as the deejays at a contemporary country radio station. Only Gleason does it with much more soul. Growing up in the Bay Area surrounded by music (his father played in a country western band), it's little wonder that bars and guitars have come to feature so prominently in Gleason's life.
"I got into the rock 'n' roll stuff as well," confessed Gleason. "But country music was definitely always there. For some reason it just resonated with me, even when I was 10 years old. I just love the guitar playing-that Telecaster twang and players like James Burton and Albert Lee-and the lyrics, too. I love the scenarios of country songs; the old juke box in the corner and the characters in the bar rooms. It just makes for a great story, doesn't it?"
While Gleason may have an affinity for bars and jukeboxes, there is definitely nothing kitschy or cliched about his music. And while country music lives close to his heart, so too does California and its grand country tradition (think acts like Spade Cooley and Buck Owens). While Nashville might have the gloss and glitter, California has the heart and soul. And it's obvious that Gleason and his ensemble, Dave Gleason's Wasted Days, are a big part of that.
"I think the folks who are into Gram Parsons, Neil Young, and Lucinda Williams-the real American roots music-gave up on Nashville a long time ago," said Gleason. "The modern new country stuff is pretty far removed from what country music is all about. For some reason California really responds to the sound that Dwight Yoakam made famous again, the one forged by people like Buck Owens and that Lucinda Williams has followed, too. People here like the real deal." For upcoming dates and music, visit myspace.com/davegleason. – Brett Leigh Dicks
The Party Starters
Iration
Hailing from Hawai'i and currently calling Santa Barbara home, Iration have the ability to mix different genres of music, creating a unique sound that's part beachy island reggae, part rock 'n' roll. After moving to Santa Barbara to attend school a few years ago, the five friends decided to create a band in which they could play music influenced by what they listened to-in their case, everything from the pop to the reggae they were bumping back in Hawai'i.
Lately, Iration have been keeping busy away from Santa Barbara and their biggest fans in Isla Vista. Just last April, they went on tour with Pepper, and in October the guys will be headlining their first show at the famous Roxy Theatre in Hollywood. Currently, the band are touring California, just finishing a mini-tour with fellow Isla Vistans Rebelution last weekend. In addition, the guys will be releasing an EP, titled Sample This, in early October.
As for playing at the West Beach Music Festival again, Iration are just excited to be invited back a second time and they hope to continue the tradition. "It is an honor to play on the same day as George Clinton and other successful artists," said guitarist and vocalist Micah Pueschel. "Our music comes from personal influences and what we listen to, and we are happy that people are into it." Well, Iration, we are happy to listen.
For more Iration, visit myspace.com/iration. – Adriana Zyskowski
The Chanteuse
Julie Christensen
Resumes don't sparkle more than that of Julie Christensen. Nor do they span quite as broad of a spectrum. Leonard Cohen, Iggy Pop, John Doe, Lou Reed, and k.d. lang are just a few of the luminaries with whom Christensen has collaborated. While it is a striking list, it is still not as impressive as her own set of musical accomplishments. In teaming up with the Headless Household alumni, Christensen (with Stone Cupid) recently released the mesmerizing Where the Fireworks Are.
Most recently, Christensen and company have headlined the Courthouse Jazz series, SOhO, and the Center Stage Theater. But it is not just Santa Barbara that's currently delighting in Christensen's sultry sounds-the album has just been picked up by retailers across the country.
"It's funny some of the places where certain songs have struck a chord," laughed Christensen. "We just did a huge radio push and one of the stations we sent a copy to is in Williamsburg, Virginia. The station broadcasts to one of the biggest naval bases in the country. We were hoping it might pick up 'Something Pretty,' but instead it has been playing the title track, 'Where the Fireworks Are.'"
While the politically charged song has no doubt been raising a few eyebrows on the base, Christensen is turning her thoughts to the future. A visit to Folk Alliance in October will be followed by some more time in the studio. And while the new recordings are likely to feature the usual cast of characters, this time around she's looking to strip down things a little.
"I want it to be totally acoustic," explained Christensen. "I would love to record some of my favorites from previous records, plus four or five new songs that I have been working on. And there's a Chuck Prophet song I have been doing live that I would like to include. I want to keep this one real self-contained and minimal, which will be something different for me." For more of Julie and Stone Cupid, visit stonecupid.com. – Brett Leigh Dicks
The Beat Makers
The LIMBZ
So much of the music currently coming out of Santa Barbara is either alt-rock tinged or reggae infused, making it hard to find good-or, more specifically, respectable-hip-hop and rap acts around town. But The LIMBZ have been defying this standard since 1992. The group started out as a joint effort between Kaj Maj (Joshua Mendoza), IZE (Isaac Barba), and X-Tech (George Dwarte). And in going from Poetic Justice to Outer Limits to the group's current moniker, the trio has also added two more members: DJ JRA (Joey Ambriz) and Mr. NoName (Micah Douglass).
In their own recording studio, Eeko System Recordings, the fivesome created and released their first album, Vocal Vitamin/Vital Supplement, in 2004. The LIMBZ like to describe their sound as "cool, clean, and crisp." They create music that resonates through ingenious lyrics and propagates the message of hip-hop and the values of the group. The LIMBZ are part of an underground movement that rejects the commercialism currently saturating the worldwide rap scene. In other words, no bling, no barely clothed girls.
One principle of hip-hop is to know one's roots and to respect them, and The LIMBZ are masters at preaching and promoting this value, as their track "The Foundation" proves. In fact, three of the five members are related-Kaj Maj and IZE are half brothers and IZE and DJ JRA are cousins. It's also the group's name that enlightens listeners to their message: "In art and through hip-hop we are also related, which creates the persona of the name The LIMBZ, meaning we are all limbz in our family tree of hip-hop culture and music." For more on The LIMBZ, visit myspace.com/thelimbz. – Esther Tran-Le
The Club Kid
DJ Magneto
With a super-villain name, you have to hope that DJ Magneto has some kind of ¼ber-powerful music skills. Lucky for us, the man behind the moniker knows how to turn the tables. Identifying himself as a "funk enthusiast, soul lover, fun junkie, style pusher, turntable operator, dubwise master, bass addict, taco quality control consultant, burger blogger, and an all-around nice guy," Manny Roldan (aka DJ Magneto) has been mixing jams since high school for house parties and raves since way back in '93. Though a Carp native, DJ Magneto's hip sound has found fans as far north as Portland and as far south as Mexico City.
DJ Magneto's sound is driven by his belief "that being varied and well versed, technically and stylistically, are of the highest importance when stepping up to the turntables." Hence, his main focus remains in experimenting with Latin club vibes and the more traditional dance/electronica genre. XLR8R, DJ Magneto's most recent recorded offering, is marked by its use of island, soul, and hip-hop sounds, making it a club mix that is both stylistically and culturally diverse.
Following a short trip south of the border, DJ Magneto will return to spin at this year's second annual Jill of All Trades craft show at the Presidio Motel (1620 State St.). For more info and future club dates, visit myspace.com/djmagneto. – Esther Tran-Le
The Young Guns
Martyrs
They're raw, they're gutter, they're garage, they've got a little soul, their vocals are semi-inaudible, and they're kind of punk rock-and they do a decent job of it all, too. It sounds like these three youngsters (all between the ages of 17 and 19) recorded their debut record in mom and dad's garage, but their sound layers are inspired by-and vocal harmonies are reminiscent of-the grunge great Kurt Cobain.
Though the whole garage rock shtick is age appropriate for these teens, it comes as a bit of a surprise that the Matyrs formed-and defined their style-only a few months ago. When asked about this, lead singer Nic Martyr replied, "I met both [Avery and Julian] through the Santa Barbara local music scene. My old band just broke up and I'd been looking for two new people to start a new band. I met Julian through fate at Jensen Mainstage, where he was performing a set with a singer/songwriter. I was so impressed that, after the show, I chased him down two blocks and asked if he wanted to join a band. As for Avery, I kept hearing his name pop up places, and knew he was an amazing bass player. I found his number and quickly called him up with a proposition. The rest is history, I suppose."
Unifying as a band is difficult, but these boys seem to have similar inspirations and aspirations-and an equal amount of talent to pull it off. For more on Martyrs, including songs and upcoming show dates, visit myspace.com/sbmartyrs. – Lisa Engelbrektson
The Next Big Thing
Them Terribles
S.B. rock rebels Them Terribles are doing something no one else in Santa Barbara is attempting-to write and perform vintage-inspired blues rock that calls upon the forefathers of recent rock revivalists such as Black Rebel Motorcycle Club and The Strokes. Their style is inspired heavily by the rock revolution of your mom's rebellious teenage days, but the boys have reworked the genre to develop something much more modern and dramatically intense.
It's hard to believe that just a year ago Them Terribles were competing for top honors in MTV2's Dew Circuit Breakout contest. They made to the final three and, sadly, returned home without a blue ribbon. But the narrow loss has yet to stop them. Frontman Matt Green recently commented on the contest. "MTV was a great experience and really helped to open some doors for us. But when it comes down to it, a battle of the bands can only do so much for you. The material, image, and live show are what's really going to take you to the next level." Drummer Joey Benenati agreed, adding, "That whole experience was surreal. It was the greatest time and it did wonders for our band. I wouldn't say I'm glad we didn't win. I don't really think winning that contest would have really bettered our career. But we are super thankful we were given the opportunity."
The guys continue to tour the West Coast circuit whenever possible, and even spent a little time (read: 24 hours) in Puerto Rico. "The next show we have coming up is the West Beach Music Festival, where we expect to give another dance-worthy performance," said Green. For all things Terribles, visit myspace.com/themterribles. – Lisa Engelbrektson
The Newcomers
Verna Beware
If Verna Beware's blues-ridden psychedelia sounds familiar, there's a reason. It all started at San Marcos High School, where founding members Kyran Million, Taliesin Cook, and Bret Noel began jamming within the social circles of the school's music program, going on to form The Donner Party in 2007. Since graduation, the three core members have retired The Donner Party and gone through a series of different projects that have formed into their current gig. After trying different combinations of members under former names like Run Rabbit Run, the five members of Verna Beware have finally found a formula that works. As a result, every aspect of Verna Beware's sound is tighter and more experienced than its predecessors, from Million's lyrical ability to Cook's experimental guitar work.
Recently, the band have been focusing their energy on the forthcoming release of their three-song EP, which they have been promoting by hitting as many local venues as humanly possible. They've also got their sights set on the Los Angeles circuit, which they hope to break into by booking bars, clubs, and any other place that will open their doors to them. Even after all the effort to push their music, the five students still find time for their studies at UCLA and Santa Barbara City College. Well, sometimes-building a sturdy fan base takes priority.
If their enthusiasm for the present is any indicator of the future, good things certainly lie ahead for this young band. In the meantime, you can catch Verna Beware at Urban Outfitters (620 State St.) this Thursday, September 18. Visit myspace.com/vernabeware for more dates. – Levi Michaels
The Indie Darlings
Watercolor Paintings
It all began when Rebecca Redman was inspired to write her own songs by the I.V.-based band Clitorectomy & the Mutilators. Lady Redman admits she "had never thought of herself as a musician," but quickly learned that the art of writing lyrics and creating music is not necessarily a skill, but rather a process of discovery and creativity. Along with her brother Josh, Rebecca has since created Watercolor Paintings. The Redmans strive to identify their duo as your personal "backyard, kitchen, living room" band.
Delicately sweet, Watercolor Paintings have a welcoming quality. It seems like you can trust the duo to accept you for whoever you are. "We don't like using microphones and always encourage people to sit as close to us as possible," Rebecca explained. In fact, rather than titling their songs, Watercolor Paintings use visual representations. The delicate tone of the band comes from Rebecca's small voice and playful words partnered with Josh's toy drums and ukulele bass lines.
The Redmans have already established themselves outside the Santa Barbara scene thanks to West Coast and national touring stints with Blanket Truth, Mike XVX, and their musical compadres, Clitorectomy & the Mutilators. Nevertheless, with a large and friendly fan base, Watercolor Paintings still like to stay close to home, playing free, all-ages shows at S.B. venues like the Biko Garage, the Artshole, Pink Mailbox, and Muddy Waters Cafe. And for more show dates and a sweet taste of the Redmans' musical offerings, visit myspace.com/watercolorpaintings. – Esther Tran-Le
The Worldlings
Beleza Pura
Attending a Beleza Pura show is one of the best things you can do for your groove bone. An eclectic six- (though occasionally seven-) member, multinational band, Beleza Pura-known around town for their legendary, sweat-fueled shows at SOhO-make music that knows no borders. Led by Pyata Penedo, a frontman who simply oozes charisma, Beleza are perhaps the only group in the 805 that can boast a set list that seamlessly mixes a saxophone-driven James Brown cover, an original Portuguese ass-shaking samba number, and a skat-dappled hip-hop bounce-a-long, before cooling it all off with a Bob Marley tune.
With a pleasurably full-body assaulting approach slightly reminiscent of Ozomatli, the band's real appeal is in the fullness of their sound. From the guitar licks of Bruno Pinheiro and the vibes of longtime S.B. music scene saxophone/keys maestro Gustavo Lizarraga to the soothing backup vocals of Mel Kapen and the bass foundation of Arthur Araujo, the "mostly Brazilian" band are upbeat, high energy, and just plain fun. During The Indy's recent Road to West Beach finals, Beleza took their unique blend of international, hip-hop, funk, and reggae and added a dash of rock, thanks to some serious licks from Pinheiro. And the result nearly swept the competition off their feet. For a sampling of the Beleza sound, as well as upcoming show dates, visit independent.com/bands/beleza-pura. – Ethan Stewart
The Crowd Pleaser
Dominic Balli
At first blush, the concept of a Christian reggae band is about as likely a pairing as ice cream and ketchup, but give a listen to Carpinteria's Dominic Balli and you cannot help but rethink the unexpected union. With a contagious and danceable sound and an uplifting message at the core of their music, you will find yourself skanking and smiling long before your realize what the band is singing about. Simply put, their religious-leaning roots-reggae sound is in a category all its own.
The fivepiece, bass-heavy Dominic Balli have been playing together for just over three years, and the group have most recently released a crisp debut full-length album (this spring's Public Announcement), scored a top-selling record slot on iTunes, and recently taken home top prize in The Independent's Road to West Beach contest. The result of all this hard work was the much coveted gig of opening up for Ziggy Marley at last Saturday's big-name beach party. Add to that a recently booked tour of Brazil and Hawai'i scheduled to start later this year and things are, as Balli himself put it, "definitely happening for us right now." And as far as the whole Jesus and Jamaican music union goes, Balli sums it up with a laugh. "Sure, I could get up onstage and yell out 'Rastafari!' and everyone would be like, 'Yeah, let's smoke a bowl.' But if I got up and yelled something about Jesus a lot of people might not like it. But reggae, at its roots, is spiritual and, at the end of the day, hopefully we are making music that makes people groove." Luckily for us, that is exactly what Dominic Balli does. For a full tour schedule and audio tracks, visit myspace.com/dominicballi. – Ethan Stewart
The Art Rockers
oso
When the Santa Barbara experimental rock 'n' rollers of oso first thrust one of their recording offerings our way, we presumptuously thought the album-enveloped in a sleeve of wax and dark, artsy collaging-was specially handcrafted just for The Indy. Later, we realized that such was not the case. But it's that kind of attention to detail, peculiarity, and DIY aesthetics that have made oso stand out from the rest of their young music-making contemporaries-that and their genuinely multitalented players.
Earlier this summer, frontman Phil Taylor (who many simply know as "The Unicycling Guitarist"), drummer Tim Beutler, and violinist Nick Coventry hightailed it to Europe to tour the continent their way (read: without a booking manager, publicist, or mode of transportation). And never ones to half-ass a project, the guys are still going strong-and hitchhiking eastward into October.
"Almost three months into traveling with one month to go," reported Taylor via email from Istanbul. "There are serious ups and downs, but in the stripped-down nature of how we are doing it, it's an affirmation that we are connecting with people. We don't have a lot of support like most bands who tour, just friends along the way. [It's] just us and our music, and we seem to do well everywhere we go, so it's a sign that it is universal love and appreciation. I love traveling, but am worn out and looking forward to swimming in the ocean and having a bed of my own-to rest up, train, and practice." And with a new, fairly unknown record (this year's Kuno Esama) wrapped and ready for distribution, many of us are counting down the days until oso's return as well. For more, visit myspace.com/thebandoso. – Aly Comingore