Columns
The March of Progress in Isla Vista
New Roads, New Sidewalks, but the Same Trashy Problem
If you live in Isla Vista, you know that there are more changes afoot. The plans to widen El Colegio Road from two lanes to four lanes between UCSB's west entrance and Camino Corto are underway. Last week, my son and I watched entranced as a bulldozer with caterpillar wheels and metal teeth pushed a mound of earth more than eight feet tall.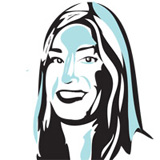 Like with anything else, demolition and destruction happened swiftly and efficiently. One day there were trees lining the north side of El Colegio, and then they were gone. The eucalyptus, casuarina, and lone oak stood in the way of progress. While some people in the I.V. community complained about the destruction of trees, UCSB representatives made an effort to keep at least one of them. The oak that stood on the corner of El Colegio and Stadium roads was evaluated by an arborist to see if it could be saved, according to Erich Brown of UCSB Design and Construction Services. "It was dead basically. All hollowed out with rot," he said. "It had to come out."
Shari Hammond, senior planner for UCSB, said 31 trees were removed for the El Colegio Project. Aside from the oak, the rest were eucalyptus and casuarina and therefore non-native. In the end, the roadway will boat 100 new trees, including oak, sycamore, and cottonwood.
When the project is finished, El Colegio will be transformed into an attractive roadway, with a median featuring a row of oak trees. The joint project, involving the university and Santa Barbara County Public Works, is scheduled to be finished in February or March. The plan to widen the road seems to be a wise one. With UCSB getting bigger and bigger, there needed to be a better west entrance. At rush hour, it could become a bottleneck. As far as I'm concerned, the sooner the project's done, the better. After sitting in traffic for 15 minutes as I tried to make a right turn from Los Carneros onto El Colegio (it was move-in day), I became a believer in laying the asphalt as quickly as possible.
But while various entities are focusing on eliminating "blight" in Isla Vista by creating aesthetically pleasing roadways, parking structures, and affordable housing, I have an additional suggestion. It's cheap, even – at least compared to the millions spent on other projects. Why doesn't the community focus on eliminating the trash strewn throughout the streets? Whenever I walk through the Camino Corto open space, a beautiful wetlands area, I find empty Gatorade bottles, beer caps, potato chip bags, and other garbage. On a trip through downtown one weekend evening, I had to dodge trash as I walked to Isla Vista Market. Maybe, just maybe, Isla Vista would be a more attractive place if people didn't think it was their personal litter box.
Here are the current trash rules as I understand them:
One: If you drink a beer, you can and should throw the empty container on the ground, in a bush, under a car.
Two: If you get a new TV, throw the old one out in the open space. That's where old TVs go to die.
Three: If your trash can gets knocked over and the contents spill into the street, leave it. Who cares? Certainly not the neighbors who drive over your salmonella-ridden chicken cartons day after day, or pick up the trash blown into the open space.
Four: If you want to get rid of your couch, burn it.
Five: If you have a pair of shoes you don't want, throw them over the nearest utility wire.
I've talked to some locals about this problem. Melissa Cohen, marketing director for the Isla Vista Food Co-op, told me that no, not all students are pigs, and that lots of them actually pick up trash through Adopt-a-Block programs. She said the problem is that even though one crop of students have been educated, and have become more conscious, they go off to the real world, and a new group takes their place. Bummer.
So what can be done? Well, I have a few suggestions.
First of all we need a full time trash cop. Santa Barbara County does have a person assigned to deal with Isla Vista trash problems, but this is only one of the areas he is responsible for. The problem is so widespread that we need someone who can concentrate on this area. I'd like it if they could ticket people 24/7, but that's just a fantasy of mine.
Secondly, we need stricter fines and enforcement of those fines. There's a landlord I've called repeatedly about his tenants' trash issues. He's been very apologetic, but has not built the type of trash enclosure that would prevent his trash cans from being knocked over. Once landlords are held responsible, their tenants will be held accountable, and then maybe we'll see some progress.
In my efforts to wipe out the memories of torn up trees, new sidewalks, trash, and the steady march of progress, I found sanctuary at the I.V. Starbucks. Once I'd entered the cool, pleasant store, I started to wonder if their new oatmeal would really make my day start off right. Then I focused on the young women standing in line around me. They were wearing a variety of pretty sundresses, and looked like they were ready for a night out. Since it was still early morning, I realized they must have been part of sorority rush. I watched as a tall woman wearing white picked up her mocha. The brown liquid was spilling out the top.
Would it mar her perfect white dress? Was she the type of person who never spills? Who knows?
But at least for a moment I was distracted from the trials and tribulations of I.V. living. Then it was back out to fight the war on blight.