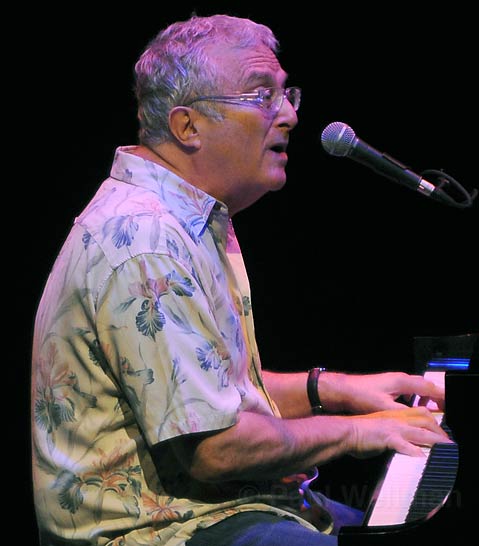 Although his name may not stand out in the upper echelon of popular music, only the most removed of Americans has probably (to their own misfortune) managed to ignore Randy Newman's warm, fun, and downright hilarious piano numbers. Having written scores for most of the Disney-Pixar flicks (think Toy Story, Toy Story 2, Monster's Inc., Cars, A Bug's Life), it's an unlucky few who have never laughed and cried along to the sounds and sentiments of Newman's songs.
In fact, even missing game seven of the Boston vs. Tampa Bay series last Sunday night in order to witness Newman in action was well worth it. Truly a great American storyteller, his satirical and often hysterical approaches to world problems made for a comedic and lighthearted evening at the Lobero. And the music wasn't bad either. With nothing but his voice and a grand piano, Newman managed to captivate the sold out crowd to the point of utter silence, and still receive impressive bouts of applause, a couple standing ovations, and even some audience sing-alongs during "I'm Dead (But I Don't Know It)," which Newman introduced as something he wrote in response to the number of musicians touring with the same old hits from their washed-up careers.
After a brief intermission where Newman jokingly excused himself from the stage saying, "I'm gonna do one more, then take a break, shoot up, and come back for the rest," he played his best received song of the evening, "Political Science." It was during this number that Newman took time out to talk politics, singing, "No one likes us, I don't know why. We're not perfect, but God knows we try." The tune beautifully addressed the scrutiny America receives from abroad before concluding (in signature Newman style) that America should just "drop the big one" on every country aside from Australia. This song, written in the '70s, embodied the singer's penchant for parody, but also made the weighty point that the United States is neither a utopia, nor the center of the universe.
Overall it was an entertaining evening, appearing to be just as pleasing for Newman as it was for his charmed audience.