News
Jurors Reach Verdict in Juarez Trial
Decision Coincides With Large-Scale Eastside Gang Raid
Another apparently gang-related stabbing hit Santa Barbara's Eastside neighborhood early Monday morning, leaving a 15-year-old in Santa Barbara Cottage Hospital with non-life-threatening injuries. According to police, the boy was waiting to meet a friend on October 20, at the intersection of Cacique and Voluntario streets, when two unidentified subjects stepped out of a vehicle, asked the boy where he was from, and then began stabbing him several times in the arm.
The incident, which police are still investigating, comes shortly after what is perhaps the single most significant day in the history of the Santa Barbara Police Department's battle with gangs: Wednesday, October 15. As local, state, and federal law enforcement officials were on Wednesday morning tallying the numbers from "Operation Gator Roll," the largest gang sweep in recent years, a jury returned with a verdict in the murder trial of 15-year-old Ricardo Juarez-accused of murdering a fellow teenager during a gang melee on State Street in March 2007. As for the raid, 59 people were arrested, including 28 on federal charges. Juarez, meanwhile, is the first defendant to be prosecuted in a string of gang-related murders over the last 18 months. The verdict: guilty of voluntary manslaughter, of committing the offense for the benefit of a criminal street gang, and for the use of a knife in the attack. All in all, Juarez, who was charged as an adult, is facing between 14 and 22 years behind bars.
With the verdict comes a small sense of closure to the March 14, 2007, gang fight, which resulted in the death of 15-year-old Luis Angel Linares on State Street in broad daylight. Linares's death opened many Santa Barbara residents' eyes to the city's growing gang problem and led to a subsequent spike in gang violence. "I hope this verdict sends a clear message that gang violence will not be tolerated," said prosecutor Hilary Dozer, who indicated he was pleased the jury concluded that the killing was intentional.
After the verdict, jurors cited the "whisper tape"-a videotaped conversation between Juarez and another suspect while they were alone in a police station interview room just hours after the stabbing. At one point in the tape, Juarez can be heard saying, "I was sticking him and that fool was fucking bleeding from his mouth. : I killed someone. They'll know." Some jurors called the tape "very helpful," and one added they might not have reached the verdict without it. Others indicated that even without this confession, the evidence and testimony of witnesses was compelling.
While seeking justice for the victim and prosecuting a criminal are the most important priorities, the offspring of a conviction in this case are also important, said District Attorney Christie Stanley last Wednesday. She had made the decision to charge Juarez as an adult. "Whatever the deterrent effect it has is a positive," Stanley said. "It will send a message."
Dozer and Stanley's statements mirrored similar comments by law enforcement officials at a press conference near the courthouse just minutes earlier, where they were gathered to offer more details about Operation Gator Roll, perhaps the largest, most sophisticated gang sweep to hit the Santa Barbara area in a while. Operation Gator Roll-named after a martial arts move that achieves submission via an attack to the head-targeted the leadership of the Eastside gang and took roughly a year to plan, according to Santa Barbara Police Chief Cam Sanchez, who initiated the cooperation between local and federal agencies.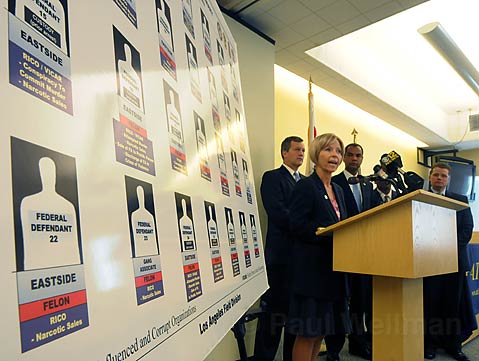 The operation resulted in 59 people being arrested. A Federal Grand Jury indictment the previous week alleged the Eastside gang was responsible for the murders of two rival gang members last year as well as the attempted murders of six others. It also indicates members of the gang were hostile to the presence of African Americans in areas frequented by the gang, and that Eastsiders would attack individuals in their "turf" to control the area. Allegations of conspiracy to commit murder, distribute narcotics, and robbery were all included in the indictment.
A total of 28 Santa Barbara Eastside gang members were indicted, including 19 under the RICO (Racketeer Influenced and Corrupt Organizations) Act, originally used to target the Mafia. The racketeering charges-which stem from alleged participation in narcotics trade-are the first ever to be brought against residents of the Central Coast.
Nine of those indicted were arrested October 15 in an early-morning operation involving more than 400 law enforcement officers from 18 local, state, and federal agencies. The sweep targeted the Eastside gang exclusively, which has an estimated membership of 110. More than 60 residences were searched. Another 17 defendants charged in the indictments were already in custody on state charges and will be handed over to federal authorities. In addition to the federal defendants, 17 others are expected to be charged in Santa Barbara Superior Court. "I believe we've made a dent in criminal street gang activity," Sanchez said Wednesday morning, in front of many of his bosses on the Santa Barbara City Council. "This is only the beginning," he added. Federal officials echoed his sentiments, promising more enforcement to come.
In the meantime, Juarez will return to court October 30 for a sentencing hearing. As is common in criminal cases, a motion for a new trial is expected from the defense. Also anticipated at some point prior to sentencing is a motion for a fitness hearing, at which the judge would determine whether Juarez should be sentenced as an adult. (Currently, the court views him as such.) Sentencing most likely won't take place for several more months.
The conclusion of his case comes as two other murder cases-both stabbings and both allegedly gang-related-continue to make their way through the courts. Having already been ordered to stand trial, five defendants-four of them juveniles-are scheduled to be arraigned Friday in the murder of Lorenzo Carachure. A sixth defendant, Robert Martinez, who has been charged with accessory to murder in that case, was named in the federal indictment. He, along with Carl Flores-who is also named in the indictment-and Joel Robles face conspiracy to commit murder in yet another case.
In the third murder, that of Emmanuel Roldan, which happened on the Fourth of July, attorneys are still trying to set a date for a preliminary hearing-during which a judge will decide if there is enough evidence to send the case to trial-for the three defendants, one of whom is the 15-year-old victim's brother.