Visual Arts
"Pop" Common Object Show at the C Gallery
Themed Group Show is up through November 12.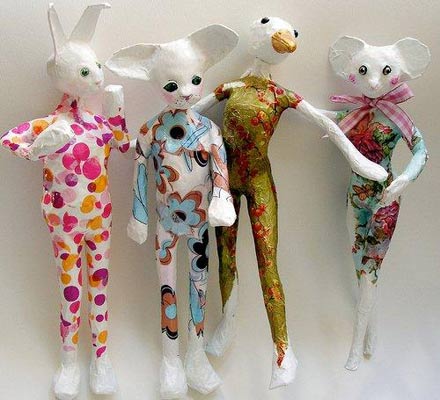 At its opening last weekend, the "Pop" Common Object Show drew a busy flow of curious visitors to Los Alamos's new chic space, The C Gallery. Co-owners Connie Rohde-Stanchfield and daughter Nina Rohde Brown pumped up the theme by providing classic '50s pop tunes and an outdoor array of soda pop, popsicles, and popcorn. Rohde-Stanchfield, sporting a polka-dotted poodle skirt and vest designed from bubble wrap, greeted each visitor with a smile and an invitation to pop a corner of her skirt for fun.
It was just as easy for viewers to get engaged with the wall displays, which included light-hearted, whimsical mixed-media works like Larry Le Brane's "Popped Art Dream," which gave Betty Boop a Pop-Tart fling into the air next to a box engraved with the words, "The tastiest toaster pastry assortment of 6 eye-poppin' strumpets, a fun treat to eat!" A Kellogg's brand was recycled into another food art piece, "Snap, Crackle, and Pop!" in which artist Jan Manfrina set a bowl of Rice Krispies against a striking candy-cane background.
Joan Amby's paper collage "Pop Fashion" depicted painted faces, feet, and modish icon wear, while Susan Gottesman's assemblage of knitted copper netting and shattered mirrors left room for interpretation-and self-reflection.
The pinnacle of the show was Rocky Stroup's self-portrait wall sculpture, "Borrowed Time (13 Years of Pill Poppin')" which loomed at the edge of the gallery space like an unusual fellow with a story to tell. "I had open heart surgery over 13 years ago," the artist explained. "That piece is made with more than 1,000 pill bottles I collected." The plastic bottles jutted from the wall like a round, clustering formation of barnacles.
Shows based around a theme are always a good reminder of every artist's unique offering; even given the same point of departure, the results vary radically. For some, the word "pop" evoked a festive spirit; for others, childhood memories; for a few, it stirred something deep in the heart. Viewers of this show are bound to leave with an assortment of new concepts and topics relating to the word "pop," not to mention a door prize: a piece of America's original Dubble Bubble gum.