Arts & Entertainment
Rise Against, Alkaline Trio, Thrice, and Gaslight Anthem at the Hollywood Palladium, Friday, October 31.
Punk Rock Heavyweights Team Up for a Halloween to Remember
When getting ready for last weekend's concert extravaganza – the three-night-long, quadruple threat lineup of Gaslight Anthem, Thrice, Alkaline Trio, and Rise Against at Hollywood's newly renovated Palladium – my concert buddy proclaimed that the upcoming days were going to be like her own personal Disneyland. It was true; the bill alone was enough to get any punk rock fan's blood pressure rising, and the idea of sharing Halloween with costumed musicians and audience members didn't hurt either.
New Jersey's Gaslight Anthem kicked off the evening with "Great Expectations" from the recently released The '59 Sound. Sporting cowboy-and-Indian garb (including drummer Benny Horowitz's risque white loin cloth and feathered headdress ensemble), the boys slung more songs than talk, except when lead singer Brian Fallon mentioned the other bands on the tour, graciously (and somewhat disbelievingly) remarking, "You can't beat that lineup." Fallon's strong, Bruce Springsteen-inspired vocals led the Gaslight through a varied mix of tunes from '59 and 2007's Sink or Swim, making for a solid set that exhibited the band's range and energy, and their likely meteoric rise to fame.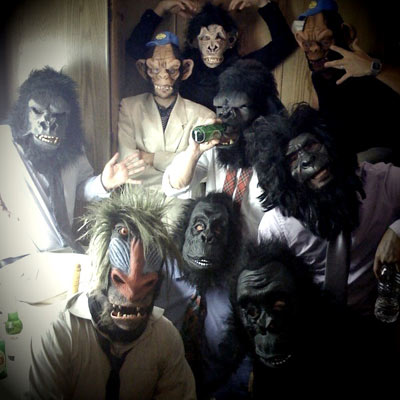 Things got a bit harder with Orange County's Thrice. Dressed up as apes and monkeys (including the tech crew, who obligingly did their jobs in costume), Dustin Kensrue and company never broke character, greeting the audience with animalistic guttural yells. Truth be told, the growling that characterizes so many of Thrice's songs was a touch more believable coming from behind the giant ape mask than it does coming from Kensrue's himself – who recently exhibited a softer side with his solo effort (2007's Please Come Home) and the "Earth," "Air," and "Water" installments from The Alchemy Index. Although initially concerned that Thrice's recent foray into slower, more experimental stylings would dominate their set, the foursome mostly stuck with moshpit-inducing, crowd surfer-friendly tunes, like "Firebreather" and "The Earth Will Shake." Highlights of the set would have to include a cover of the Beatles' "Helter Skelter" and The Illusion of Safety's "Betrayal Is a Symptom."
An energetic rendition of "Private Eye" opened up Alkaline Trio's set, and was quickly followed by "Calling All Skeletons," off the recently released Agony & Irony. Formed in Chicago in 1996, the band have since moved away from the Windy City to different parts of the country; Matt Skiba has made Los Angeles his home, and he petitioned the crowd to "sing like I know you can" since he lives "down the street [from the Palladium]" and was performing "in [his] 'hood." Alkaline Trio (dressed in all-white golfer outfits for All Hallow's Eve) know the best way to maintain a strong fanbase is to play new and old songs, and the guys did just that, dishing up a non-synth (but no less energetic and dynamic) version of Agony's "I Found Away" and then directing a spirited sing-along to "This Could Be Love" from 2003's Good Mourning.
Watching Skiba play to the crowd and blow kisses to his favorite costumed audience members reminded me of the beauty of live shows: Of course songs aren't performed exactly as they are on an album, and vocals and instrumentals may not match up ideally, but we get to see rock gods live and in-person, exhibiting their quirks and passions. They may be onstage, but in many respects, the moments we catch them in a wicked guitar riff or singing words penned to describe an intimate experience or feeling reveal these mortals at their most raw and unprotected. The drum beat or bass line may be rehearsed, but the emotions behind them certainly are not.
And no one seems to understand better the impact of passionate lyrics sung to a live audience than Rise Against's Tim McIlrath. McIlrath ripped onto the stage with "Drones," "Give it All," and a particularly timely performance of "State of the Union," each made all the more impressive since Rise Against had to cancel their previous shows in Austin and Houston because the frontman had lost his voice. But you wouldn't know it Halloween night, as the four – including the band's newest member, guitarist Zach Blair – maintained a high level of energy that had more than one giant moshpit going throughout the hour-plus set. Playing only three songs off the just-released Appeal to Reason (including the encore-starting "Hero of War"), Rise Against stuck with older and better-known favorites, including "Prayer of the Refugee," "Life Less Frightening," and "Like the Angel." The crowd seemed to appreciate it, and diligently sang along to every tune; this was the only night of the weekend-long event that wasn't sold out, but you wouldn't know it based on the sustained energy and excitement in the pit.
Again and again, Rise Against proved they are the best of the thinkers' punk rock movement. This was made abundantly clear on several occasions when McIlrath made outright political statements about the then-upcoming election. Referring to the dire crises our country faces and a growing and palpable desire for change in our political system, McIlrath told the crowd, "You can let history happen to you, or you can be a part of it," clearly beseeching voters to make sure California was a steadfast blue state. And in the encore, he dedicated "Swing Life Away" – arguably one of the band's most well-known songs – to "people voting no on Prop. 8." Indeed, the foyer was an activist's dream, flanked with tables set up for No on Prop. 8 volunteers, Iraq Veterans Against the War, and PETA2.
This trip to L.A. for Halloween was filled with plenty of tricks and treats of the sonic variety, and even though we were close to Anaheim, we decided against a day trip to the Magic Kingdom. After all, we had spent the whole night in punk rock Disneyland.