Arts & Entertainment
Lucky Dragons and Pit er Pat at Biko Co-Op Garage, Wednesday, November 12.
Bands Bring Energy, Antics, and Noise to I.V.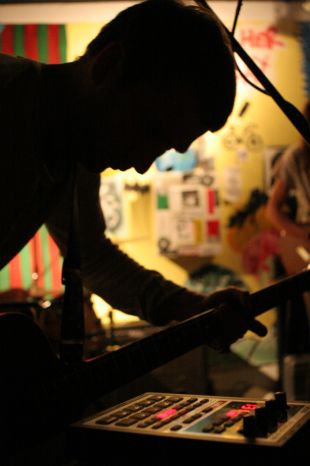 At night, the Biko Co-Op Garage becomes a house of noises. On Wednesday, Lucky Dragons, Dead Western, and Pit er Pat headlined an evening of sounds, experimentation, and energy. The night started off with the Absence of Sound Before the Storm. This Santa Barbara-based duo brought power and pleasure from the reverb, foot pedals, and laptop computers they carried with them. Chowger (Justin Chou) held a steady yell through the mix of noise rock, hip-hop, and bass. Following this was Hecuba, a duo from Los Angeles. The band took the stage with a synthesizer, a snare, and a very energetic vibe. Both musicians brought the crowd to their senses as they delivered their rhythms through spontaneous outbursts of body movements and drum work.
Third to bat was Pit er Pat, hailing from Chicago. The trio introduced itself with a quick but powerful drum pattern, starting off a set of jungle trance infused tunes. With two Dr. Samples synthesizers, the bassist and drummer took this band of instruments into a tunnel of distortion and thunder. The somewhat psychedelic sounds of Pit er Pat led to the erratic sounds and momentum of Lucky Dragons. This Los Angeles-based trance band took order with scattered objects on the floor, a flute, and a loopy device that moved the audience to interlock hands, feeding off the energy. Lucky Dragons spent their set dancing through the crowd and creating a repetition of sound through their computer and pedals. Closing the show was Dead Western, a one-man show who took to the stage with red acrylic paint smeared down both of his cheeks. The Sac-town acoustic guitarist played a full line up of sullen folk songs with interludes of crowd pleasing jokes, remarks, and random noises. "Yay, for college!" was a chant repeated throughout the set. He finished things off by incorporating an audience assistant to hold his kazoo as he sang the evening's final song.