MODERN AMUSEMENT: While skirting out of Santa Barbara this past Sunday may have meant that I missed one of the more hyped-about shows of the fall (Shiny Toy Guns at Velvet Jones, see review here), it also afforded me a trip to one of L.A.'s more anticipated musical events of the season : and Los Angelinos stop for nothing. The adventure at hand: a double bill featuring two of the big city's finest performers, brought together to celebrate-and break the speakers in-at downtown's newest musical venue.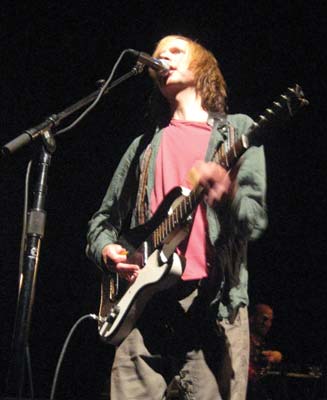 Located directly across the street from the monolithic Staples Center (and right next door to the newly minted L.A. Live), Club Nokia's (clubnokia.com) grand opening celebration caused the relative who's who of the music scene to crawl out of the woodwork-and for good reason. The intimate setup, hi-tech sound system, ample viewing space, and labyrinth of swanky lounges showed off just a pinch of the hard (and pricey) work going into the gentrification of Downtown L.A. Oh, and Jenny Lewis (jennylewis.com) and Beck (modernguilt.com) both showed up to perform, too.
While working their respective thing in two notably divergent genres, Lewis and Beck created a sort of L.A.-centric super team. (Lewis grew up in the San Fernando Valley and first hit it big with her Silverlake-based band Rilo Kiley; Beck has been looking to La La Land for inspiration since birth.) While Lewis continued to show off her country-tinged chops with a slew of tracks off her recently released solo effort, Acid Tongue, it was the Beck's long-cultivated eccentricity that stole the show. Plowing through nearly 30 songs spanning his 14-year-plus recording career, Beck wowed the at-capacity crowd with both his energy and his mind-boggling musical range. Crunching guitars drove songs like "Novocain" and "Nausea" to new rock 'n' roll heights. Emotionally earnest snippets from Sea Change were delivered acoustic and raw. And instruments were abandoned all together for the sampler-and-vocoder melee used to recreate tracks off of 2005's Latin-tinged electro throwback creation Guero. Needless to say, the entire experience was a sight to behold-and a none-too-shabby follow-up to the songwriter's recent sold-out stint at the Hollywood Bowl. For the full rundown of the night's events, visit independent.com/clubnokia.
BACK TO REALITY: Travel plans aside, this week is promising some killer live shows in our very own ocean-side backyard. Case in point: Club Mercy's Friday night pairing of Chicago's The Cool Kids (myspace.com/thecoolkids) and Cali's Pacific Division (pacdiv.com) at Velvet Jones (423 State St). The Kids (made up of Antoine "Mikey Rocks" Reed and Evan "Chuck Inglish" Ingersoll) have been credited with helping to invigorate a coherent hip-hop scene in the Windy City, alongside such artists as Kid Sister, A-Trak, and Flosstradamus. It's a fun-loving melding of rap, rock, and electronica that has drawn legions of fans-not to mention some pretty weighty shout-outs from the folks at Rolling Stone. The show starts at 9 p.m. Call 965-8676 or visit clubmercy.com for tickets.
This Thursday, November 13 marks the final show by Santa Barbara staples Bela Lugosi at Goleta's Mercury Lounge (5871 Hollister Ave.). Known to so many of us for their unconventional blending of avant-garde tunes, punk attitude, and opera theatrics, the band (led by husband-and-wife duo of Misha and Ingrid Bodnar) will be celebrating their farewell like any good gypsy rockers would-with a music-filled show to benefit a good cause. Featuring oso and Boombox Orchestra as musical support, Bela's fond farewell will also be raising funds for Teen Challenge International (teenchallenge.cc), with all the door proceeds donated to the organization. The show starts at 9 p.m. Call 967-0907 or visit myspace.com/mercurylounge for details.
And finally, KCSB 91.9 (kcsb.org) will kick off its annual Fund Drive with the Santa Barbara premiere of the Flaming Lips' feature-length film, Xmas on Mars this Saturday, November 15, at I.V. Theater (960 Embarcadero del Norte). The screening starts at 7 p.m. and is free to the public. Following that, the party moves down the block to the Pink Mailbox (6668B Pasado Rd.) for an SBDIYsponsored live show featuring Franklin for Short (franklinforshort.com) and Landy. Visit kcsb.org for info.