News
From Black Friday to Blessed Friday
Mock Church Promotes "Buy Nothing Day" on November 28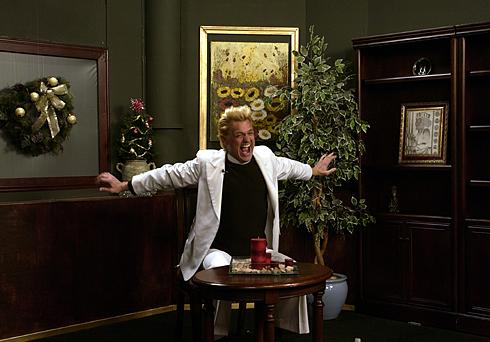 With people counting their pennies this holiday season, the Church of Stop Shopping may have scores of converts ready to give up their devotion to what the New York-based nonprofit calls "unsustainable consumerism."
Since 1997, the Church of Stop Shopping, whose creator has ties to Santa Barbara, has promoted the day after Thanksgiving as "Buy Nothing Day". The shopping boycott offers an escape from crowded malls, aggressive advertising, and growing personal debt. It's also an opportunity for shoppers to consider where their dollars go. Buying certain products supports sweat shops in developing countries or cheats indigenous farmers out of fair profits. Shopping at retail giants condones low wages for U.S. workers.
Instead of elbowing fellow shoppers in a mad rush for a drastically discounted gadget, people should "back away from the product," according to the church's litany. Instead, shun the corporation-created experience, and stay home with a good book (purchased at an independent bookstore) or spend time with your family.
"It's an aberration of our culture to have shopping take over our most important holidays," said Santa Barbara resident Sidney Lanier, a retired Episcopalian minister with close ties to the Church of Stop Shopping. "This is a time for increasing our assets in a spiritual sense, not increasing them in a material sense."
Even though the movement is supported by Lanier, a real man of the cloth, the Church of Stop Shopping is not a real church. It's a project of The Immediate Life, an arts organization using theater, humor, and grassroots organizing to advance various campaigns.
The group helps neighborhood activists fight chain store take-over of village centers and commercialization of public spaces, such as parks. For instance, the "Union Square Not for Sale" campaign is challenging New York business interests wanting to convert a public pavilion into a private restaurant. In a push against economic globalization, the church is helping the Ethiopian government register ancient coffee varieties with U.S. patent authorities. Their opponent? Starbucks.
At the center of the church is the character Reverend Billy, an evangelical preacher spreading the word about the "Shopocalypse." Backed by a choir in red robes, the reverend (real name: Bill Talen) has taken performance art to a new level. He shouts, sings, dances, and carries his message in flamboyant style. His group has recorded CDs and even made a movie, What Would Jesus Buy?
Santa Barbara's Lanier, a veteran in the theater business, helped Bill Talen develop the character of Reverend Billy. The two men have been friends for years, and when Talen, a playwright and actor, decided he wanted to change American culture and how it influences the economy, Lanier was there to help him put the pieces together. Reverend Billy and his church would combine show business and evangelical preaching, music and pageantry, humor and spoken word – all driven by social activism.
So, from the global (saving Canadian forests from being ground into Victoria's Secret catalogs), to the local (encouraging people to buy holiday gifts at mom-and-pop stores), the Church of Stop Shopping has a ministry addressing the most destructive aspects of a consumption-based society.
"He spreads the good news," said Lanier, "the good news about not shopping, or at least about mindful shopping."
For more information, see Reverend Billy's Web site here.