Dance
Dueling Nutcrackers Vie for Audience
State Street Ballet and S.B. Festival Ballet Go Toe to Toe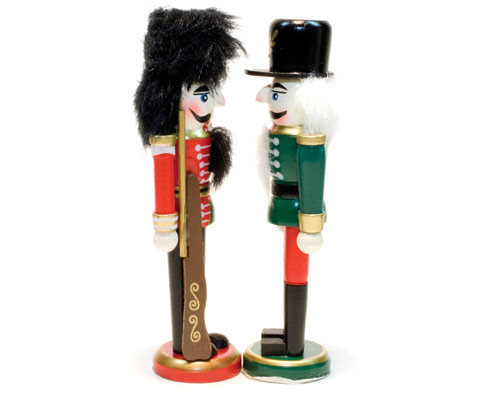 Santa Barbara dance lovers: Cancel all your plans for this weekend and write "Nutcracker" in your calendar for Saturday and Sunday. That'll be the easiest way to attend the two major Nutcracker shows this holiday season.
Because of an unavoidable scheduling conflict, both Santa Barbara Festival Ballet and State Street Ballet will present their respective Nutcrackers on December 13 and 14, at essentially the same curtain times. Heightening the sense of competition, State Street Ballet will forego its Hollywood-themed presentation of art deco sets and 1930s costumes, so both productions will be turned out in traditional fairytale ballet style.
Actually, the two shows compete for audience every year. But having them on different weekends at least gives patrons wiggle room to see both. This season, State Street Ballet moved from the Lobero Theatre to the newly remodeled Granada, and December's schedule only offered the second weekend of the month.
"It shouldn't be us or them," said Denise Rinaldi, director of the Santa Barbara Festival Ballet. Her show plays at the Arlington Theatre, and for each of its 34 years in production, it has run the second weekend in December. "We want the community to be able to see both shows. I love The Nutcracker. I could see 10 of them every season."
Rodney Gustafson of the State Street Ballet also believes it would be better for Nutcracker fans to have two productions offered on consecutive weekends. "The people who will attend theirs, will attend theirs," he said philosophically. "We all want to get people in the seats."
Which one to see? Both Rinaldi and Gustafson were happy to describe their productions for potential audience members wanting to experience dancing snow flakes, toys coming alive, and general Christmas splendor set to Tchaikovsky's magical music.
Foremost for Rinaldi in drawing audiences is that the Festival Ballet show at the Arlington is accompanied by a live orchestra. Most of the musicians are from the Santa Barbara Symphony; Elise Unruh is the annual conductor.
"There's nothing like hearing the music played right there live," said Rinaldi, adding that children run down the aisles to stare into the orchestra pit. And dancing to live music is special for her performers as well. "Every performance is slightly different, tempos are different, so it's a collaboration of musicians, dancers, and the conductor."
Because the Santa Barbara Festival Ballet has been doing The Nutcracker for more than three decades, there are people involved now who performed in the ballet as youngsters, and others who've worked technical jobs for years. Alumni from the company's feeder school, the Santa Barbara Ballet Center, have gone professional-they sometimes return to dance lead roles. Former Nutcracker cast members come to see the show every year, making the weekend a reunion and celebration of their dance community.
As for the State Street Ballet, no one who has seen the company's performances needs assurances of the quality of its dancing, choreography, and spectacle. Adding to this year's excitement for the cast and crew, according to Rodney Gustafson, is the switch to a more traditional Nutcracker. They are bringing in new sets from Russia, and dancers will be decked out in new costumes.
The Granada itself inspired Gustafson, and its beauty may help to draw audiences. "The Granada is so opulent. It just looks like a big Christmas ornament to me," said Gustafson. "The show's new style is the right version for the Granada."
Devotees of Sergei Domrachev (equal parts dancer, actor, and clown) will be sad to hear he is retiring his Mae West schtick. However, Domrachev will return in the Mother Ginger role, and Gustafson promises the scene will continue to delight children. State Street Ballet also holds a couple of special receptions aimed at the young ones: After the two matinees, there will be Sugar Plum parties with magicians, refreshments, and a chance to meet the cast.
Rinaldi said her group does not offer a formal reception at the Arlington, but the audience can mingle with performers after the show. Her production does offer a particular community service. The Friends of Clara program solicits private donations that pay admission for low-income children and their families.
So, like the toy soldiers and mice in Clara's dream, these respective dance companies will wage the battle of the Nutcrackers. Mo McFadden, a 20-year entertainment publicist in town, wagged a figurative finger at the competing productions, urging them to coordinate schedules next year. She mused about which show would be more popular.
"Well, comparing the Arlington and the Granada, that's like apples and oranges. Either way, you're going to get a show. Ballerinas on toe, men in tights, ba da bing, ba da boom. Both dance companies look fabulous," McFadden said. "It's important to build an audience. I think both companies have done that with their Nutcrackers."
4•1•1
Santa Barbara Festival Ballet's Nutcracker will be held at the Arlington Theatre on Saturday, December 13, at 2:30 p.m. and 7 p.m. and Sunday, December 14, at 2:30 p.m. For tickets or more information, call 966-0711 or visit ticketmaster.com.
State Street Ballet performs its Nutcracker at the Granada on Saturday, December 13, at 2 p.m. and 7 p.m. and Sunday, December 14 at 2 p.m. For tickets or more information, call 899-2222 or visit granadasb.org.