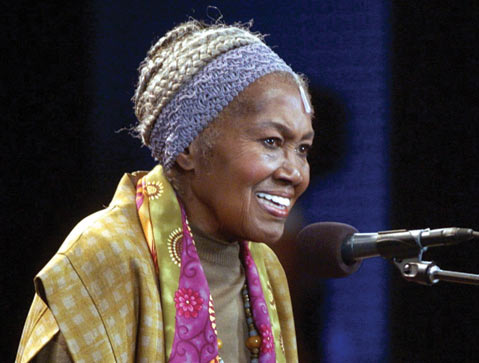 News of the American folk legend Odetta's passing last week, of a heart attack at age 77, had added poignancy in Santa Barbara, in that she graced the Lobero stage in January. Suffering from ill health in recent years, she had been absent from the world stage but made one last valiant return to the road. She happened to land at the Lobero the night before another great American elder statesperson: jazz drummer/bandleader Roy Haynes. Odetta was in the house for Haynes's concert, too, and her radiant presence was somehow felt.
While broadly deemed a "folk legend," Odetta's importance-and import-went far beyond neatly defined cultural parameters. Also classically trained and naturally gifted in gospel, she was a pioneering folk figure in the days before Bob Dylan and his peers bumped the genre up a thousand notches.
In an interview before her Lobero concert, Odetta talked about the not-unhappy blur of time, from the vantage of 77: "I'm one who doesn't fathom years. Let me explain that. I don't know what happened in 1949, or in 1969. I hear people talking about, 'Well, that happened in 1957,' and some of them go as far as, 'It was June of 1957.' I don't believe those people," she said, laughing. "I say, 'You made that up.'"
Asked if she was tuned into music of the moment, she said, "If I'm on the road and I turn on the radio, I go instantly to the country western station, because that's where you hear music that still has words that make some kind of sense or has some kind of craftsmanship about it. They have songs that can be stunning and beautiful and moving and silly and whatever.
"I never have been one to walk in the house and put on records or CDs or anything, so I'm way behind as far as knowing what's going on out there and who's singing. Every once in awhile, if it's a festival, I get a chance to hear people I have heard of or not heard of. That's always a joy, to hear the ones who are carrying on the tradition of folk music, or music influenced by folk music and music of concern." In her days, Odetta made plenty of music of concern, and she lives on in the byways and margins of American culture and consciousness.
FRINGE PRODUCT GIFT GUIDE, PART TWO:
Sonny Rollins, Road Show, Vol. 1 (Doxy): Phase one, in which the tenor saxist, who on a good night (he has many) lives up to the moniker as "the greatest living improviser," digs up tasty live recordings from around the world over the last two decades. For anyone still not hip to Rollins's profound musical breadth and breath, here's a fine starting place. If you don't have tickets for Rollins's Campbell Hall show on April 27, get busy. There's a gift that will keep on giving, in savory memories.
Tony Malaby Cello Trio, Warblepeck (Songlines): One of the most intriguing local jazz concerts in 2008 was the Liberation Music Orchestra (despite disappointment over the absence of co-brainstormer, arranger/pianist Carla Bley). By some accounts, the star soloist that night was saxist Tony Malaby, who best managed to link the current, cleaner LMO with the older, more free-improvisation-flavored models. Malaby is a jazz fringe character deserving wider recognition. On his fascinating new Cello Trio album, with cellist Fred Lonberg-Hold and drummer John Hollenbeck, improvisation of a sensitive collective personality mixes with textural detours, cathartic ruckuses, and touches of whimsy (as suggested by the title Warblepeck).
Danilo Perez, Across the Crystal Sea (emarcy): This Panamanian jazz pianist's new project, with ravishing arrangements and compositions by genius Claus Ogerman, could be 2008's most beautiful jazz album. To boot, the version of "(All of a Sudden) My Heart Sings," featuring guest Cassandra Wilson, could be the year's most hauntingly beautiful single jazz vocal track. Check it out and gently weep, and sigh.