A funny thing happened on the way to Chopin-istic bliss last week in the Museum of Art's Mary Craig Auditorium. Those in the know about this compact hidden jewel should also be aware of the SBMA's ongoing chamber music series that's held there. When Kevin Kenner-the acclaimed Chopin specialist based in London and Warsaw-came to town, the Steinway in that small space rocked our aural world in unexpected ways. A thinking person's virtuoso, Kenner understands the power of dynamics, from a whisper to a roar, and the sound packed the room and our ears to a degree that made it unusually visceral. It was, in short, a rock and roll kind of thing, on 19th-century musical turf.
Now how can we convey to younger listeners the excitement of hearing this music in the heat of the live experience? The question nags classical music lovers, players, and organizations, with no easy answers. We need classical music-and other artful, commercially neglected forms such as jazz and world music-all the more in our age of corporate-sponsored cultural numbness in America.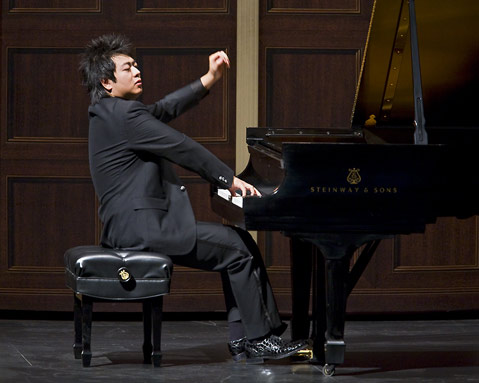 Fortunately, Santa Barbara's classical music scene is alive and very well, thank you. We've had other dazzling piano highs in town this year, from superstar Lang Lang at the Granada to should-be superstar Jonathan Biss at the Marjorie Luke Theatre. Bach staked his claim this year, too, with striking solo recitals from Lynn Harrell and Christian Tetzlaff just in the past month.
Bringing classical music down to the street and public level and putting it in the ears of youths and the uninitiated is clearly a challenge. But cellist Matt Haimovitz is fond of ushering the beauty and majesty of classical music (as well as rearranged versions of Led Zeppelin) to nightclubs, and has done so at SOhO. I have bemoaned the absence of classical music from the Santa Barbara Bowl in this space before. But how can I complain in a year that saw Radiohead on the property? In an ideal world, fans of Radiohead would follow the band's lead and heed its members' tastes by steeping in the music of Olivier Messiaen, Steve Reich, Miles Davis, Stockhausen, Sigur R³s, and, yes, Chopin. If you're not already on board, consider trying to listen to more classical music. It's a New Year's resolution that will keep on giving back-to you.
FRINGE GIFT GUIDE. CONT.:
Trygve Seim and Frode Haltli, Yeraz (ECM): Strange though it seems, one of the year's most intriguing "jazz" projects comes from an enlightened saxist whose sound can suggest a shakuhachi and a virtuoso accordionist, both kingpins of the new Norwegian "quiet revolution." The wonderful, flexible, and impressionistic accordionist Haltli (squeeze box fans take note) was featured on Seim's classic 2004 ensemble album Sangam (not to be confused with Charles Lloyd's Sangam), and their duo project is alternately, contemplative, kinetically free, tuneful and generally a warming head full of music.
The Bad Plus, For All I Care (Heads Up): The great 21st-century jazz band's latest is a loveably brazen experiment. They deviate from their erstwhile instrumental basis with the presence of nimble vocalist Wendy Lewis, who gamely delivers on expectedly twisted versions of ditties by Nirvana, the Bee Gees, Wilco, and Heart. But these tracks are interspersed with heady jazz trio versions of music by brainiac 20th century classical titans Gyorgy Ligeti, Igor Stravinsky, and Milton Babbitt. It rocks-brainily.
TO-DOINGS: Limber saxist, KCSB radio host, and tireless event maker Colter Frazier deserves some kind of left-of-the-dial Local Hero award. In the past year, he has made the "Santa Barbara Experimental Music Night" a reality at Muddy Waters every other Thursday, usually hosting notable L.A. fringe-dwellers with free improvisation or other progressive notions on their minds. Tonight's show is this year's finale, and features the Tim Fischer Quartet as well as an opening set by Frazier and drummer Matt Crane. Frazier recently released a fine new quartet CD on the Ventura-based pfMENTUM label, joined by violinist/violist Nick Coventry, bassist Miles Jay and drummer Rob Wallace.